Fighting once in a week is already a challenge for any Muay Thai fighter, but fighting three times in four days is a whole different story. That's what I did when I went to Buriram and stayed at Wor. Watthana, a Muay Thai camp founded by Frances and Boom, located in the Isaan region of Thailand.
My trip coincided with Songkran, or Thai New Year, a big and relatively long holiday that spans three days plus the weekend and extra days off. Many people go back to their respective hometowns during this time of year, and the countryside of Isaan has multiple fight events every single day. Some fighters take advantage of the shows available by fighting multiple times a day and hustling for money.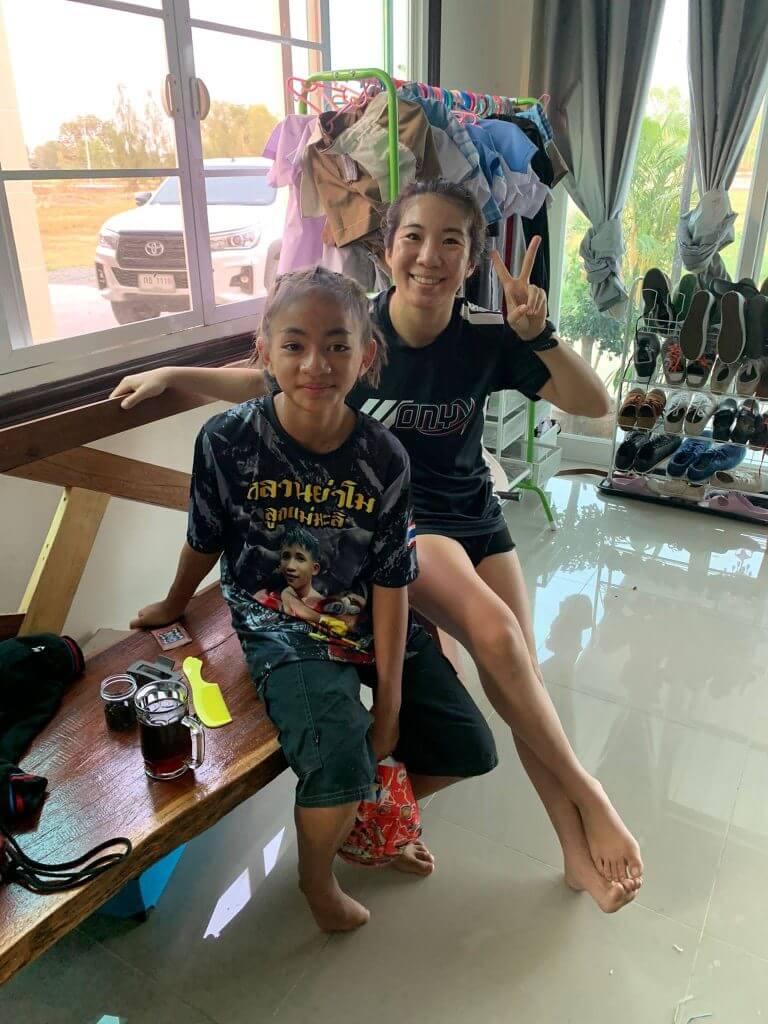 Despite having undergone surgery and only having about two weeks of consistent training, I was up for the challenge of fighting three times in four weeks. Frances, one of the founders of Wor. Watthana, set us up with three fights. Here's how it went:
Day 1 (April 10)
We took a flight from Bangkok to Buriram. The flight was delayed but otherwise easy. Flying at Bangkok airports is a comfortable experience – there are lots of affordable snacks, seats, and charging ports all around the airport. The flight itself was under an hour!
Frances picked us up from the airport, and it was about 30-40 minutes until we reached Wor. Watthana. When we arrived, the kids were busy dying their hair all sorts of colors (they're only allowed to when school isn't in session). We got a tour of the gym and the recently-built house that was crowdfunded. We settled into our rooms and started to get to know some of the kids.
Please support the continuation of content on Muay Ying via Patreon
There were lots of dogs that they rescued running around, rubbing against us hoping to get some pats! They were all very friendly and well-mannered.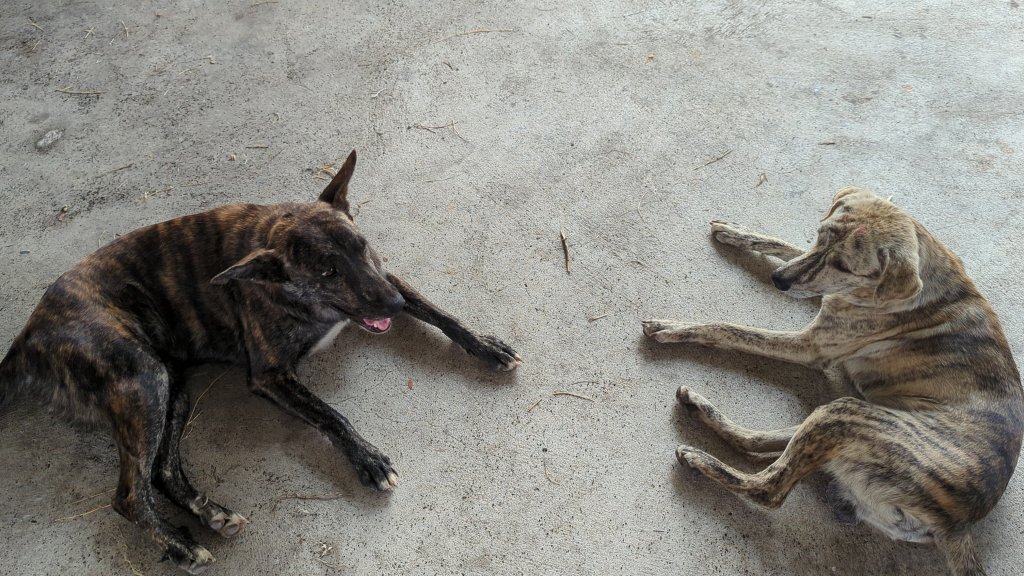 We watched training for a bit – most of the kids were not training as they were fighting within a few days, some of them fighting multiple times like Belen and I.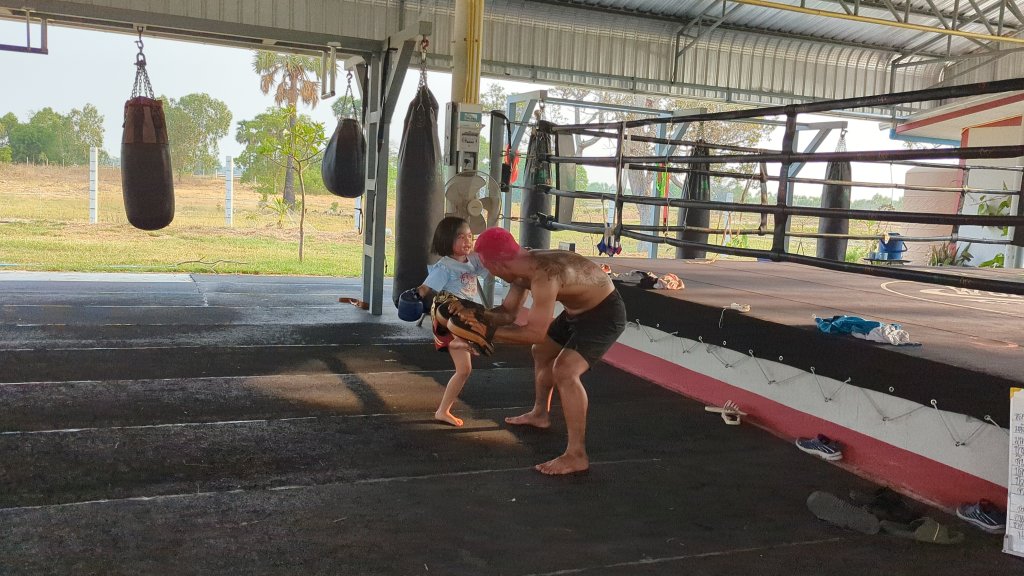 Day 2 (April 11, first fight)
This was my first fight since October, which is lightyears when you're living in Thailand as a professional fighter. It was against a Thai champion named Petchseenil. We drove about 45 minutes to Wat Pa in Nakhon Ratchasima. Frances promoted the show. Since Petchseenil had won several Naikhanomtom belts and fought on some televised shows, she ran out of opponents, making it relatively easy for me to get matched up with her. She is currently in university and hasn't been training much, which is perfect for me since I only trained for 2 weeks after my surgery.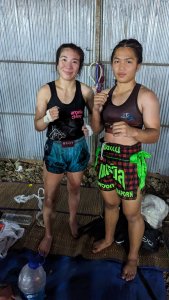 Although I had a lot of ring rust, I wasn't too nervous or anything. In the end, I lost the fight via decision, but I didn't feel too bad about it because Petchseenil is really good. Three other kids from our team fought that night, and two got wins. I suffered some bruising near my left shoulder blade from catching her kicks and some shin pain in my left leg, but nothing too bad.
Damage from fight: Some bruising back/armpit from catching kicks, but it was purely cosmetic (no pain). Left shin pain level about 3/10.
Mentally: Still feeling fresh and excited
Day 3 (April 12)
We took a break from fighting and spent a lot of time with the kids from the camp. They all have such strong personalities and so many life stories from such a young age. It was heartwarming to see them in a space where they could just be kids.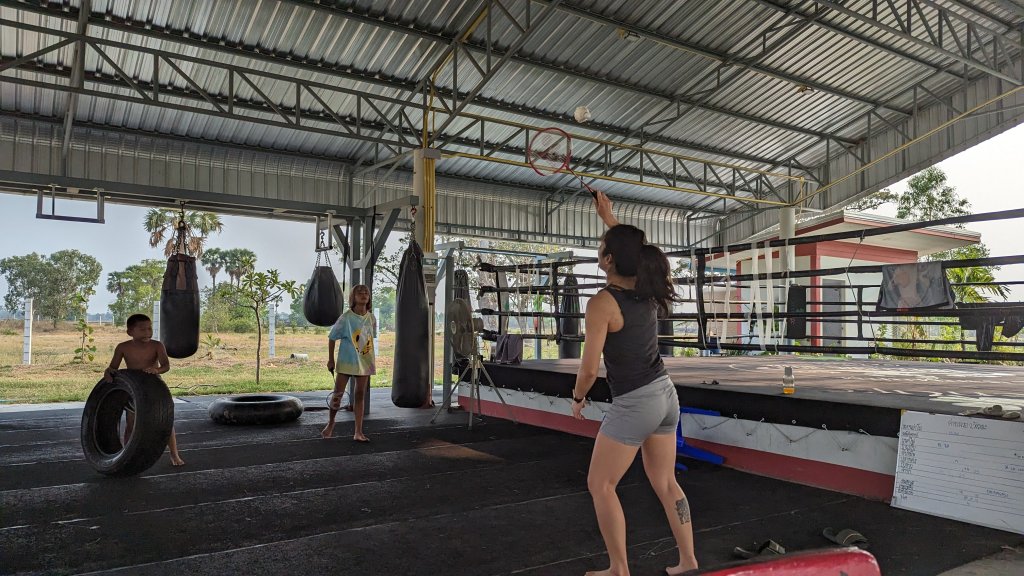 We played all sorts of games in the yard and the gym area. Their creativity making up games as we went with the resources they had reminded me of when my brother and I were looking for things to do as kids, and we ended up finding endless ways to have fun. That's rarely the case these days and many kids are glued to screens instead of playing with each other.
I trained a tiny bit with Buakaw ("Muey") – just some light sparring and clinching. She wasn't supposed to fight for another week or two. Muey is incredibly strong and sturdy – I felt her body punches and leg kicks even though I have at least 20 kg on her!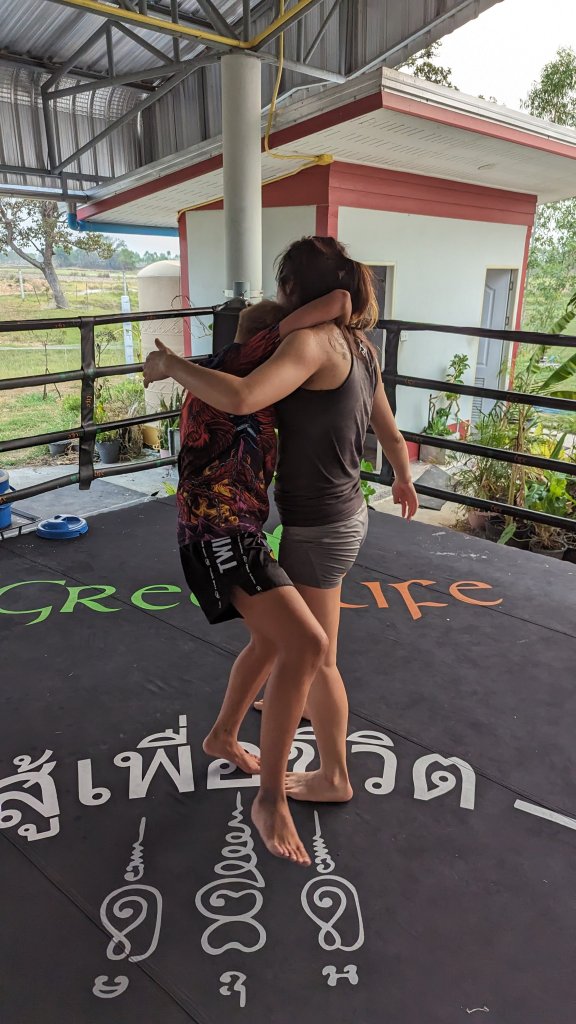 Day 4 (April 13, second fight)
We drove to Nakhon Ratchasima and fought in someone's backyard. There was a blackout when we first arrived, so we, other teams, and the gamblers were sitting on the dirt ground in the dark for quite a while. An hour later, the lights were on.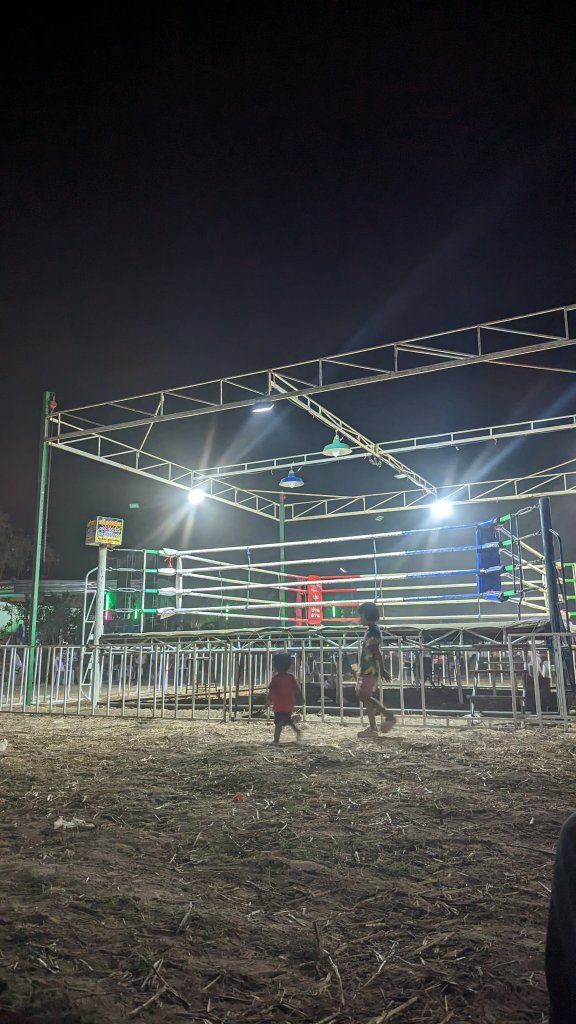 There were over 30 fights on the card. Some kids from Wor. Watthana fought at the beginning of the card, Belen was in the middle, and Moey and I were towards the end of the card. I fought a tall opponent who had some heart, but she wasn't of the highest caliber, and I was able to end the fight via clinch and knees in the second round. I ate a couple of hard low kicks, so my left thigh felt a bit tight, but no bruising or severe pain.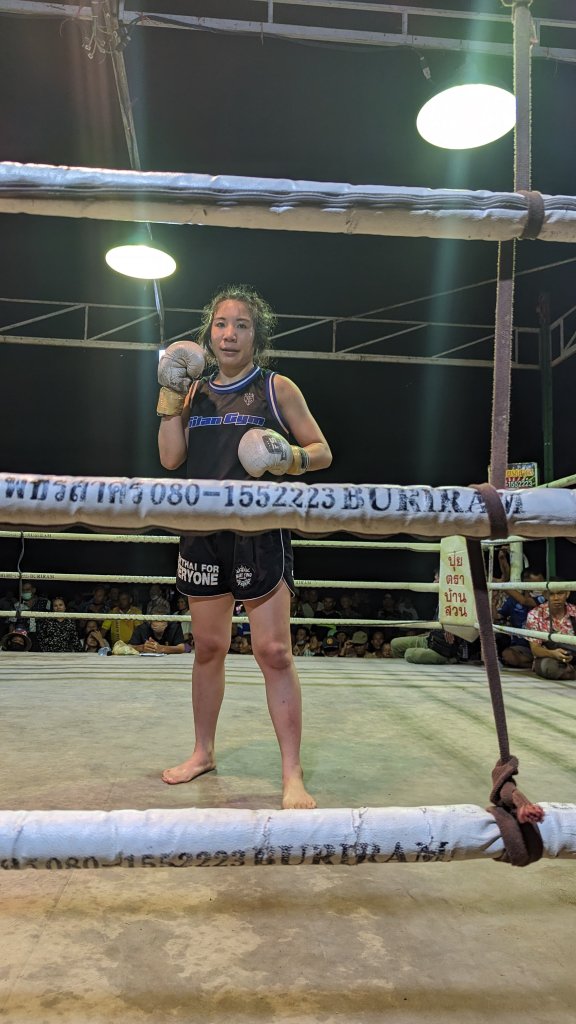 Muey and Nungning ended up getting matched up just that morning. They really dominated during their fights, and it was fantastic to watch. Someone else who really amazed me was Game, the smallest and youngest kid at the gym. He's very playful and mischievous and absolutely LOVES to fight.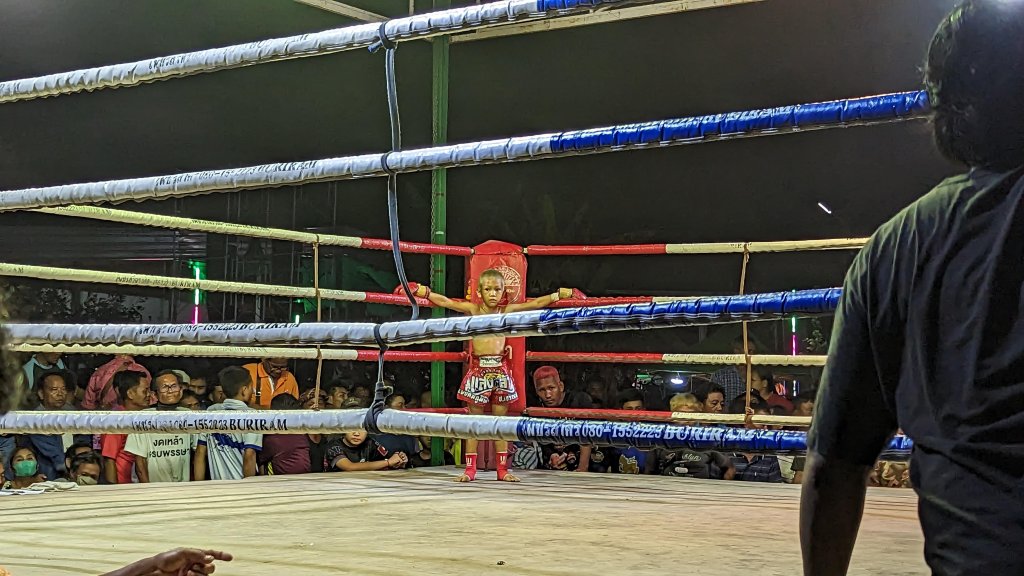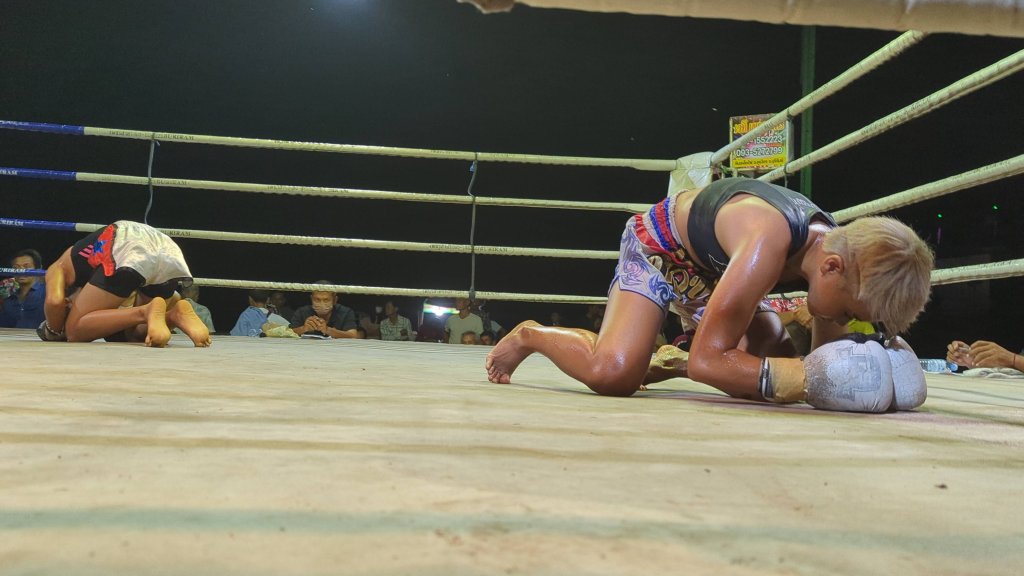 Damage from fight: My left thigh felt a bit tight from eating a couple low-kicks, but no pain and no bruising. Shin pain about the same, 3/10
Mentally: Felt excited from the win, but definitely feeling less "alert" waking up the next morning
Day 5 (April 14, third fight)
This fight was my chance at redemption, and I took it. Petchseenil was the favorite, and we fought in her home district in Buriram city. I was so much the underdog that almost no one was gambling because most people were so sure I was going to lose. My trainer from PK, Padjai, told me what adjustments to make when I told him we were rematching. I followed the game plan, overwhelmed her, and dropped her with an elbow in the third round. After she was counted, I forgot what I threw that dropped her again, and the ref called off the fight.
Damage from fight: Left shin pain went down to about 2/10. Right shin pain came up, to 2/10.
Mentally: Happy I won against someone I just lost to a few days prior, but the mental fatigue is definitely creeping up. Running on excitement and adrenaline at this point.
Day 6 (Last day of Songkran)
We got to play water in the city with the kids. We loaded into the back of a pick-up truck with two large buckets of water. We had an amazing time right before heading to the airport in our soaking clothes.
For those who are interested in experiencing the thrill of Muay Thai fighting in Isaan, I highly recommend checking out Wor. Watthana's website and booking a trip with them. Not only will you have the opportunity to fight in multiple events in a short period of time, but you'll also get to see the heart and soul of Thailand's rural countryside.
But be warned, fighting multiple times in a short period of time is not for the faint of heart. It takes a lot of physical and mental preparation, and even then, it can be mentally exhausting. However, if you're up for the challenge, it's an experience you won't forget. (Even though my body was fine and pain-free, I was mentally fatigued for almost an entire week after the last fight. I didn't return to training until 6 days after the fight, and even then, I had a bit of fatigue)
Overall, my three fights in four weeks in Isaan were an incredible experience. I got to fight some tough opponents, make new friends, and see a different side of Muay Thai in Thailand that's less-visible but the foundation of it all. And even though it was mentally exhausting, I'm already looking forward to my next trip to Isaan to fight again.
So if you're looking for an adventure and a challenge, consider taking a trip to Isaan and fighting in multiple events. You won't regret it!
If you want an in-depth guide to training in Thailand, I've got just the thing.