The narrow dirt road in Buriram province that leads into a vast yard of grass looks pretty typical at a glance. Look to one side, and you see a bunch of kids running around, chasing each other in the fields. Some dogs come up to greet you, their tails wagging and their eyes begging for a pat or two.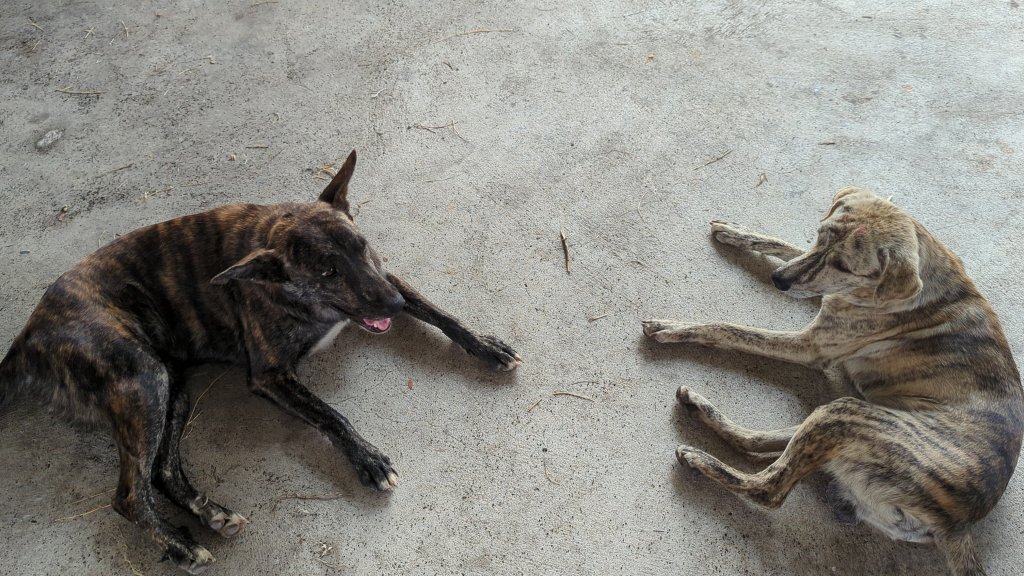 Look to the other side, and you notice a Muay Thai gym, complete with mats, a ring, some heavy bags, and weights. A middle-aged man, Kru Nye, is geared up and already holding pads for his son, Lilly, who is an up-and-coming local fighter. Bo, a former fighter only in his mid-20s, is holding pads for the kids who are training, including his 5-year-old daughter, MaPrang.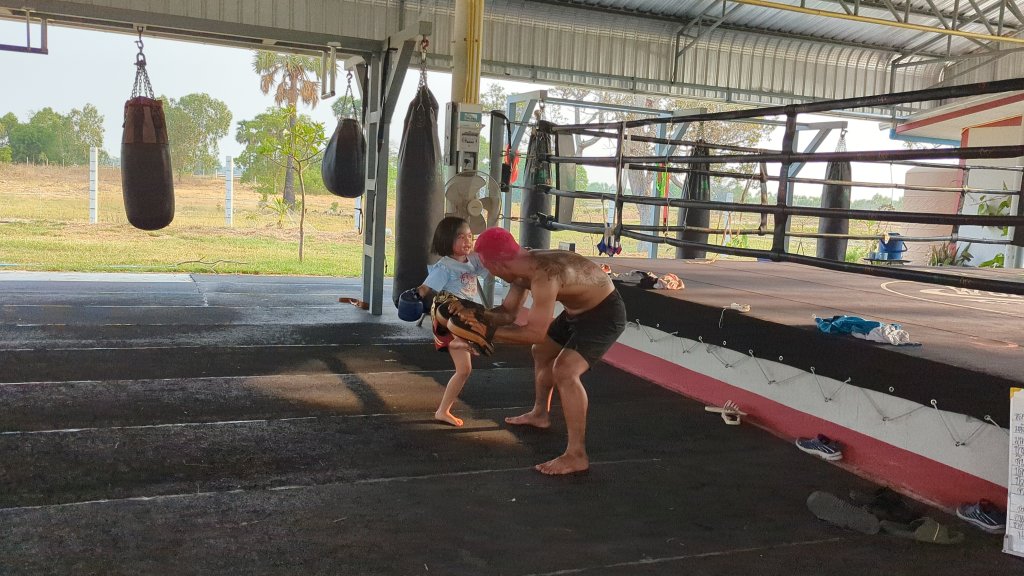 The training is intense for those who are in it but can come off as unstructured to those who have never visited a smaller, more local Muay Thai camp. This story is not complete without giving way to the mission of Wor. Watthana gym and its significance for all the kids who are training, running around, and more.
Contents
The Significance of Wor. Watthana
For many children born in Thailand's impoverished Isaan region, life is a constant fight. They face a bleak future marked by drugs, alcohol, gang violence, and even rape, with few opportunities to break the cycle of poverty and hopelessness. But Frances and Boom are determined to change this narrative through Wor. Watthana.
Frances and Boom first started their mission in Boom's father's garden, creating a safe space for children to learn Muay Thai and channel their energy into something positive. As the impact of their work spread throughout the village, the duo launched a crowdfunding campaign that resonated with people worldwide. They raised enough money to build the Wor. Watthana Muay Thai Gym for Kids of Isaan, is a place that has since become a beacon of hope for at-risk youth in the region.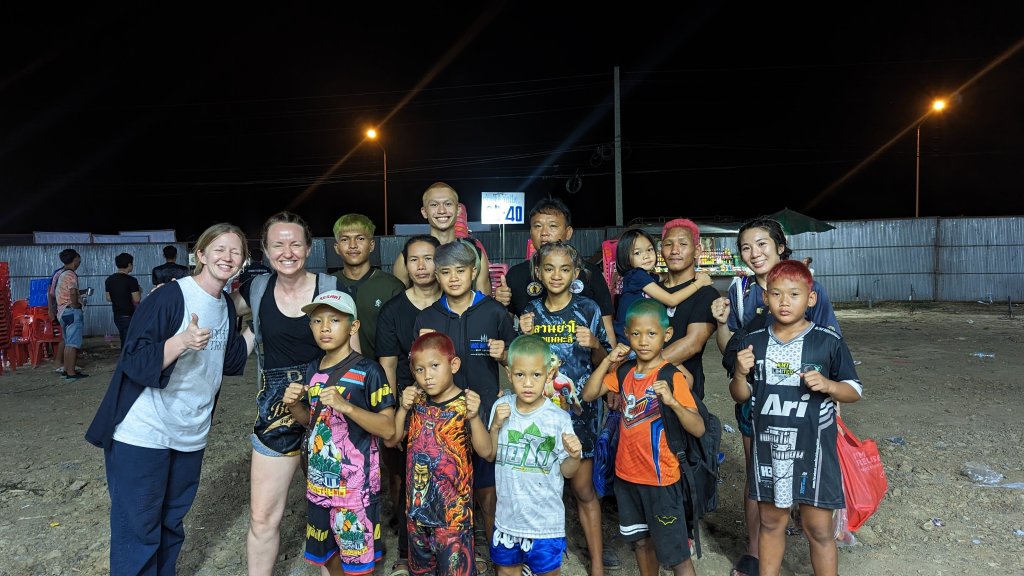 Many of the children who train at the gym come from poor families with challenging home lives. Some cannot afford to attend because they lack the necessary funds and transportation, so Frances personally goes to pick them up. Over time, some of the kids have made their way into the home, being raised, clothed, and fed as if they were Frances and Boom's own kids.
While Muay Thai is an essential aspect of the program, the goal is not to enforce a strict training schedule. Instead, Frances and her team aim to provide a safe and supportive environment where the children can engage in physical activity and find a sense of purpose. As Frances explained to Spectrum, "It's more like a life-skill school. We're a family, and I love them like they're my own children."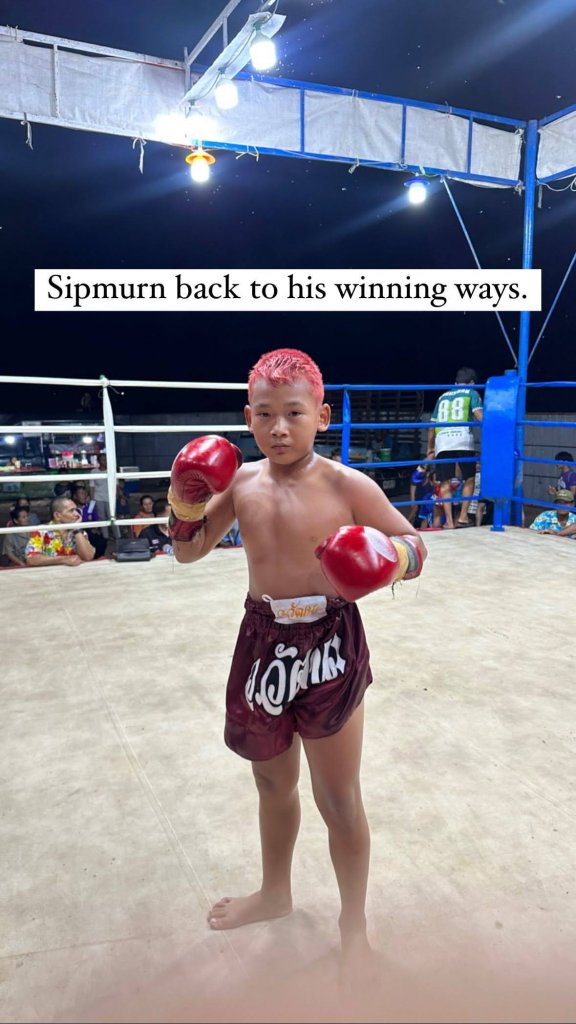 Life in the Isaan region can be tough, and drug addiction is a significant problem. Beyond Muay Thai training, Wor. Watthana provides the children with fun activities such as outings to town and movie screenings. The gym also employs tutors to help the children with their studies and sets up bank accounts to teach them about financial responsibility. Should the children decide to fight to make money, the money goes straight into their bank accounts – they develop a sense of autonomy, purpose, and self-worth.
Frances, in particular, is a hero to the Muay Thai community, and her tireless efforts to help at-risk youth deserve recognition. Despite the challenges she faces, she remains positive and committed to doing good in the world. Her work at Wor. Watthana has touched the lives of many children and their families, offering them a chance to break free from the cycle of poverty and hopelessness that has plagued the region for generations.
As someone who's seen her mission and her posts through social media, AND THEN meeting the kids and bonding with them in person, it really makes what she's trying to accomplish that much more powerful. Instead of just giving things out as charity, she's truly giving the kids life lessons to take forward and to try and break the cycle of helplessness in poverty.
The children who train at Wor. Watthana have already faced more significant challenges in their young lives than many of us can imagine. It is heartbreaking to think of the hardships they have endured. However, through Frances and Boom's work, these children have a place to learn, grow, and thrive. Wor. Watthana is not just a Muay Thai gym but a beacon of hope that shines a light on the potential of every child, no matter their circumstances.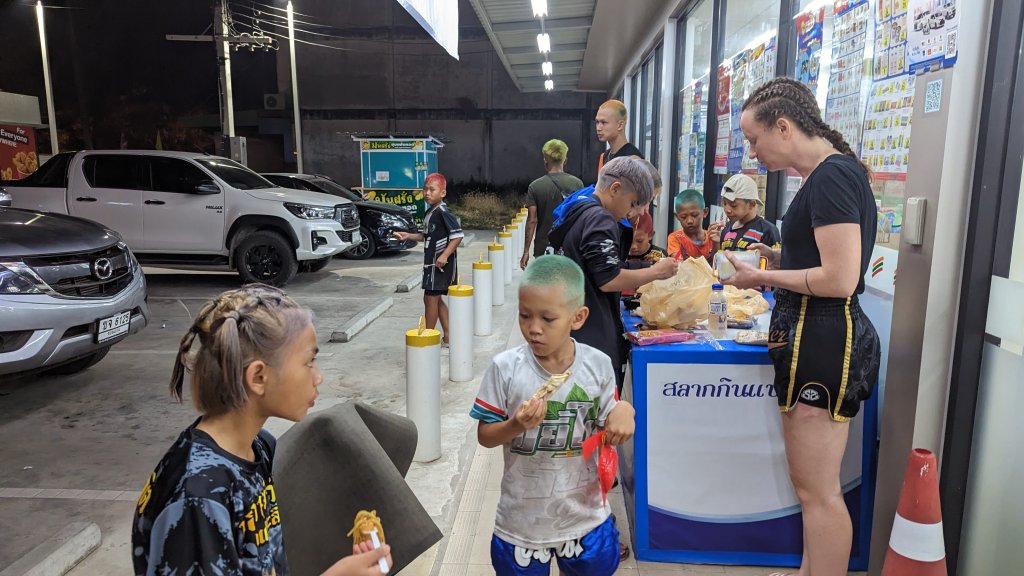 Location & Accomodation
Wor. Watthana is located in Phuttaisong in Buriram province. This area is very close to a couple of other provinces, Mahasarakam and Nakhon Ratchasima.
You can reach here via train, bus, or plane to Buriram. From either the bus/train stations or the airport, you can get a taxi (or Frances will pick you up if she has time).
Wor. Watthana gym does not officially accept foreigners at the gym to train as many other gyms do (their priority is on the kids), but if you speak with Frances over Instagram and ask, she may have the time and bandwidth to allow you to stay at the camp as you can with other gyms. She does encourage people to come and visit so they can see firsthand what they're all about – plus it's good exposure for the kids to meet people from other cultures and practice their English! (Inquire about prices when asking).
The countryside is not for everybody – the impoverished region simply does not have the same amenities and luxuries that a bigger city frequented by tourists has. Where Wor. Watthana is, there are no nearby malls. The closest convenience store is still at least a 10-15 minute drive away. The slow pace of life and lack of things to do (other than Muay Thai) can really get to a lot of people who are used to a more stimulating and busy environment.
Because of the open-air construction of many spaces and how close to nature the countryside can be, expect to regularly run into cows, dogs, cats, chickens, and insects – even in places where you least expect to!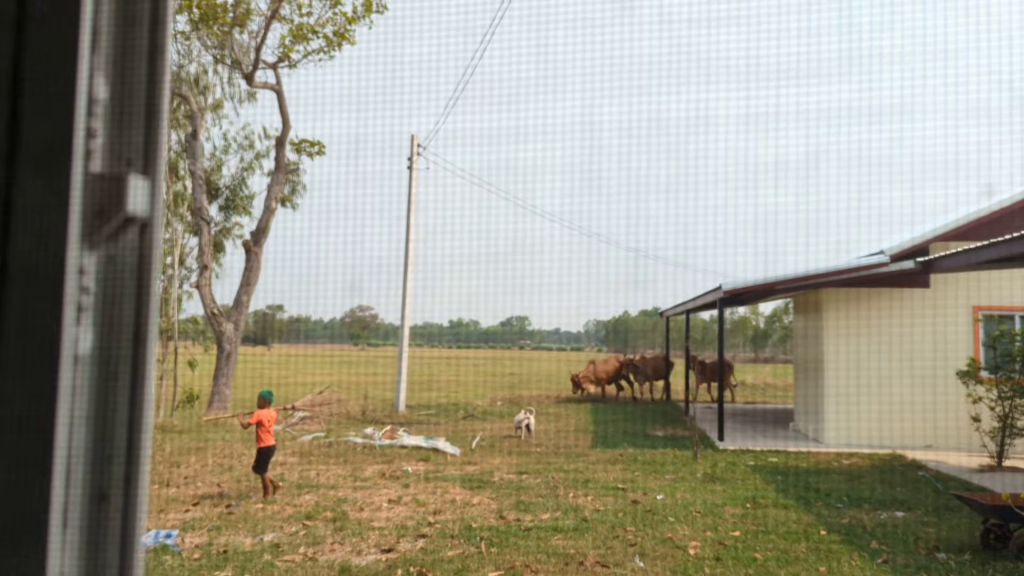 During the time I was at Wor. Watthana, the water pipes were not connected to the city water supply. Instead, it was connected to a nearby swamp – this is the water we used to shower with, do the laundry with, and wash the dishes with. It had a yellow tinge to it, but, thankfully, it did not have any smell.
The Camp
The gym has all the basics – a ring, heavy bags, a matted floor, and some weights. Not barebones, but also not super fancy.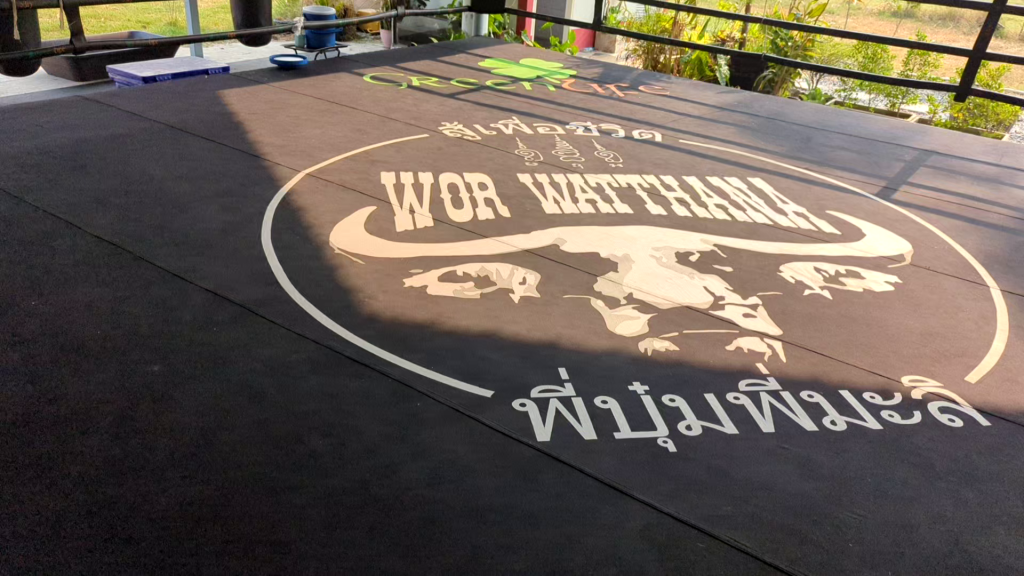 Training
Training is more casual than some of the bigger famous gyms. The kids are not pressured to train like full-time professional fighters – it's emphasized that fighting is a means to an end and not their entire life. That being said, there is still traditional training to be found here. The mornings start with a run. The people who have upcoming, important fights will train after the run. When school is in session, the kids will always prioritize their studies first, but some balance fighting and studying well.
Even without training, the kids are in an environment where they can just be kids. And do what kids do best – play! There is a no cell phones policy at Wor. Watthana for the kids and the only exceptions made are for the older kids who need to travel a long time to get to school. But absolutely no phones during training for everyone.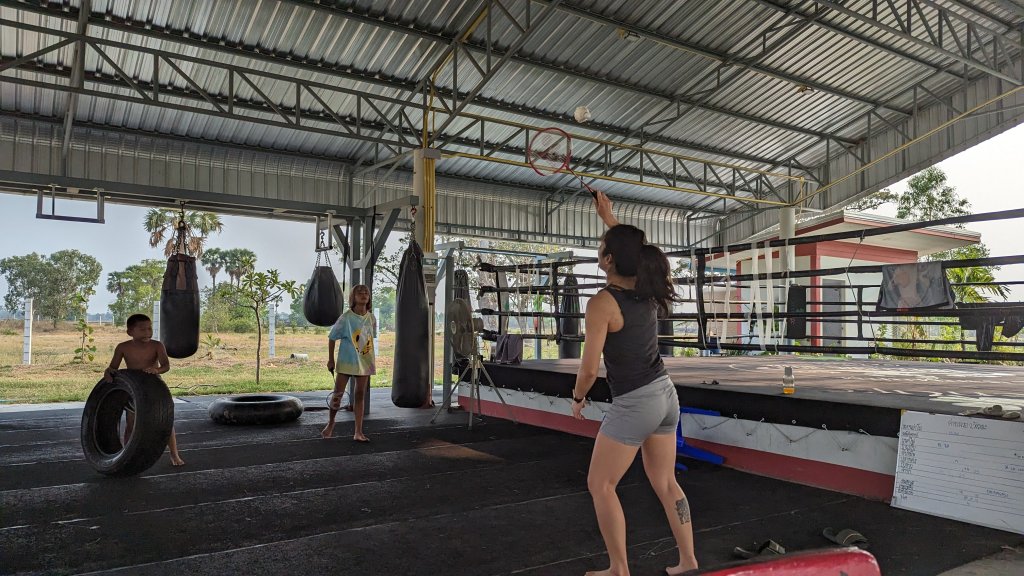 In the late afternoon, there is a harder training session. It's fairly informal depending on what the trainers think the kids need more of, but it will be a mix of pad work, sparring, clinching, and bag work.
Should you develop a good relationship with the gym, you will also get opportunities to build up your fight career on the local fight scene. Grassroots, 5-round gambling fights are at the heart of Muay Thai; it is amiss for people to miss out on the opportunity to experience what Thai fighters go through when getting fight experience.
After training, if you are lucky enough to be able to stay in the gym, there is a family-style meal on the floor of the kitchen. Plenty of delicious and nutritious food is shared, and the chores are also split amongst everyone.
Things to Note
During the time of writing, Boom is in Canada working, so Frances is taking care of the kids and managing everything by herself. She gets some help from the adults staying at the gym, like Bo and Matt, but most of the responsibility lies on her. Kindly keep this in mind when speaking to her and be conscious of not overwhelming someone who is in such a delicate situation and whose priority is making sure that these kids thrive.
If you are unable to visit Wor. Watthana but wish to make a contribution of some kind:
-Donate money here https://www.worwatthana.com/donate
-Donate new or gently-used gear, shorts, Thai oil, gauze, handwraps, sports bras, etc (only if shipping domestically in Thailand, otherwise they get charged large custom fears) by sending Frances a message on Instagram
Summary
Location: Phuttaisong, Buriram
Proximity/Convenience to other things: Not centrally located, getting anywhere (even a convenience store) takes at least a 10-minute drive. If convenience was scored from 0-10, I would give it a 0. People in the area also do not speak English, and one can feel very helpless without someone helping you to get from one place from another.
Price: Contact the camp for more info as this changes pretty often. Instagram
Training: Morning run starts around 6 or 7 am. No serious training in the morning unless an important fight is coming up. You are welcome to do as you wish, hitting the bag or lifting weights. Afternoon training starts around 4 pm. Don't expect a strict structure with the training.
Gym culture: Women do not have to go under the bottom rope when entering or exiting the rings. Because of the tight-knit community and the bonds everyone has with each other, you will feel like part of the family quite easily. All that being said, the countryside in general is much more conservative, so take that into account when picking out what to wear when going out for food or otherwise.
Language: Frances is fluent in English, but otherwise limited English skills at the camp. This is an excellent opportunity to practice your Thai with the kids or even pick up some Isaan.
Getting there: Plane, train, or bus to Buriram. From each of those stations, you can either take a taxi (but risk getting ripped off) or Frances may pick you up if she has time.
Simply put, this camp is a place to go for the experience of training and potentially fighting in Isaan. It's not the place for you if you are expecting hardcore, structured training. But it is a place for you if you're looking to support the empowerment and help the camp is giving to kids in the area. TLDR: go for the experience, get some Muay Thai in as the cherry on top.