Walking through the main hall of the Fairtex training center, you'll find yourself time traveling through Muay Thai history. Framed photos of Yodsanklai, Neungsiam, Jongsanan, and dozens more famous Fairtex fighters line the walls.
And, next to them, posters of the new generation: Saemapetch, Ferrari, and others. To little surprise, most prominently featured are the fight photos, hand wraps, and ONE Championship belts of Stamp Fairtex. It's no secret that Fairtex has a rich history of influence in MuayThai, and you'll feel its magnitude from your very first walk through the gym.
Contents:
Arrival
Arriving by taxi from Bangkok airport, you'll first stop at the main building of the Fairtex Hotel, where both the hotel and training center are housed. Most of the employees at Fairtex speak perfect English so you'll have no problem communicating. Before long you'll be set up with accommodation (I recommend the Residence Apartments next door) and a training pass for your stay. From there you can settle in, getting ready to gear up for your first training session.
Training
Morning runs typically begin between 6:40-7am, contingent on the route that day. Fighters alternate between a 9km run along the beach and through Pattaya's Walking Street or the "big mountain" run: an 11.5km run to a viewpoint overlooking the city. Sometimes referred to as "Sin City", Pattaya is well known for its nightlife and sex tourism, but there's something beautiful about the early morning runs along the beach through a quiet city. Individual groups of runners meet up at a halfway point of the run to take a group photo: daily proof to the trainers that their fighters are keeping up on their roadwork. As with many aspects of training here, the run isn't strictly mandatory, but participation is essential if you'd like to be given serious training and potentially fight during your time at the gym.
Once finishing the morning run and packing your training gear, fighters and students head to the main training facility for morning training. This is often my favorite part of the day: arriving a few minutes before everyone else, and wrapping my hands while listening to the roosters crowing outside. Within the hour the room will be full with yells and the sounds of hitting pads.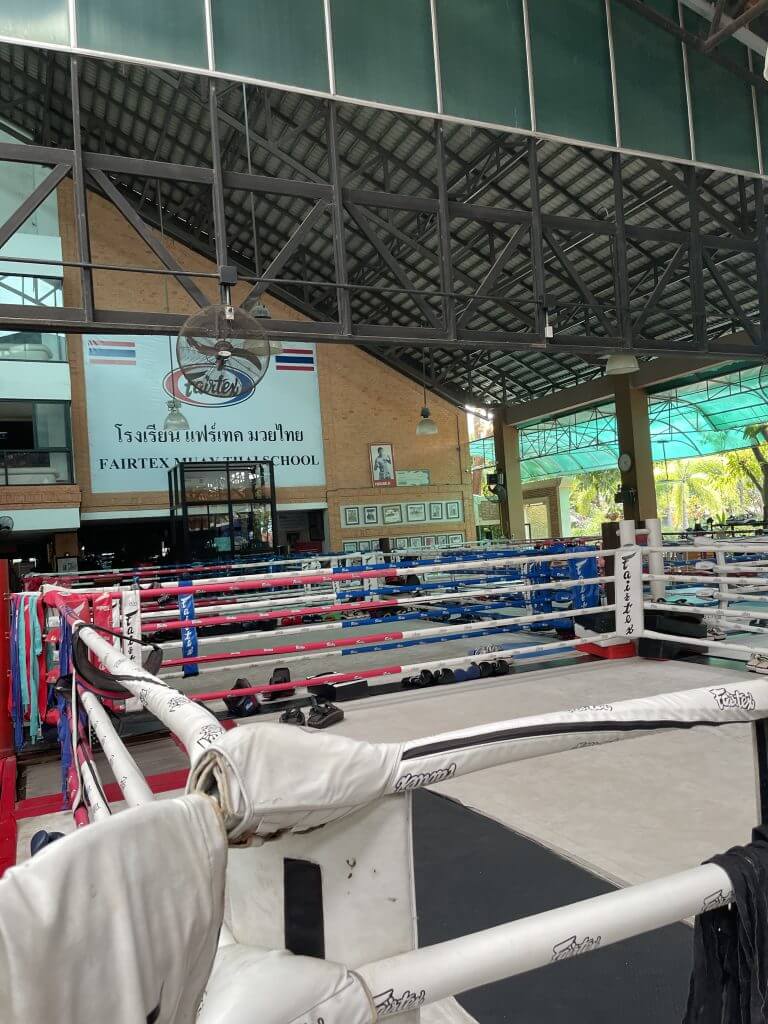 Morning training officially begins at 8am (unofficially, between 8:15-8:40am) with padwork: five rounds, five minutes each. The final rounds generally transition from traditional Thai pads to boxing mitts. Contrary to some more conservative gyms in the country, there is no need for women to enter the rings under the ropes.
Farang work with trainers first. The sponsored fighters follow. After padwork, students typically spend time doing bagwork, clinching, or sparring. This time is largely unstructured, and you'll "get what you put into it". No trainer will shout at you to complete 200 skip knees on the bag or 50 kicks on each side, your training remains up to you. However if you do put the work in, they'll notice and be more keen to help you moving forward.
After a shower, food, and a nap, afternoon training resumes at 3pm. Afternoon training is structured the same as morning sessions, with the exception of beginning with boxing sparring twice a week (Tuesdays & Saturdays). On Wednesday and Saturday mornings, students have the option to participate in weight training circuits instead of regular Muay Thai training.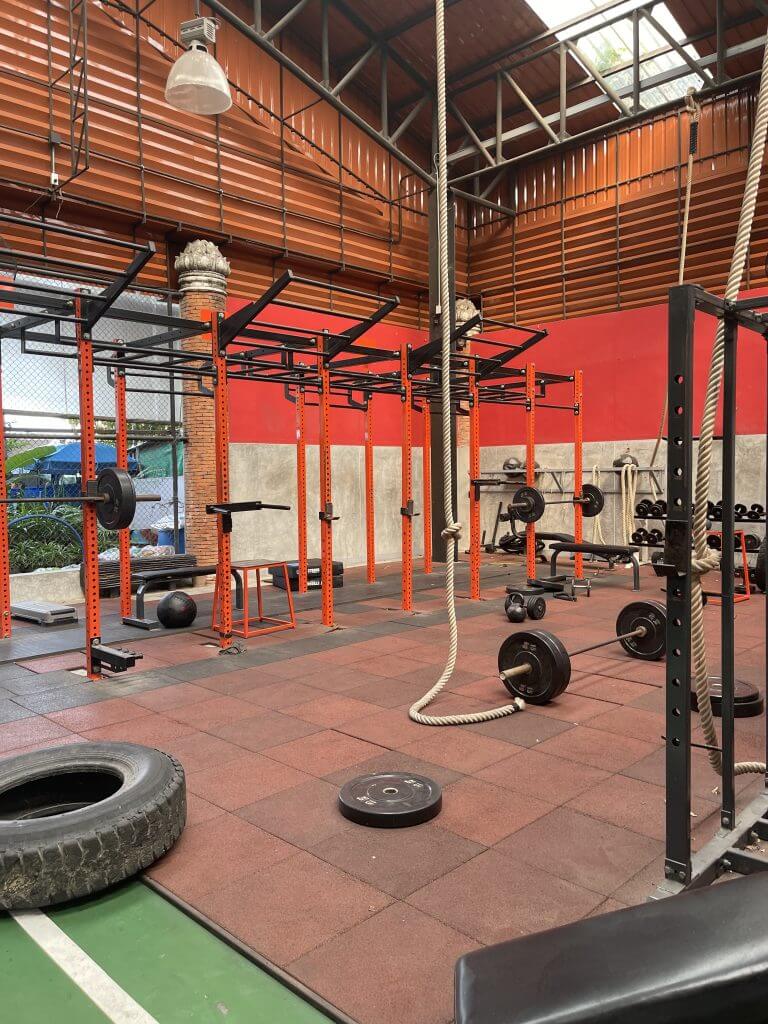 Fairtex has a full roster of 20+ active fighters, and there remains a priority to put their training and safety first. You may not be asked to spar or clinch with their fighters until you've trained for a couple weeks and shown that you are responsible. While boxing sparring is scheduled 2x weekly, formal scheduled Muay Thai sparring is rare here. However, as you develop relationships with the other students and fighters at the gym, you're welcome to take initiative and spar on your own.
Please support the continuation of content on Muay Ying via Patreon
In terms of a facility, there's no question that Fairtex is world-class. The sprawling, meticulously-cleaned training facility houses six rings, two heavy bag areas, a cage, MMA training area, an air-conditioned BJJ training room, a "fitness center" of cardio machines and weights, and a separate fitness area designated for powerlifting and more functional weight training. If you manage to find any time outside of training, you can also make use of the center's swimming pool and tennis courts.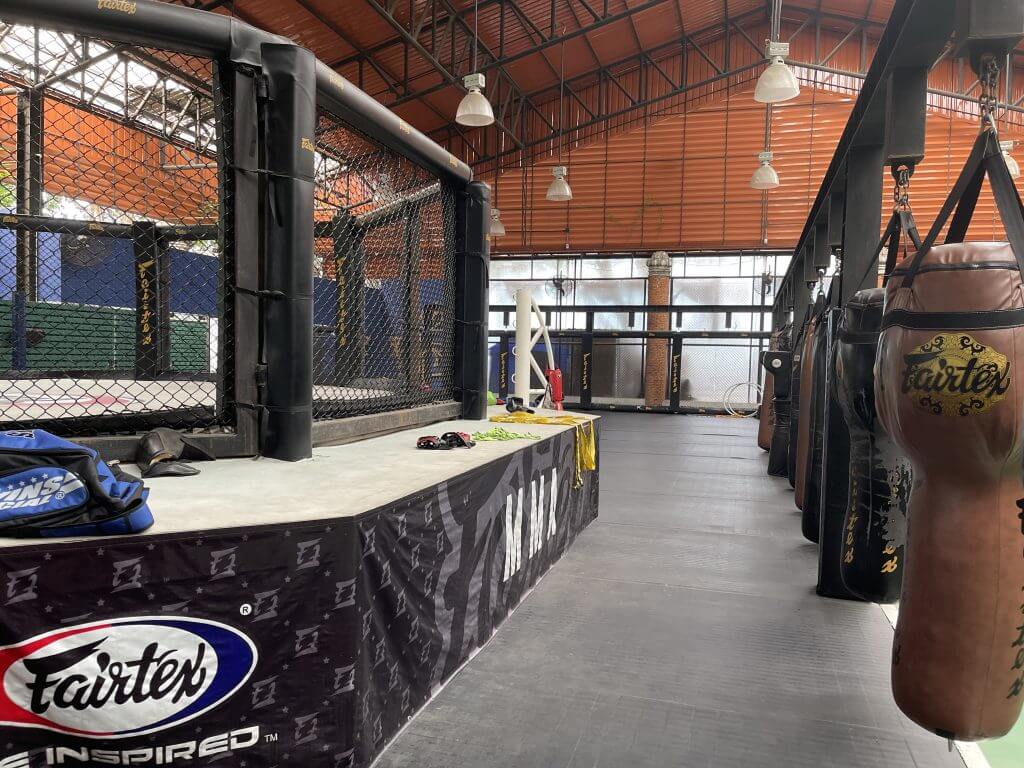 Other Things to Do
For those looking for an isolated and picturesque Muay Thai gym to train at, you'll be better off going elsewhere in Thailand. A busy tourist city, the most nature you'll encounter daily are clumps of trees up the hill on the morning run.
There is, however, plenty to do. There are three main shopping centers within 2km, one being directly across the street from the gym. Terminal 21, the nearest, has dozens of shops, restaurants, an affordable food court of delicious Thai food, and even a movie theater. On free days you could hire a boat to Koh Larn, go go-karting, or visit the Big Buddha Temple (though, realistically, you'll likely sleep and do laundry all day on Sundays). The gym is a five minute walk from Pattaya beach, where many local festivals and free events are held.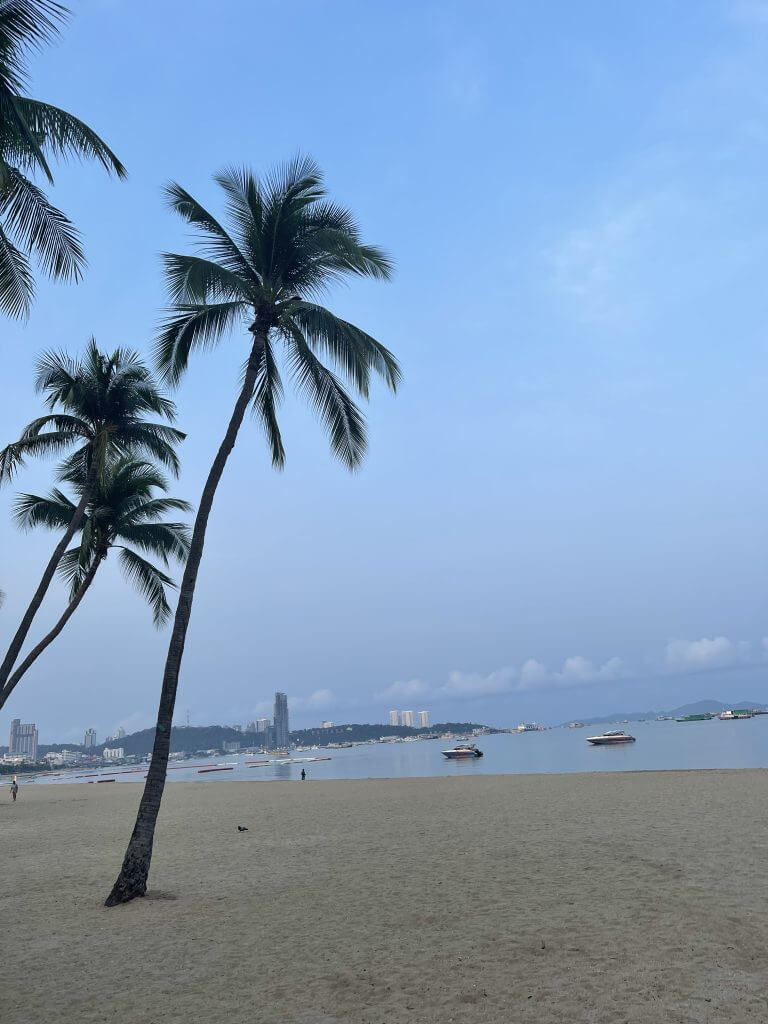 Food
Contrary to many Muay Thai camps, food is not provided with accommodation. Guests can visit local restaurants, order food delivery, or cook meals inside their apartment (a microwave is provided– I recommend buying a hot plate for longer stays).
Fairtex and Women Fighters
Fairtex, above all, has their finger on the pulse of Muay Thai & MMA in Thailand. Just last month, they showed their inaugural promotion at Lumpinee Stadium, which featured Muay Thai, Extreme Muay Thai, And MMA bouts. As MMA becomes more widely popular in Thailand, the gym is well situated with world-class Muay Thai, BJJ, and MMA coaches. 
Perhaps due in no small part to the extraordinary success of Stamp, the gym also has become a huge supporter of nak muay ying. Fairtex has an active group of women MMA and Muay Thai fighters, and does genuinely support their growth. In their promotion's first show at Lumpinee Stadium, Fairtex Fight's main event was a female MMA bout between Aphidet Fairtex and Jada Ketley.
Other Things to Note
Because of the weight behind the Fairtex name, training at Fairtex gym can be a double edged sword. On one hand, if you stay long enough you'll be fortunate enough to train with and befriend some of the most well-known superstars of the sport. It can often feel like you're living in one of the epicenters of the fight world.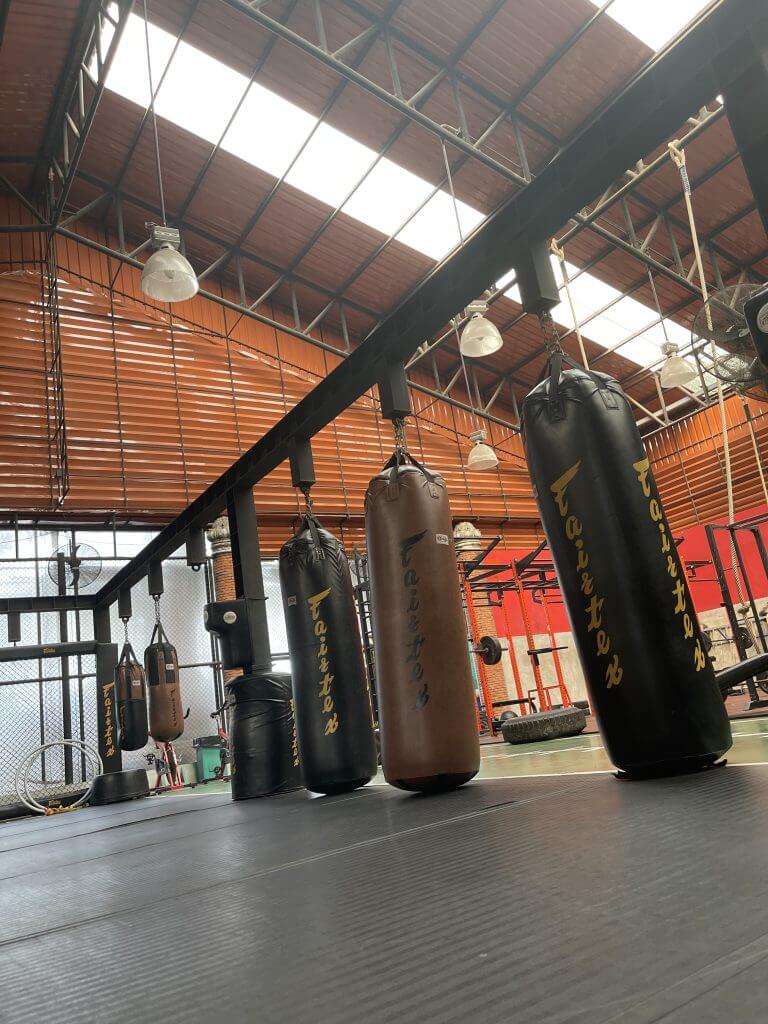 Yet because of this, there's quite a bit of tourism, short-term visiting students, and people stopping by simply to take a video of the fighters training. I recommend staying for at least a month to develop relationships with trainers and fellow fighters, and to integrate into the community.
Despite its reputation as a juggernaut of the industry, much of daily life at Fairtex remains the same as any other gym: run, padwork, bagwork, clinch, shower, eat, sleep, occasionally fight, repeat. I'd recommend Fairtex for students looking to stay long-term at a gym to develop their skills and fight, those hoping to entrench themselves deep into the fight world, and any Muay Thai fighters contemplating a transition to MMA.
---
Overview
Price (meals not included):
Muay Thai Training:
1 Month (12000 Baht) – Discounts will be given if you stay for multiple months
All-Inclusive Training (Muay Thai, MMA, BJJ):
1 Month (15000 Baht) – Discounts will be given if you stay for multiple months

Accomodation:
Fairtex Express Hotel: 7,500 baht/month
Fairtex Residence (recommended): 10,000 Baht/month plus utilities (~1-1.5k baht)
Visitors can elect to stay in the Fairtex Express Hotel or Fairtex Residence Apartments. The Express Hotel is sparse, and the Residence Apartments are recommended for long term stays. The apartments include a bathroom, separate kitchen (an important benefit of the apartments, as Fairtex gym does not provide food), bed, couch, coffee table, dresser, table, chairs, tv, and a couple other small furniture items. All apartments are equipped with an AC unit, fan, microwave, and refrigerator.
Complementary cleaning & linens change is offered once per week on a day/time of your choice. A water dispenser and coin-based washing machines are also available onsite.

Training: Morning runs begin at 6:45am, morning training concludes at 10am. Afternoon training runs from 3-5pm. Each individual is matched with a trainer for padwork every session, but further training (bagwork, sparring, clinch) is up to both you and your trainer's discretion.

Gym Culture: Women generally tend to work in the same ring and spar/clinch together. However there is no hard and fast rule, and you may occasionally see sparring of mixed genders. Fairtex is a progressive gym: there's no need to enter the ring under the bottom rope.

Food: Fairtex does not offer food onsite. However, there are numerous local restaurants and stores to purchase food. Across the street is Terminal 21, which houses dozens of restaurants and an affordable food court at the top level. Tesco, a large supermarket, is a few minute's walk away from the gym and any groceries can be purchased there. Because of this, I recommend staying at Fairtex Residence apartments so you have your own kitchen to cook in.

Language: There's quite a bit of English spoken at the camp. Most people you'll speak to upon arrival will speak perfect english, and you'll have no problem communicating. Some trainers know more English than others, but all will be able to communicate basic words and instruction during padwork.

Getting there: From Bangkok, order a taxi to Pattaya/Fairtex. Prices are approximately 1000 baht each way. There are also vans and buses from the Ekkamai Bus Terminal for about 200 baht.
This article was written by Kennedy Petersen, with final edits done by Angela Chang. All photos are property of Kennedy.
Become a Patron!
If you want an in-depth guide to training in Thailand, I've got just the thing.