Koh Larn is a beautiful island just off of Pattaya. With minimal time to travel with training and fighting, Koh Larn is an excellent choice as Pattaya is not very far away from Bangkok and is very easy to get to.
Pattaya itself is just alright for tourist purposes, in my opinion. Many call Pattaya the Las Vegas of Thailand due to many people making their way here to engage in the sex scene. Like with almost any place, you can find the "bad" stuff if you go looking for it. I've seen some nice areas that are quiet and suitable to raise a family, and I have also seen older farang men on the street with girls who look no older than 16. There are also a few good Muay Thai gyms there if you feel like staying a few days to train.
Anyway, point is, to get to Koh Larn, you have to make your way to Pattaya first. As with all day trips, the earlier you go, the better, so you can take your time exploring and not have to worry too much about traffic going there.
The best way to get to Pattaya is via minibus.
*Keep in mind that a minibus is not designed to hold much besides the passengers inside, so don't bring too many bags with you. If you need to bring a lot of bags and/or luggage for whatever reason, double check it is okay to do so first. You can pay for two seats, or take a bus as a second option.
(If you are planning on driving, drive straight to the pier. There is a big parking lot across from it.)
Get to BTS Ekkamai and make your way out via exit 2. You should see a bus terminal.
The big buses are also an option to get to Pattaya but they take longer. Go inside the terminal and ask where the minibuses to Pattaya are
minibus in Thai is "rod dtoo" รถตู้
You can ask where the minibuses that go to Pattaya are by asking
"rod dtoo bai Pattaya yoo nai" รถตู้ไปพัทยาอยู่ไหน
"rod dtoo Pattaya" will also suffice
There will be a window you pay at. Just double check the minibus is going to Pattaya before paying. It is 130 baht one way. Hold onto the ticket as the driver will check. You'll load into a minibus. They depart every 30 minutes from 5 AM – 11 PM, so you shouldn't be waiting for long. The trip itself is about 2 hours, depending on traffic. With no traffic, it could be as fast as an hour and a half. There is usually only one pit stop on the way
The driver may ask where you want to be dropped off (along the route). You want to tell him one of these locations, as they're all walking distance from each other:
Best option: The pier/harbor ("taa reu" ท่าเรือพัทยาใต้)
South Pattaya Beach ("haad Pattaya tee" หาดพัทยาใต้)
Walking Street
If you are lucky enough to be dropped off near the pier, you can skip the next step.
Drop off points on the minibus sometimes differ, but don't worry. Take a picture of the street you're on, preferably of an intersection sign so you know exactly how to get back, or even get a business card from one of the shops that are open.
Now make your way over to the pier. There aren't many taxis in Pattaya, but there are plenty of motorcycle taxis. Settle on a price before getting on the motorcycle taxi.
Once you get to the pier, you will want to go all the way straight inside until you reach a line of stalls on your right side that all sell tickets to get to Koh Larn. These ferries are 30 baht one way and require you to buy a ticket beforehand. The tickets don't have a departure time written on them, so you can just buy one and leave any time you want (although what you want to do is leave to go to Koh Larn ASAP!).  FYI, you will probably be bombarded by vendors selling you transportation to Koh Larn via speedboat. Politely decline unless that's your thing (note that you will be paying 1-2.5k one way).
*A lot of the departure times online are outdated. They've added more times so they leave about every hour instead of every 1.5-2 hours. Sometimes, a boat will leave as soon as it gets full, even if it's before the departure time.
If you have a bit of time, wait under the shade or walk around. There are plenty of snack booths so you can get yourself some fruit, ice cream, a meal, or a chocolate-covered frozen banana!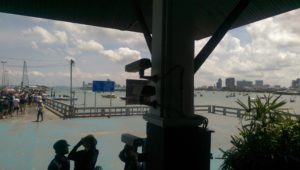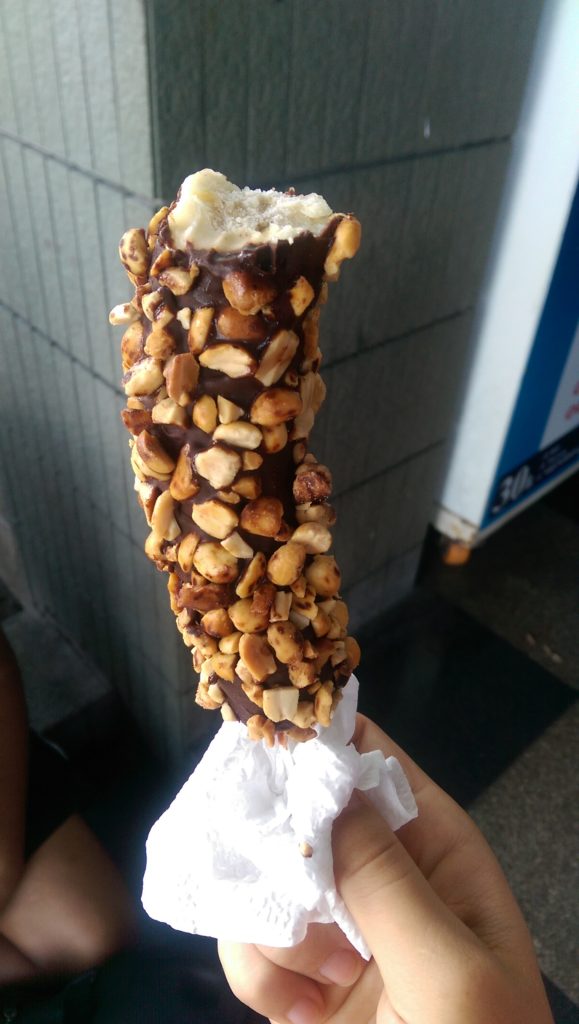 Walk towards the docking area and from there, it's pretty easy. There are only usually two boats at the pier and you can guess which one is leaving next by how full it is. Show your ticket, get on, grab a lifevest, and enjoy the ride. The ride is about 40 minutes long.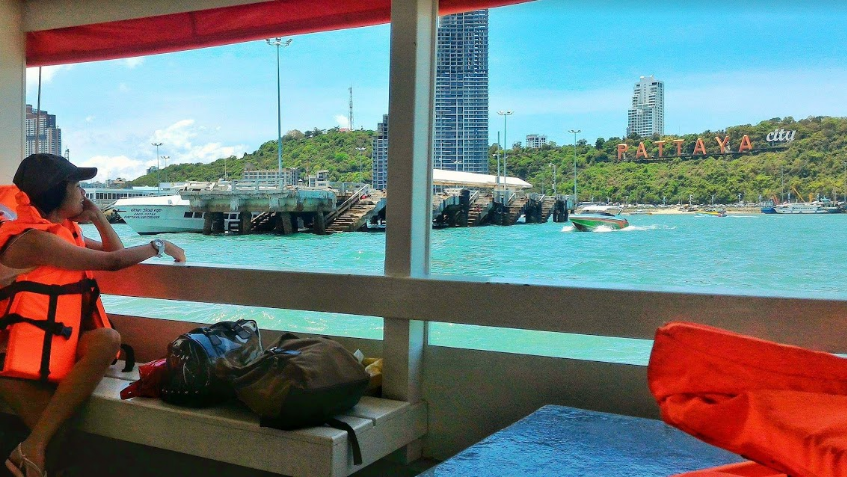 When you get off the boat and walk towards the land, you will see a lot of motorbikes to your right. I highly recommend renting a motorbike as it's the most convenient way to get around the island. There are also motorbike taxis for hire and songthaew on the island, but I think getting a motorbike is well-worth it if you plan on going around the island as opposed to staying in one area. It's 300 baht for the entire day. I tried to negotiate the price but he wouldn't budge. Inspect the bike they give you to make sure there aren't any flaws with it already that they may ask you to pay for upon return.
If you rent a motorbike, you'll get a map of the island, and on the map you will see the different beaches that are there. The island can be quite steep on certain parts, so be careful when you're driving. But on the high points, you can get beautiful views of the ocean.
If you don't want to rent a motorbike or don't know how to ride one, you can also ride on a songthaew, which is also known as a "baht bus". They cost 20-50 baht depending on where you're getting off and they go to all the main beaches on Koh Larn. Just step onto the back of one when you want to leave where you are, press the buzzer when you want to get off and pay the driver.
Where to go next? The entire island is pretty picture-esque, but I like to avoid the areas with a lot of tourists. Tawaen Beach is the most popular beach and has a lot of people as well as plenty of restaurants and shops.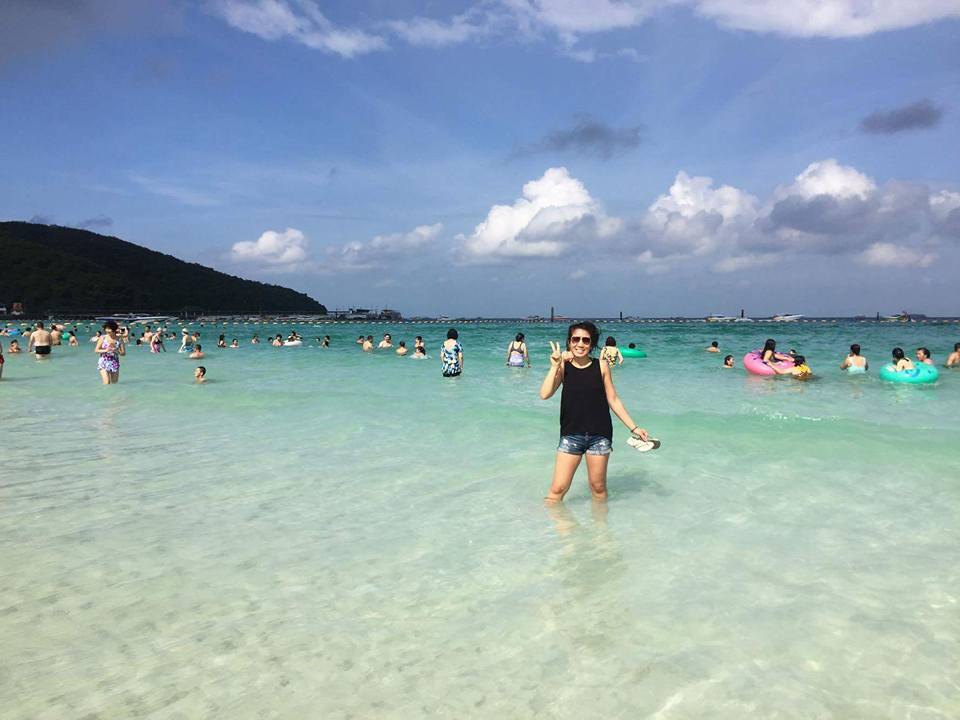 The smallest island, Ta Yai, is very quiet and peaceful. Go around and see which beach suits you best. If you aren't sure where you're going, stop and ask a shopkeeper. Water activities such as jetskiing are available on all the beaches. Keep in mind that it is normal to pay for a beach chair as well as showers and bathrooms on the island. Cellphone reception also isn't optimal on the island, but that's probably a good thing if you're trying to relax.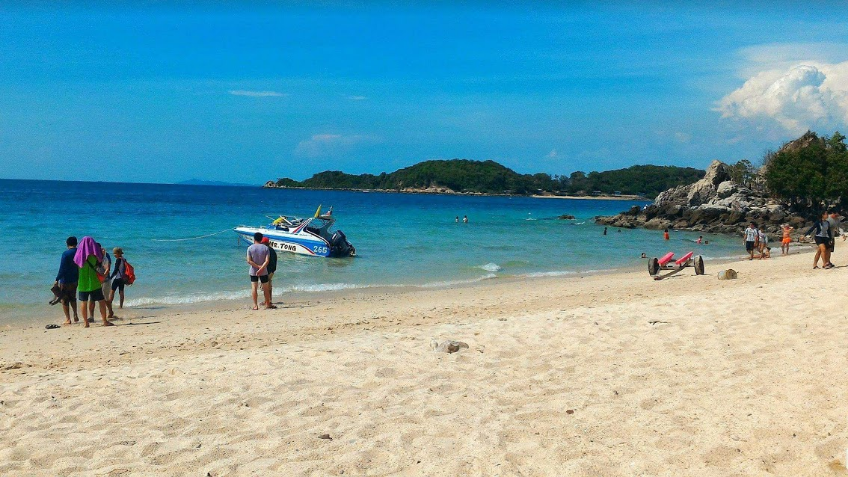 Have fun exploring and take your time, but keep in mind that the last boat back to Pattaya is at 6 PM, so you'll have to be back at the motorbike rentals by 5:30 to return your bike. You go back the same way you came, reverse order. Getting back to Pattaya, you pay right before getting on the boat as there are no ticket booths at Koh Larn. Everything else remains the same.
Total price (minibus to and from, ferry to and from, motorbike rental) = 620 baht
(even less if you ride songthaew)