May Veggie Home had been in my mental bookmark list of places to try for almost as long as I've been in Bangkok. But I had been in Bangkok for over six months before visiting – what on earth took me so long?
Imagine a scenario that was not so imaginary for me: train twice a day, six days a week, be too tired to go anywhere after the second session, fight every 2-4 weeks, teach English all day on your only day off from training…where was I going to find the time (and energy) to make a trek over to the Asoke area (which is about an hour away)?
Now imagine my excitement when my trainer goes out of country for the weekend to corner someone while I have no fights coming up in the next month, and one of my students cancels her private English lesson with me. All this time! What to do?! The possibilities!
Naturally, I go over to Asoke and eat at May Veggie Home.
Okay, I might have gotten hungry while I was first in Phrom Phong and ate Japanese food there…but that didn't stop me from going into MVH anyway for dessert. And I did just that.
Walking in, it was busy, but not fully packed. The noise level was also at a comfortable level where I didn't have to talk louder than normal to hold a conversation with someone. When I saw the dessert corner, I made a beeline for it.
ICE CREAM?!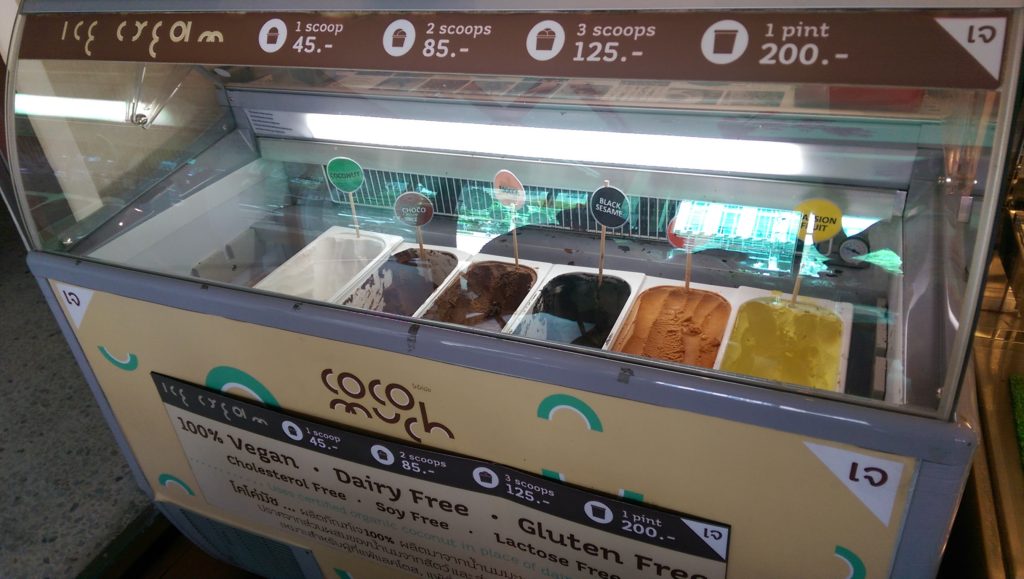 AND CAKE?!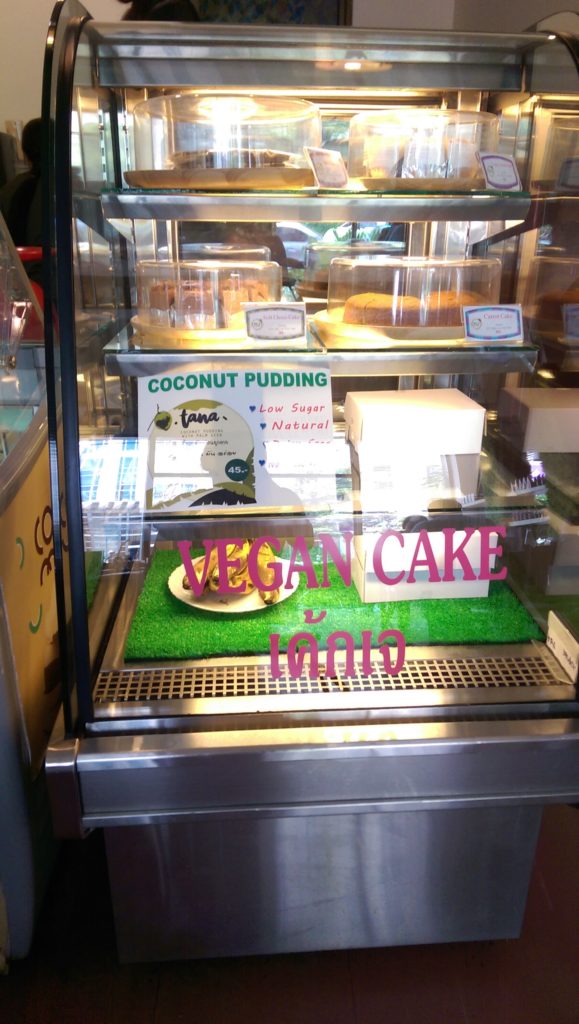 My inner fat kid was singing praises to the vegan gods. And like fate, there was an open table right in front of the ice cream. I sat my giddy butt down and looked at the food menu woefully. Maybe I shouldn't have eaten earlier…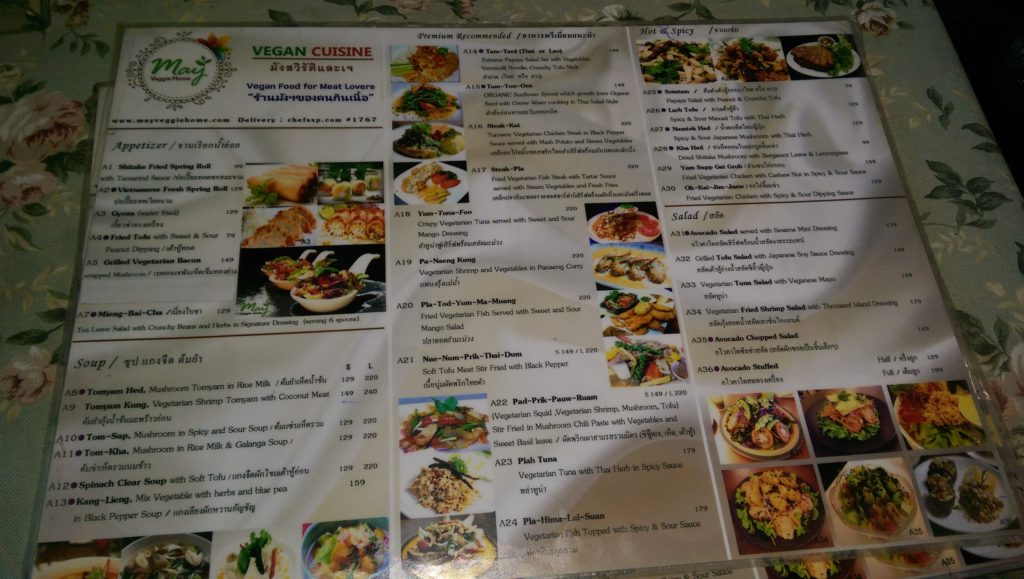 With veganized dishes of many popular Thai dishes, they all sounded delicious and deserving of an empty stomach on a future day.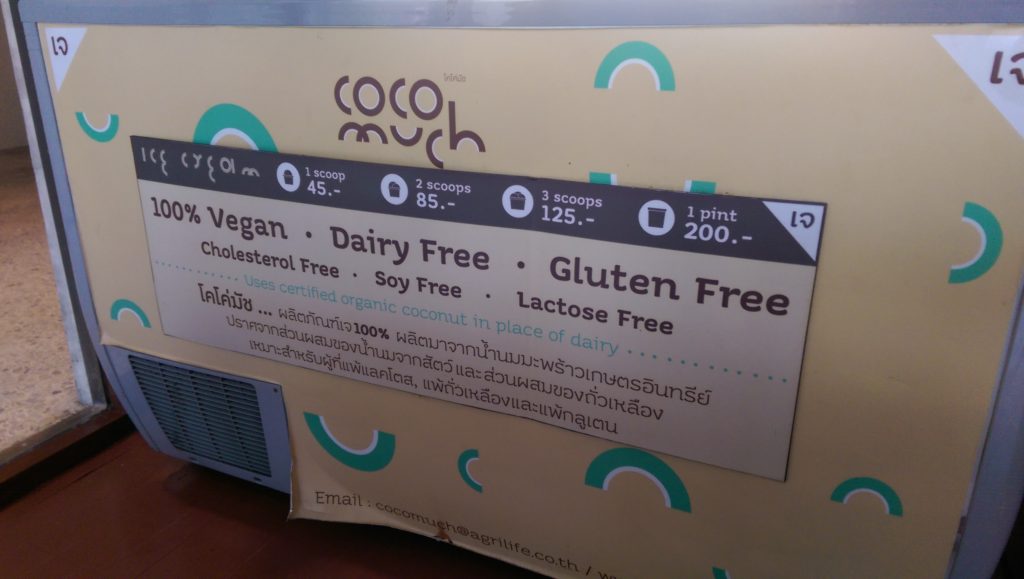 Ah, dessert. Back on track. The flavors available that day were coconut, chocolate, mocha, black sesame, Thai tea, and passionfruit. We ordered the passionfruit, coconut,and Thai tea flavors along with a slice of carrot cake.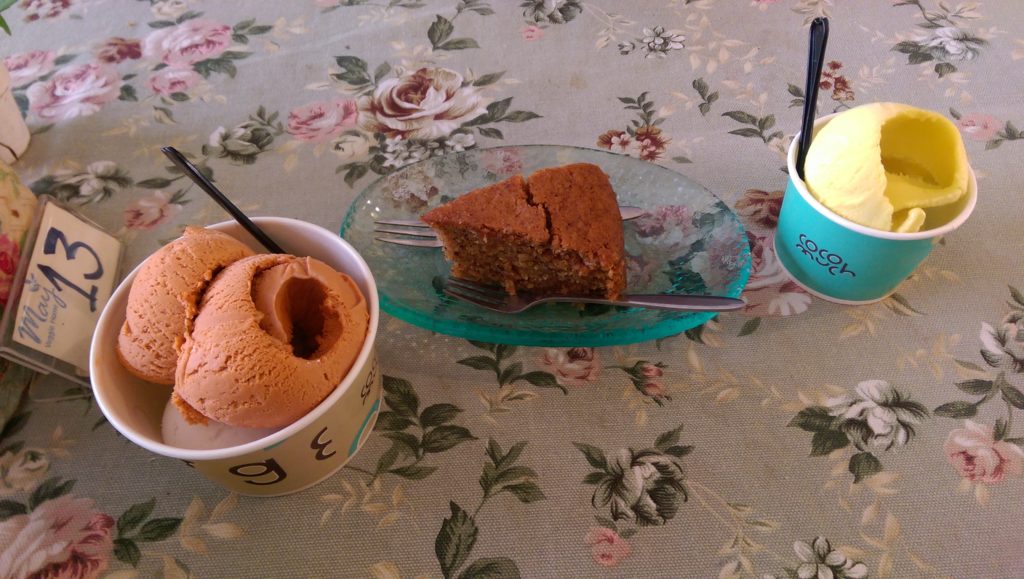 The Thai tea was the perfect balance of creamy with the flavor of Thai iced tea. The tea flavor wasn't overpowering or too bitter. The coconut was clean and tasted like I was eating frozen coconut meat. The carrot cake tasted good but was too dry for my taste. It was just sweet enough – usually cakes are too much on the sugar level for me. The passionfruit lived up to its name and was super sour. If you haven't had passionfruit before, try it if you like lemon flavored sweets. In addition to all of these being delicious, none of them were overly sweet.
May Veggie Home
8/3 Sukhumvit Soi 16
Asoke Sukhumvit Intersection, Ratchadapisek Roak Klong Toei
Bangkok 10110, Thailand
Getting there: BTS Asoke, Exit 4 (opposite from Terminal 21)