I toyed with the idea of writing about food and restaurants but had second thoughts since I wanted my main focus of this website to be about Muay Thai. But because food is such an integral part of pretty much everyone's life, why not share my thoughts on the foods I'm eating in Thailand? And anyone who knows me knows I love to eat and try out new places. I hope whoever is reading can find this series useful and helpful to finding new places to eat while in this country filled with delicious options.
The Siam Center and Siam Discovery buildings are linked together by a walkway on the 4th floor. This see-through skywalk gives you views on what's happening between the buildings (a few Muay Thai shows have been hosted outdoors in this area, usually free to attend, and you can see the ring from the walkway).
After watching a couple bouts, I walked into the Siam Center side and saw Food Republic, its food court. Food courts are the norm when it comes to shopping malls in Thailand, and is a great way to compromise if you're with people who all have different tastes. They're usually inexpensive (and much cheaper than eating at a restaurant from the same mall) and have a various selection of  cuisines.
At Food Republic, you have to get a prepaid food card at one of the counters (unused money will be refunded to you upon returning the card). I wasn't feeling particularly picky and saw Kebap Co., a Turkish/American stall.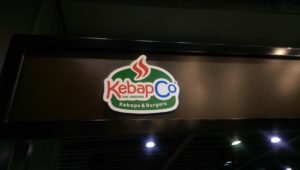 Like most of the food stalls here, the menu items were cooked-to-order. The veggie burgers caught my eye, but hesitated; most veggie burgers are vegetarian- but not vegan-friendly (egg usually helps to hold the ingredients together while preparing and cooking veggie burgers). I asked one of the two ladies behind the counter if it was "jay" (the closest Thai word to vegan). One of them told me the burger was jay but the buns are not jay (much appreciated since many people forget that bread isn't always vegan-friendly).
However, she did tell me that the wrap was vegan-friendly and I can order the "double veggie burger in wrap." Sold. At 99 baht, it wasn't expensive at all. You get to pick what kind of sauces go into your order (hot sauce, ketchup, mustard). I ordered my veggie wrap with hot sauce with a side of hash browns, and waited about 10 minutes for them to finish preparing my food.
Upon receiving my food, it looked appetizing, but the portion was a bit on the small side. For a name like "double veggie burger", I expected a bit more of the veggie burger, but I got what seemed to be 50-75% of a single veggie burger stuffed inside a wrap. Anyway, onto the wrap. The veggie burger was seasoned well. The texture was a bit crumbly (again,  veggie burgers are tough to make without a good binder). It reminded me a bit of a falafel but not fried, which may sound weird because this is supposed to be a burger, but i think the seasoning made up for it because the flavor was wonderful. The hash brown order, to my disappointment, was one big hash brown (I had imagined several of the small ones). It was crisp on the outside and had potatoey-flakiness on the inside, but was so oily that it was off-putting.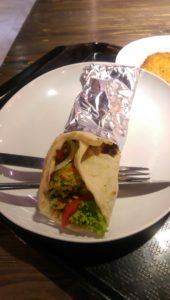 (no good pictures of the hash brown, sorry!)
Overall, this place is a good option for omnivores (I was told their chicken kebap sandwich is a good pick as well, although small in portion) and herbivores alike, and I think it was great they offer a veggie burger in a place that is otherwise filled with meat-everything. If I were to return to Food Republic, I'd want to try something else before revisiting Kebap Co., but I will definitely get another veggie wrap in the future.
Kebap Co.
Food Republic, Siam Center, 4th FL
979 Rama 1 Road, Pathumwan
Bangkok 10330, Thailand
Getting there: BTS Siam, Exit 1