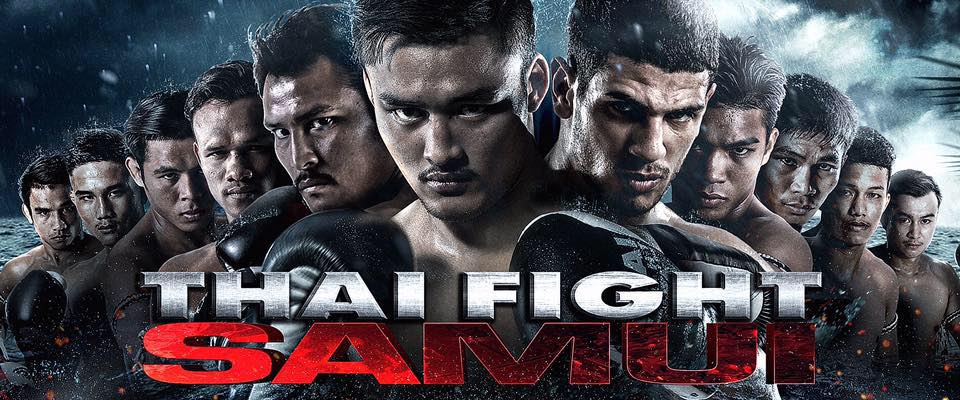 Thai Fight is back for another installment in Samui, Thailand this Saturday. The Thailand-based promotion has hosted a number of domestic and international shows and always has top names such as Saenchai, Sudsakorn, and the Pinto brothers competing on the shows.
This Saturday, the will see some well-known Thai talent that are newly signed onto Thai fight: Padsaenlek Rachanon
Kongsak Sitboonmee
Saensatharn PK Saenchai Gym
Aroondej Petchsupapan
Manasak Sor.Jor. Lekmuangnon
Some familiar faces such as PTT Petchrungrueng, Youssef Boughanem, and Saiyok Pimphanmuang Windysp will return to the Thai Fight stage this Saturday.
And for the first time ever, Thai Fight will have females fighting on their show:
Juliana Rosa vs Phetchnapa Kiatkitiphan @ 58 kg
Joanna Walorska vs Mungkornkhao Pollamai-Plakad Gym @ 67 kg
It is interesting to note that Walorska is reportedly going up two weight classes to fight at 67 kg.
Fight Card
(Will be updated as more fights are announced)
Jamie Pudge (UK) vs Phanpikard Heng-Heng Gym (TH) @ 75 kg
Chadd Collins (AU) VS Manasak Sor.Jor.Lekmuangnon (TH) 67 kg
Juliana Rosa (BR) VS Phetchnapa Kiatkitiphan (TH) 58 kg
Jarred Rothwell (ZA) VS P.T.T. Petchrungrueng (TH) 68 kg
Sean Clancy (IE) VS Kongsuk Sitbunmee (TH) 64 kg
Joanna Walorska (PL) VS Mungkornkhao Pollamai-Plakad Gym (TH) 67 kg
Imad Assli (MA) VS Youssef Boughanem (MA) 74 kg
Damon Goodwin (AU) vs Payak – Samui Lukjaoporongtom Kromsappasamit (TH) 68 kg
Nick Price (AU) VS Saiyok Pumphanmuang Windy Sport (TH) 73 kg
Aroondej Petchsupapan (TH) VS Saensatharn P.K.Saenchai Muaythai Gym (TH) 70 kg (tournament qualifier)
How to watch Thai Fight Samui
In person: Pru Chaweng, Samui Island. Free admission. Doors open at 4:00 pm, show starts around 6:20 pm.
Thai TV: Channel 3 SD (33) 6:20-8:00 pm, then Channel 28 from 8:00-9:45 pm
Online: It is quite easy to watch Thai TV channels through your computer. You can head over to Channel 3's website to watch the fight streamed live (be sure to choose the HD channel)