Having been in Thailand for almost a year, I've barely traveled anywhere outside of Bangkok except for fights. Graced with the presence of one of my best friends visiting for New Year's, we decided to take a trip to Ayutthaya and see the ruins everyone talks about.
We were originally going to take the train from Hua Lamphong station, but upon calling, we found out that the trains leaving in the morning only had space for Thai nationals, and foreigners like my friend and me were out of luck. Going this way would have been cheaper as 3rd-class tickets are only 15-20 baht (one way). We did a bit of more research and decided to take a minivan.
Mo Chit Bus Terminal (also called Bangkok Northern Bus Terminal) is a huge station where coach buses and minivans bustle in and out frequently. Here, you can catch a ride to Central, Northern, and Eastern provinces (Isaan included), and even have a few lines that operate internationally (to Laos and Cambodia). The terminal is a bit far from popular tourist attractions such as Chatuchak Market, so the best way to get there if you're not already in the Mo Chit area is to take the BTS to Mo Chit (Sukumvit line, last stop) then catch a taxi/motorbike to the bus terminal (called "Mo Chit Song" (2) in Thai). It does not take very long to get there if you're in a car or on a motorbike. You should arrive within 6-12 minutes.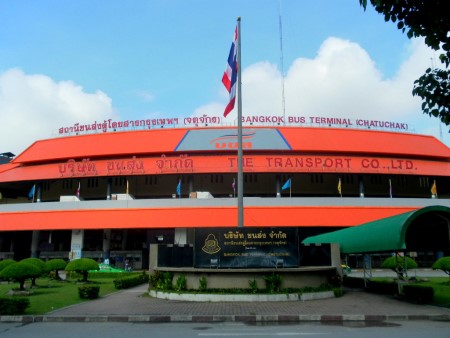 If you arrive hungry or if you like to snack during car rides, you're in luck. Food stands, stalls, and convenience stores are aplenty here at the terminal.
So to get to Ayutthaya, what you want to do after getting dropped off is go into the terminal. Go in, go through the doors where you will pass coach buses, and then exit the building from the opposite side. You will have to get to the single digit markers, so keep walking straight. When you see the last row of parked minivans, you can ask anyone for the Ayutthaya minivan ("Ayutthaya?" will suffice if you're talking to someone who doesn't speak English well). At this point, they should tell you to turn left and go towards the end. When you're almost at the end, ask someone else again, and they will tell you which minivan exactly. You probably won't have to wait very long to board the minivan.
Minivan ride from Bangkok to Ayutthaya: 60 baht.
On New Year's Day, there wasn't much traffic as most people weren't working nor were they in Bangkok. It took about 1.5 hours to get to our drop off point (we were told it'd take about 2 hours). We were dropped off close to this cafe called SATANG, and were immediately greeted by Tuk Tuk drivers offering us to make deals to take us around. Ignore them and walk straight down the street, retracing where the minivan came from. Within a 2-5 minute walk, you should see a bicycle renting stall on your right (called Mr. Mooh). Mr. Mooh operates in front of a massage place. Don't worry – if you can't find this exact stall, there are plenty of bicycle rental spots in Ayutthaya. It's the most convenient, scenic, and cheapest way to get around.
All-day bicycle rental: 50 baht.
The owner gave us a map with the most popular destinations and directed us towards our first destination. The paper also had his number on it, in case we got lost or needed help getting around. He also gave us bike locks to use, as you can't bring bicycles into the parks. We paid him the 50 baht and got on our way!
We biked for almost 4 hours, stopping at 4 different places and walked around each. Each stop wasn't very far from each other – 7-10 min bike ride at most.
Each point of interest we went to had food and souvenir shops, most of it overpriced. A lot of restaurants were also overpriced, but nothing beats having a meal with something cold to drink between biking from place to place.
Going back to Bangkok, we walked towards our drop-off point. Probably because it was New Year's Day, we had to walk all the way down to the bus terminal (in a straight line). There was no direct bus to Bangkok that day, so we had to take a bus to Rangsit, which is halfway between Ayutthaya and Bangkok, then take another bus to go to our starting point. I'm positive that on a non-holiday there would have been more minivans going straight to Bangkok
Minivan ride from Ayutthaya to Rangsit: 40 baht
Minivan ride from Rangsit to Bangkok: 30 baht
And there you have it! A day trip with transportation for a total of 180 baht.
As a side note, I don't believe Ayutthaya is worth staying in for more than a day as the standard sightseeing (temple hopping) can be done easily in one day.