Female Muay Thai is on the up. There have been tremendous leaps and bounds in the sport in the last couple of years. All these progressive steps have led to more opportunities for women to fight, given them a brighter spotlight in the fight scene and (in some cases) better paydays. (It just so happens that these three are the pillars of what Muay Ying strives towards!)
A few organizations and events are to thank for this newfound interest in women fighters, whether by proactive or reactive means.
Please support the continuation of content on Muay Ying via Patreon
The Fight Scene
ONE Championship has made no hesitations in marketing their atomweight (115-pound limit) division fighters in all three sports of Muay Thai, kickboxing, and MMA. Because of ONE's growing popularity among martial artists and fight fans from all over the world, it is now the promotion to get into. Also, their pay attracts and motivates Thai fighters to fight for them (and fight well) – at the moment, ONE pays women the best in Muay Thai. This sentiment also holds true for non-Thai fighters – the incentives of fame and money are forcing fighters in every country to level up their game.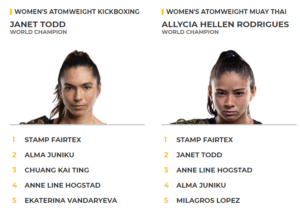 Muay Thai Super Champ, an organization based in Bangkok that didn't have women on their cards for years, started with one female bout per card a couple years ago. Now, Super Champ and their media team's other (newer) promotion, Muay Hardcore, are at two female bouts for each show, every week. Before COVID-19 struck, they even had a four-woman tournament on Super Champ. They were gearing up for their second women's tournament one when the pandemic shut everything down. In December 2020, they had an "Era of Muay Ying" weekend where there were three female bouts each on both promotions. The best part of the weekend women took center stage in both co-main and main events. If it were not for these two shows, female fighters in Thailand would have nowhere to fight aside from sporadic events in local stadiums or in the countryside.
Thai fighters that had not fought in years and were thought to be retired (or soon to retire) became active again thanks to Channel 8. Both promotions also gave top Thai fighters that previously had little opportunities outside the stadium scene to put their skills on display. Fahseethong, Chomannee, Lommanee, Sawsing, and Dokmaipa are some former champions that have dusted off their gloves to compete again. Sawsing plays a central role in the match-ups for the female bouts.
Thai Fight, a Thai promotion that's been around since 2009, first tried their hand at including women in 2017. Juliana Rosa fought Phetchnapa and Asia Walorska fought Mungkornkhao. In 2018, child phenom Petchjeeja made her return to fighting Muay Thai on the promotion against Calista Parts. From then until 2020, there were no women's fights. Starting in September 2020, Petchjeeja made regular appearances on Thai Fight as part of the only women's bout.
All-female promotions, which have not had much success in the past due to financial issues, are being tested again in the market. Lady Fighter, based in Nakhon Ratchasima, has televised a few events before the most current wave of COVID-19 forced its (and almost all other promotions') shows to cancel. Unlike Muay Thai Super Champ and Muay Hardcore, Lady Fighter showcases five-round fights (stadium style, as opposed to entertainment rules) with some PAT (Thailand) title fights on each card.
With female bouts gaining popularity with the general population and its potential profitability being a driving force, more places are doing more to include women in their spaces. This is important from a business perspective; general attitudes (and often sexist mindsets) towards women fighters aside, a big obstacle that has kept promoters in the past and present from giving women more opportunities has been a financial one. One of the biggest and shocking pieces of news of 2021 was that Lumpinee Boxing Stadium is gearing up to have female bouts. Arguably the most famous and revered Muay Thai stadium worldwide, Lumpinee has never included female match-ups since they opened in 1954. Women are not even allowed to touch the stage because of the believed "bad luck" they would bring to the Buddhist-blessed ring. After almost 70 years of existence between two locations, the legendary mecca of the sport is preparing to have women on, starting sometime in the next two months.
Changing and Challenging Norms
Fairtex, a renowned Muay Thai camp that produced well-known fighters during the Golden Era, has played a big role in changing the norms for women in Thailand. Founded in 1954, Fairtex became famous for producing champions such as Jongsanan, Phaiboon, Bunkerd, Neungsiam, Naruepol, Kaew, Attachai, and Yodsanklai when they were at their original location in Bangkok.
Long regarded as a traditional gym, the camp (now located in Pattaya) made a bold move in acquiring Stamp in 2015. The camp invested in and trained her the same with their male fighters. Stamp went on to become Fairtex's first female fighter. In her ONE Championship kickboxing debut, she won the title against Kai Ting Chuang, the then-champion. Since then, Fairtex has added a few more women to their roster, including Wondergirl, Apidet, Gusjang, and Smilla Sundell (the first foreign woman to be contracted to the camp). Wondergirl and Smilla are both ONE Championship athletes. Stamp and Wondergirl are currently Fairtex's most well-known fighters. Apidet currently only completes in the local scene and on the Channel 8 promotions (Muay Thai Super Champ and Muay Hardcore). What's notable is that these women are spared no leniencies during training, and train with Fairtex's male fighters.
Last year, WBC Muaythai launched their first-ever female rankings and last updated their rankings in March 2021. The organization, active in over 65 countries and territories, regulates, sanctions, and supervises professional bouts all over the world. WBC Muaythai's scoring system is held as a golden standard within the community. Their rules and regulations are approved by the Board of Boxing Sport via the Sports Authority of Thailand. For this highly credible sanctioning body to finally include women in their ranking systems was a huge step. In addition to giving women more attention, the need to keep the system current and relevant can spur more opportunities for title fights between women that are ranked.
Other organizations that have included female fighters in their rankings for years include WMO, WMC, IKF, and WPMF. However, not all of these organizations have published their updated rankings.
Lastly, more media bodies are giving focus to women. Lui Muay Thai, the media team behind Super Champ and Muay Hardcore, has pushed boundaries when it comes to spotlighting women in interviews and changing the female to male ratio in their fight cards. Muay Thai Iyarin, reportedly created by a woman, is doing the same when it comes to accentuating women involved in all aspects of the sport in Thailand, not just fighters. Fight Record, a UK-based media company, is creating interactive polls, interviews, and highlights of female fights going on around the world. They have even created their own ranking system – but it's not available for public view unless you have a subscription. The amount of media companies that are now making an effort to include women is unprecedented. Just six years ago, no Muay Thai news outlets could be found (in English) that gave a significant of their time to women.
Edit: The rankings on Fight Record show the official Thai Fighter UK rankings. These rankings are the only independent Muay Thai ranking system in the UK.
The Journey Ahead
While most of these contributions are flawed and have many areas to improve in, it is progress. As the saying goes, "The journey of a thousand miles begins with one step."
There is much to be done. The ranking systems need to be vetted with the same amount of scrutiny and accuracy as with the male rankings. Misogynist microaggressions and questions need to be taken out of interviews. Women still have a glass ceiling when it comes to getting paid. Transgender fighters need their (consistent) space in the general scene. And, above all, attitudes towards and about women in Muay Thai need to shift towards one that is more centered on skill and work ethic. These are only a few things in the long list of changes that need to be made.
It's important to both appreciate the progress that has been made and realize that it's not enough. Boundaries have been pushed in a short amount of time. The journey towards equal pay, equal spotlight, and equal opportunities is long overdue, but… better late than never.
If you want an in-depth guide to training in Thailand, I've got just the thing.