PAT (Thailand) title fights. All-women card. Televised. Every Sunday.
Lady Fighter is the latest promotion in the country to host all-female cards every week. It's hosted by Colonol Boonsong Phromnil in collaboration with the Nakhon Ratchasima Muay Thai Club. Lady Fighter is sanctioned by PAT (Professional Boxing Association of Thailand), hence why PAT title fights are taking place.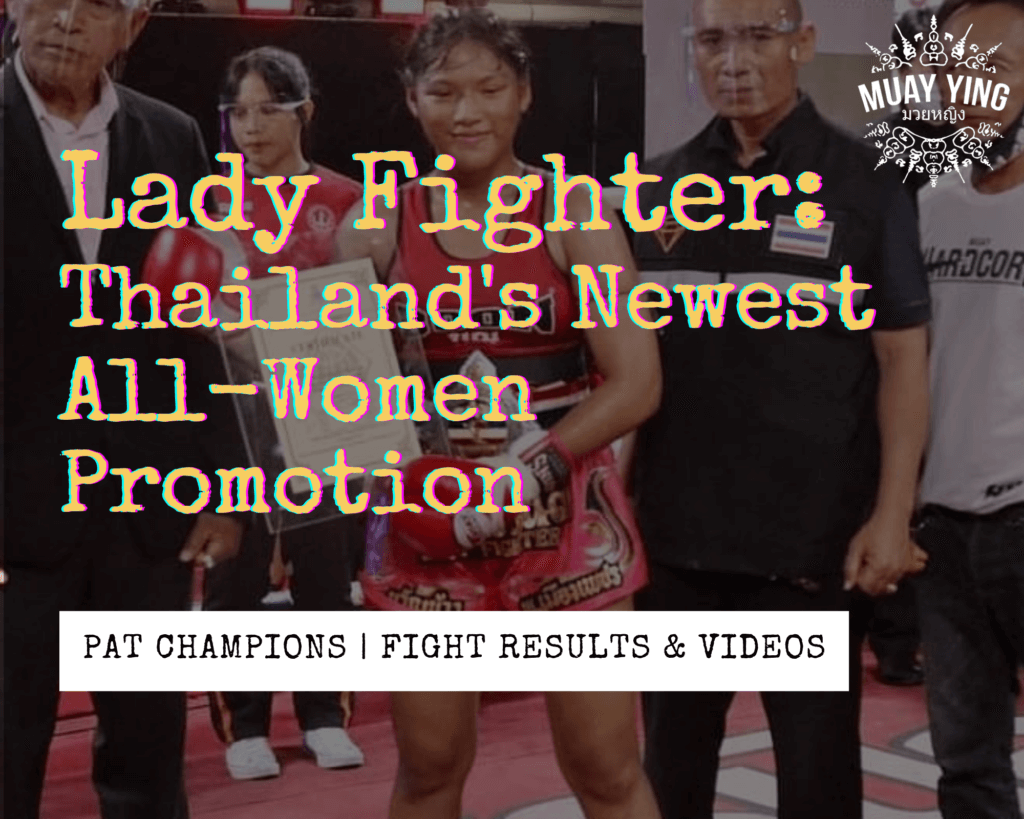 Please support the continuation of content on Muay Ying via Patreon
PAT Champions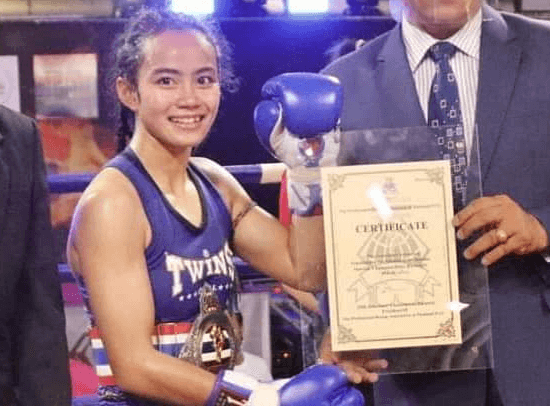 So far, four title fights have taken place. Here are the following Thailand champions from those fights:
102 lb: Phayahong Rongriangilakorat (won via decision vs Fahchiangrai Sor. Saenchai)
105 lb: Saenjan Sit. Tichabi (won via decision vs Mongkutpetch Rawaimuaythai)
100 lb: Chabakaew Por. Muangpetch (won via decision vs Pornthip Por. Ampa)
126 lb: Kwankhao Por. Muangpetch (won via decision vs Petchnaree Wor. Maniwan)
Fights take place at CentralPlaza every Sunday and are streamed live via Channel 5 HD. We will be posting the individual fights on our YouTube channel 1-3 days after each event takes place.
The Changing Landscape
Women fighters are getting more and more opportunities to fight on bigger televised shows in Thailand. Before COVID, there weren't too many options for women – the occasional women's bout on Channel 8, the annual WPMF shows were not enough in terms of opportunity and staying active. The smaller shows at the malls and tourist venues are not generally made for high-level fighters, and the pay is quite low. High-level fighters would take fights at these smaller shows for very little pay just to stay active, or risk not fighting for months on end.
Now, women have the opportunity to fight on the Channel 8 shows (Muay Hardcore and Super Champ) more frequently and now have this promotion, Lady Fighter, to showcase their skills.
To date, all-women promotions have not had much longevity. Muay Thai Angels, arguably the most famous one, fizzled out after two seasons. Ladies Fight Thailand and Women's Fight both each had two or three shows each before ceasing to host bouts. Female Fight League only had one. However, the landscape of the scene in Thailand is changing noticeably – more media outlets are featuring women fighters, more promotions are making a point to advertise their female bouts and/or add them into each card, and the women in the scene are able to stay much more active than before, keeping them in shape and able to showcase their best selves.
FIGHT RESULTS
March 21 card

:

Chabakaew Por. Muangpetch won via decision vs Pornthip Por. Ampai – PAT Title @ 100lb
Saenjan Sit. Tachabi won via decision vs Mongkutpetch Rawaimuaythai – PAT Title @ 105 lb – side bet 140k baht
Tangtang Por. Lasuea won via decision vs Nongmint Sor. Petchboonmee – 110lb
Blaifah Sor. Nittaya won via decision vs Petchganya Sor. Puangtong – 135lb
March 28 card:

Petchnapha Sor. Kanitson won via decision vs Fonluang Petchnonggee – 57 kg
Phayahong Rongriangilakorat won via decision vs Fahchiangrai Sor. Saenchai – PAT Title Fight @ 102lb
Petchlookon RongRienGilakorat won via decision vs Petchranneung Pakoganma – 48 kg
Kwankhao Por. Muangpetch won via decision vs Petchnaree Wor. Maniwan – PAT Title Fight @ 126 lb
Videos are property of CH5HD1 Thailand.
If you enjoyed this or found this useful, and want to continue seeing Muay Thai news (with focus on ALL fighters, not just men), training and fighting tips, gyms reviews, and general/miscellaneous content,
please consider becoming a donor on Patreon.
With donors, I will be able to deliver high quality content consistently as well as continue my fighting goals in Thailand.