Best of Siam has held shows at Rajadamnern Stadium, and during their last show, they really put foreigner fighters up front and center, with foreigners being crowned new WBC and Rajadamnern Stadium titles.
The French based promotion will hold its next show in Paris on June 29th. The current fight card guarantees this show to be fireworks with excellent fighters on it.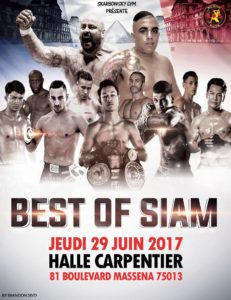 Three Thai fighters will be flying to France to represent their national sport.
Littewada Sitthikul will be up against Morgan Adrar. Littewada is a southpaw Muay Femur, extremely well rounded in all his major weapons, including boxing. He can hang with the other top, more well-known fighters, such as Saenchai. He fought Pakorn and Yodwicha, and can boast WMC and Channel 7 Stadium titles. Morgan Adrar just fought Pakorn in Lebanon, and has previously versed Saenchai, so he is not someone who will be messing around in the fight. Adrar is also a former WBC and WMC champion. Littewada usually fights at 63-64 kg and Adrar fights from 67-70 kg; the agreed weight has not yet been made public, but it will be interesting to see what they settle on.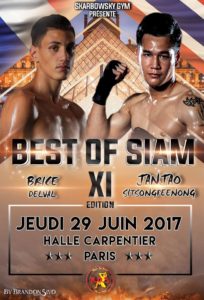 Janjao Sitsongpeenong, son of the famed trainer Jakkrit Fairtex, has been fighting since he was 5 years old and can boast over 200 fights in his experience. Elusive and tricky, he just had a fight at Lumpinee Stadium cancelled because his opponent found out who he was and did not want to fight him. Janjao will see Brice Delval in the ring. Delval is ranked #13 by WBC and fights under both Muay Thai and K1 rules.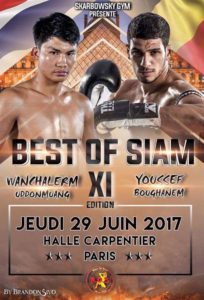 Wanchalerm Nuantong Snooker (ranked #2 by WBC) will be facing Youssef Boughanem. Wanchalerm has had over 300 fights and is an aggressive Muay Khao fighter. Boughanem is no stranger to fighting Thais as he lives in Thailand and has fought AND beat top competition, Thai and foreigner, including Sudsakorn. Youssef has over 200 fights himself and is the current Rajadamnern Stadium champion.
Youssef Boughanem (MA) vs Wanchalerm Nuantong Snooker (TH) @ 72 kg
Yassine Boughanem (MA) vs Alexandru Lungu (RO) @ 100+ kg
Morgan Adrar (FR) vs Littewada Sitthikul (TH)
Brice Delval (FR) vs Janjao Sitsongpeenong (TH) @ 63.5 kg
Gaetan Dambo (FR) vs Karim Bezzouh (FR)
Mathieu Guevara (FR) vs Célestin Mendes (FR) @ 63.5 kg
Youssouf Binate (FR) vs Aiman Al Radhi (FR) @ 64 kg