Upon a first glance at Iman, the easiest things to notice are her eyes. Her eyes are always wide with a hunger for improving her striking skills, and she takes her training and fighting very seriously. She's disciplined and does everything she has to. Why? Because she wants to win. And if she doesn't win, she at least wants to give her very best.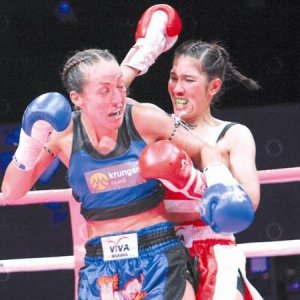 Currently 33 years old, she has never backed down from any challenge, and fighting is no exception. She's fought top names in both Muay Thai and K1 (Chomanee Sor Taehiran, Iman Barlow, Joanna Jedrzejczyk, just to name a few), is a Muay Thai Angels semifinalist, and has titles to boast (2x WMF World Champion and recent WBC European Champion).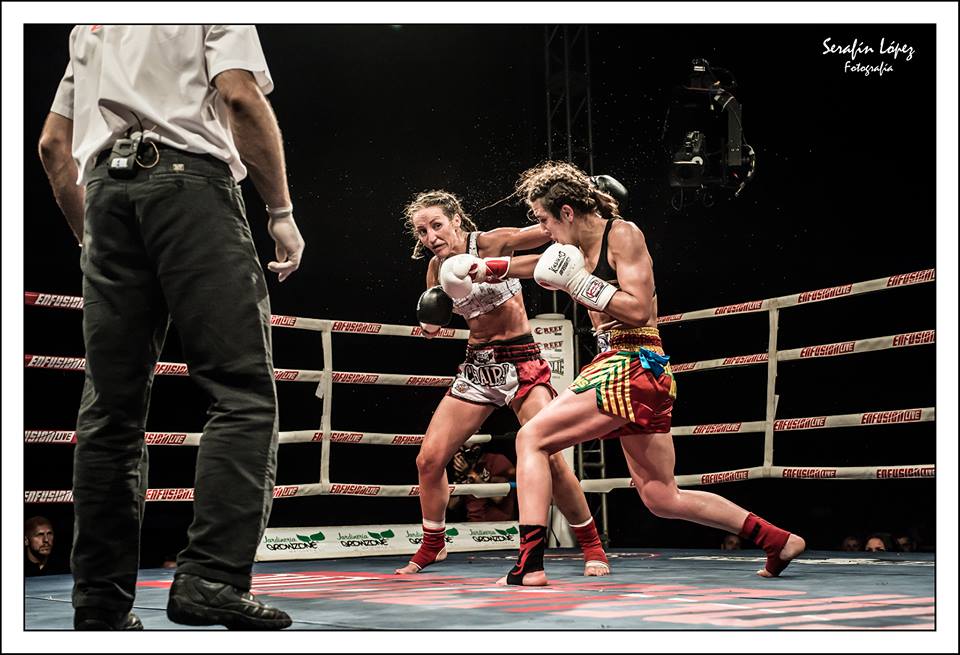 A native of Malaga, Spain with Moroccan roots, she started training over 10 years ago after walking by a local gym. She used to stare at the people wistfully through the window.
"My gut feeling told me I had to go in and ask about the classes and commence training", Iman reminisced. "Nobody noticed me at all during my first class, because I was very new and had no technique whatsoever." However, a trainer at the gym named Pedro Carrasco noticed the fire burning in Iman. "He invited me to come to his classes. He told me I had great skill and a good attitude to become a fighter. I did my first interclub at his side. This is when my Muay Thai career started. Who would have told me that it would become my lifestyle?"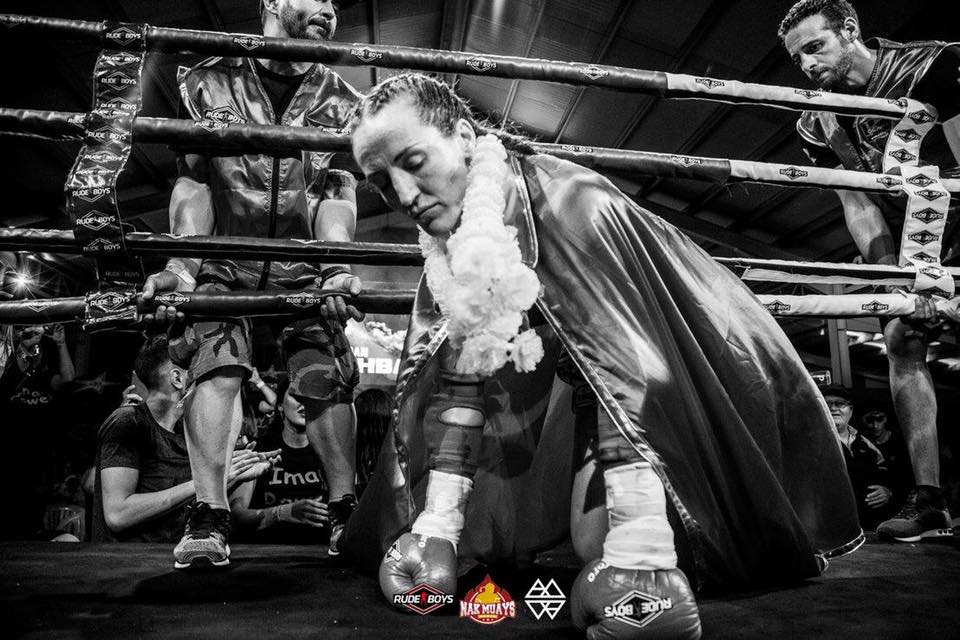 Like many that have found a calling in Muay Thai, she wished that she started training earlier. At 23 years old, she was by no means old, but had to face many people who got an earlier start than her. In her first real fight in 2004, she was up against someone who was much more experienced. "Everyone thought I had no choice at winning", Iman said. "I was the underdog, and it gave me even more strength because I had nothing to lose but everything to win. I trained like there was no tomorrow. I had to prove to myself that I could do this."
How did it pay off? There was a smile in Iman's voice. "I gave it my all and took the win home."
This is just one of the many obstacles Iman faced during her career. Especially in the beginning, there were a lot of people who doubted her. She was told that she shouldn't be training and that no good would come out of it. Instead of quitting, it made Iman want to pursue fighting even more. "No one should ever put any fences in anyone's road to self discovery", Iman philosophized. "We are free people and we should be able to do what we want. Muay Thai gave me this inner peace. You are your own choice."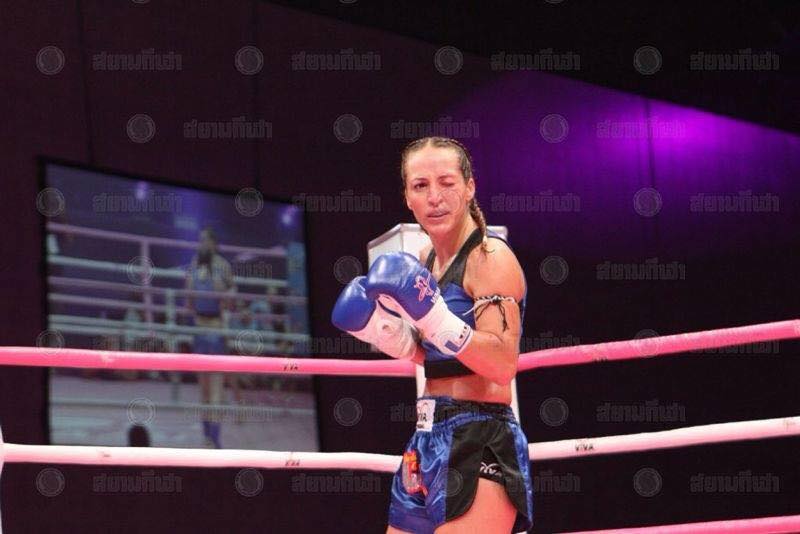 Despite the many naysayers, Iman thought she was her own biggest enemy at times. "I wanted to learn everything so quickly that i got annoyed at myself", Iman said. However, Iman learned from her negative thinking and it showed when she competed. "As time passed by, I learned to visualize things differently and resolve them. I was able to see this improve reflected in my fights."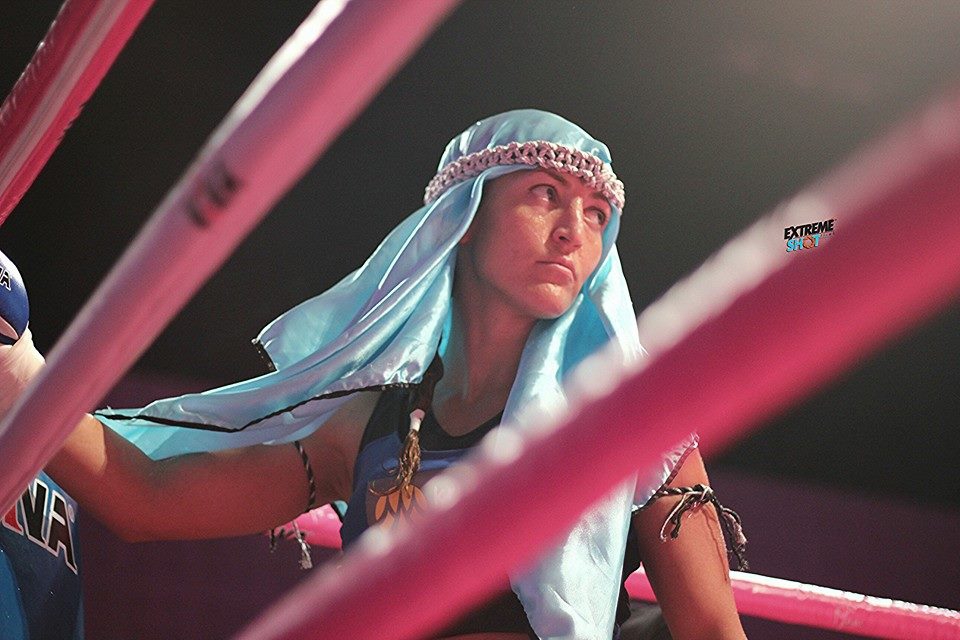 Iman, like most fighters, has also made mistakes when it came to cutting weight. "Before, I used to take extreme measures in losing weight", Iman said. "I didn't feel strong enough. My body was weak when i was up in the ring." She usually had to drop from 60-62 kg to 55-57 kg. With time, Iman learned to be smarter with her nutrition. If she knew she was going to fight, she prepared for at least two months with a strict diet.  "I usually eat small meals every three hours, drinking plenty of water and taking all of my supplements."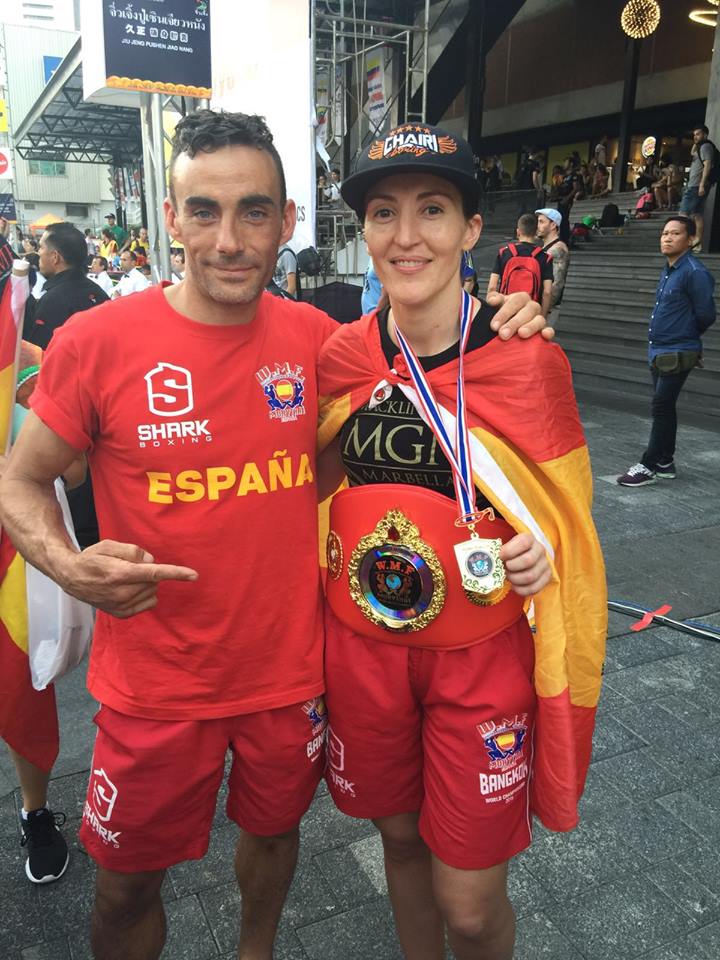 Now a seasoned fighter, she visualizes how she wants the outcome to be. When asked about her most recent victory in becoming the WBC European Champion against Cindy Silvestre in April, Iman said, "I wanted to continue to discover more of my capabilities in the ring. I made sure my game plan was executed corrected, exactly how I had trained it to be and making sure that she didn't bring the fight to me."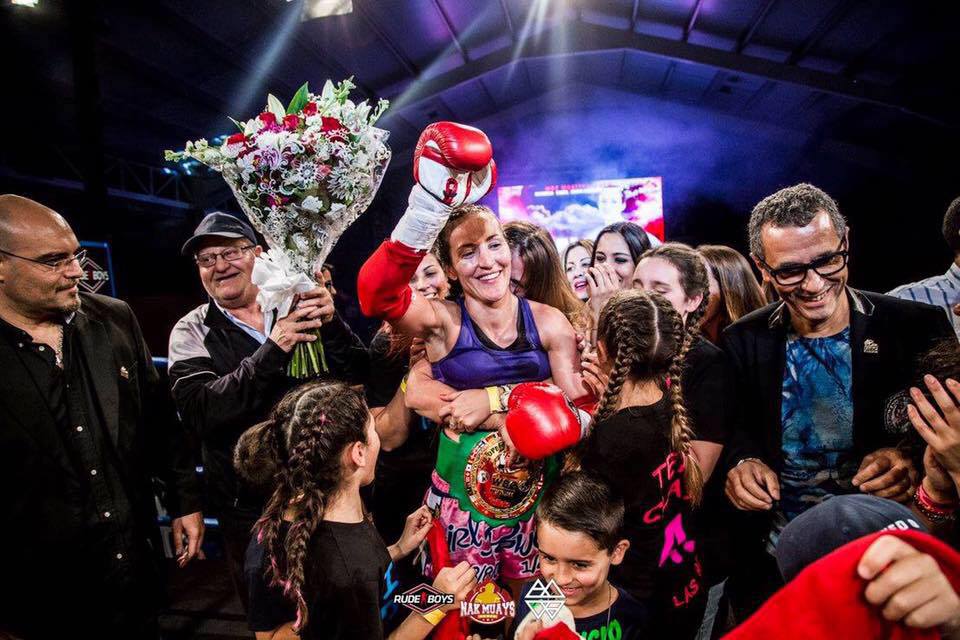 But Iman knows she wasn't alone in the victory. She credited her win to the quality of training she had in Spain and in Thailand. Iman expressed her gratitude. "Thanks to everyone who made this possible and a big thank you to Sitsongpeenong Bangkok for helping me achieve this as well."
After many ups and downs and amazing memories, Iman is now retiring from fighting. "The time has come to enjoy Muay Thai from another perspective", Iman lamented. "It is hard to take make this decision and stop, but I will never really leave this sport since it will always be my true passion. My goal is to inspire others and to make sure that everyone knows they can achieve whatever that is they want in life." Looking back, Iman regrets nothing. "I couldn't have asked for more."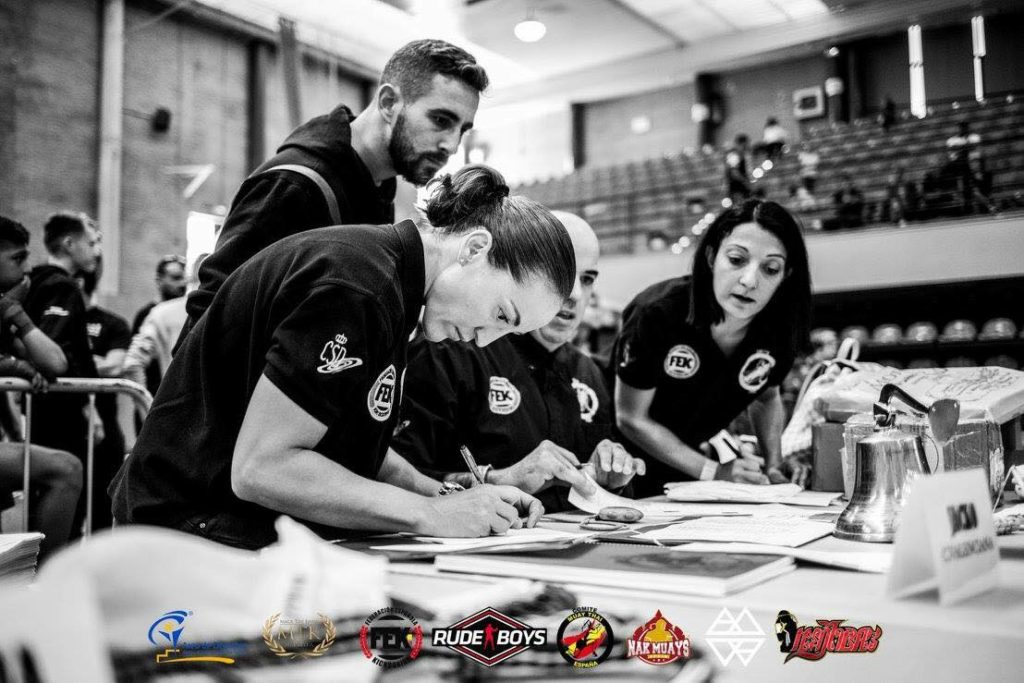 "An athlete must be aware that nothing is impossible when it comes to creating your own identity", Iman advises. "Learn from your mistakes, injuries, and learn from failures. This will allow you to achieve the best results. Always believe in yourself -that is the most important thing. Know you are capable of anything you put your mind to."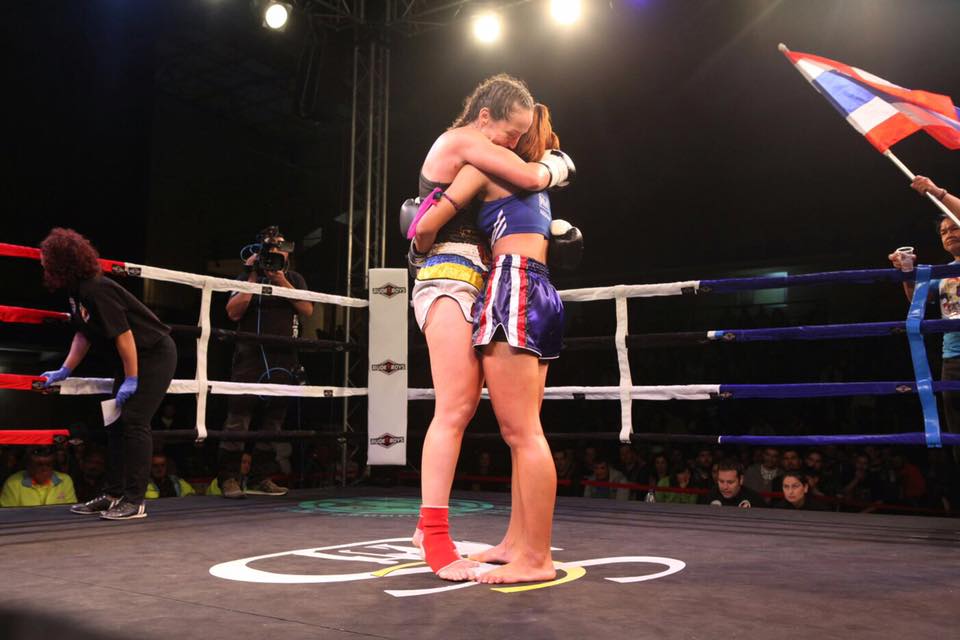 Thank you for the wisdom and inspiration you're imparting on the fighting community, Iman. Best of luck in everything you pursue in the future.
Thank you to Lamia Dani for helping with the translation.