The bus terminal was clamoring with people on their way to leave Bangkok. After asking a few people, we got to the third floor ticketing booths and asked a man where the buses that go to Pak Chong were.
"Rod bai Pak Chong yoo nai ka?"
After paying, we were led to the bus and we waited for other travelers to get in. The big bus was spacious and not packed, making it a comfortable ride.
The ride was easy but long. The bus made more than a few stops, and we waited about 20 minutes for additional passengers at Saraburi.
After about 3 hours, we got to the stop Kem and his wife Mo told us to meet them at Khlong Phai. We crossed the road towards the Tesco Lotus and walked towards the McDonald's on our right. They waved to us when they saw us and Kem helped to load our bags into his SUV.
Kem is a man of few words from what people at Sitsongpeenong told me, and the car ride felt a bit daunting in his presence but it was alleviated by the contrasting persona of Mo, who was friendly, bubbly, and talkative. She asked us some questions in Thai during the 10-minute ride to the camp: Do you guys like training hard? Do you want to run tomorrow? Can the vegetarians here eat eggs? Can you guys eat spicy? Is there anywhere you want to go to while you're here? If there is, please feel free to tell me so I can take you around!
Kem was quiet while we were talking but we could tell he was listening. He was probably also tired as it was getting close to 11:00pm.
The car turned into an unmarked road that went up the mountain. And we kept going up for what seemed like half an hour. I felt my ears pop from the pressure change. The morning run was going to be interesting, for sure. After the long drive up, we turned again and stopped. We got out of the car and were surprised by the nippy air. We were in the mountains, afterall. 591.76 m / 1941.48 feet in altitude, to be exact. Stark contrast from Bangkok, which is 4.48 m / 14.69 feet.
We walked up the stairs and were led to our rooms. The doors opened and we saw two beds with a dividing shelf. There was a TV, a bathroom with a water heater, and air conditioning. It was by no means fancy and the cozy shabbiness definitely made us feel like we were in the country side. Simple, and it had to do as we were there to train, not party.
We woke up to breezy air once again, and left our rooms to be greeted with what seemed like a village. We couldn't see most of the area the gym was in last night when we got in, but we were pleasantly surprised at how structured and green it was with a community feel. We saw a jackfruit tree bearing huge fruits across from the lodges.
At almost exactly 6:30, we saw a trainer downstairs that was motioning for us to come down and meet him there. It seemed like our group were the only foreigner guests there. We went down and Kem told him to take us to the road on the left so we can run. The trainer was Petchdam, one of the instructors and it seemed like he was still an active fighter despite being well into his 30's.
The run started and we met a hill. And another. And another. The steep slopes seemed to never end and we were grateful when they did. We happily ran and caught up on the stretches of flat land before hitting another hill. Whenever we hit a downhill, we were joyous for a split second before remembering we would have to run back up it on the way back.
All the while, Kem was on his motorbike behind us, not saying a word, similar to his demeanor last night. But we knew he was there and we didn't dare to stop. He didn't tell us to go faster, and allowed his quiet authority to speak for him when we hit a split in the road and we figured out where to go. Our legs ached. Going uphill was extremely hard, especially since we were used to running in Bangkok, where it's extremely flat. But we did not want to disappoint Kem so we kept going and going. Kem did ask if we were tired at one point and if we wanted to run 5k or 10k. Of course we were going to run 10k, we had already told him we wanted to train hard!
We ran past farms, cows, chickens, food stalls, more jackfruit trees, and lots and lots of green. We awed at the sight of other mountains in the distance and breathed in the fresh air. The uphill run was not easy, but it was incredibly scenic and well-worth it.
As soon as we got back to the camp, we were greeted by a big smile. "Hello!" It was Yodwicha. He looked much younger in person, and his friendliness took us off guard. His willingness to welcome us was seen in everyone else at the camp. Yodwicha beat big names such as Saenchai (yes, really, in 2013), Singdam Kiatmoo9, Nong-O, and Petchboonchu.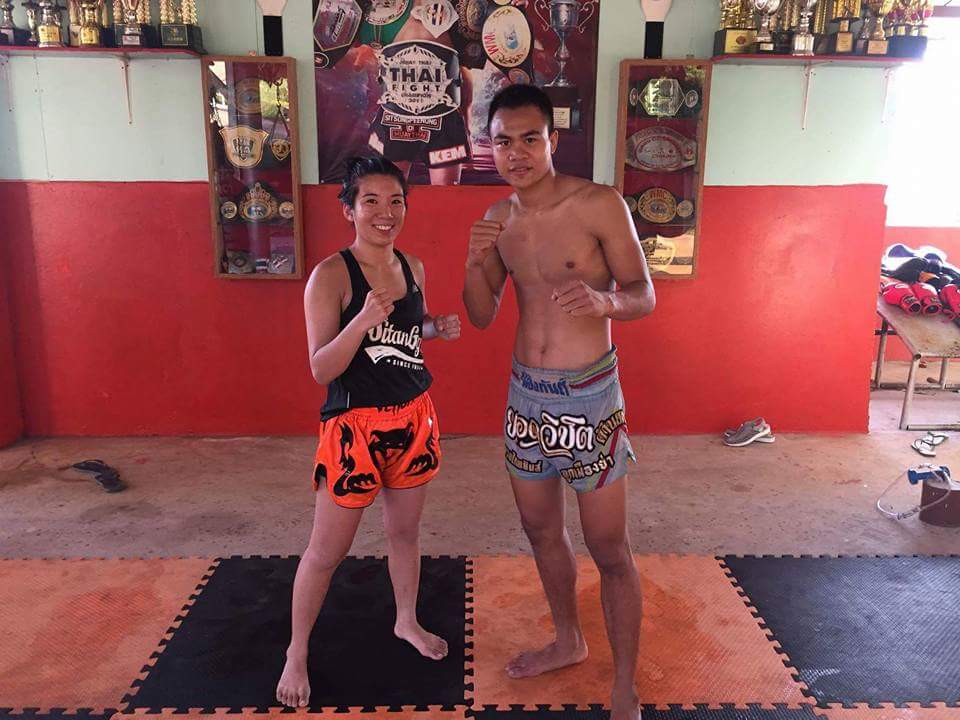 We were told to do pull-ups.
"10, five sets".
The resident Thai fighters did theirs alongside us. Strangely enough, we did not feel tired doing the pull-ups. Maybe the run got the blood flowing to the right areas. Maybe it was the novelty and adrenaline of being in Kem's gym. Either way, we all powered through our pull-ups and geared up to spar.
Before stepping into the ring, I hesitated and wondered if I should go under the ropes or step through the middle as I do at Sitsongpeenong. Kem trained at Sitsongpeenong for a long time and I figured he must have been used to their lax attitude towards females getting in and out of the ring, so I stepped through the middle.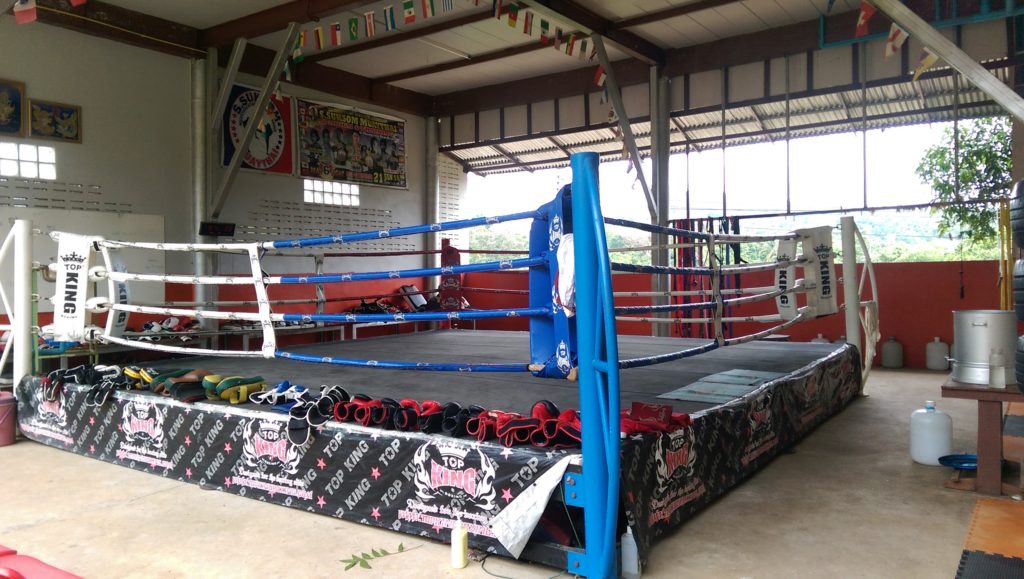 I sparred with two of the teenager Thais, with Yodwicha being in the same ring. I wanted to spar with him too, but Petchdam paired each of us up each round. During the rounds, someone called out how much time had passed. 30 seconds before the rounds ended, we were told "Speed, speed, speed", so we would pick up our pace. Between each round, we were told to do 10 push ups. Kem was sparring outside the ring with two of the guests. After 4-5 rounds of sparring, we were told to hit the bag. Kem held the bottom rope up for me to roll under, and I was slightly embarrassed that I stepped through the middle before. I guess they expected females to go under the ropes all the time.
Kem called out drills for us to work on on the bags, from punching, elbows, and putting it all together freestyling. Kem walked around and used his trained eye to know when to correct us and when to say "good". He would hit us with no mercy if we dropped out hands while kicking. Speed, speed for the last 30 seconds, bell rang, another 10 push ups. The discipline was real here.
After several rounds on the bags, it was time to clinch. For those that don't know, Kem's gym is known for their clinch game and I saw Yodwicha tossing my friend around at will from the corner of my eye. The younger Thai I was paired up with was not challenging me very much as he weighed only about 40 kg. I wanted to clinch with the teenagers, but before I could ask to, time ran out.
Kem told us to do our routine of 200 knees, 100 teeps with dumbbells, and 200 situps. When we were done, we had some small talk with Yodwicha, and went on our way to shower. Kem told us the food would be ready in about 45 minutes and pointed up to a open area across from the gym.
We walked towards the place Kem pointed at. It was on a hill. Great. The staircase was long and winded towards the entrance. We saw another jackfruit tree. Our legs somehow managed to carry us up, and we were rewarded with an excellent view of the village and drifting clouds over the tops of the other mountains in the distance.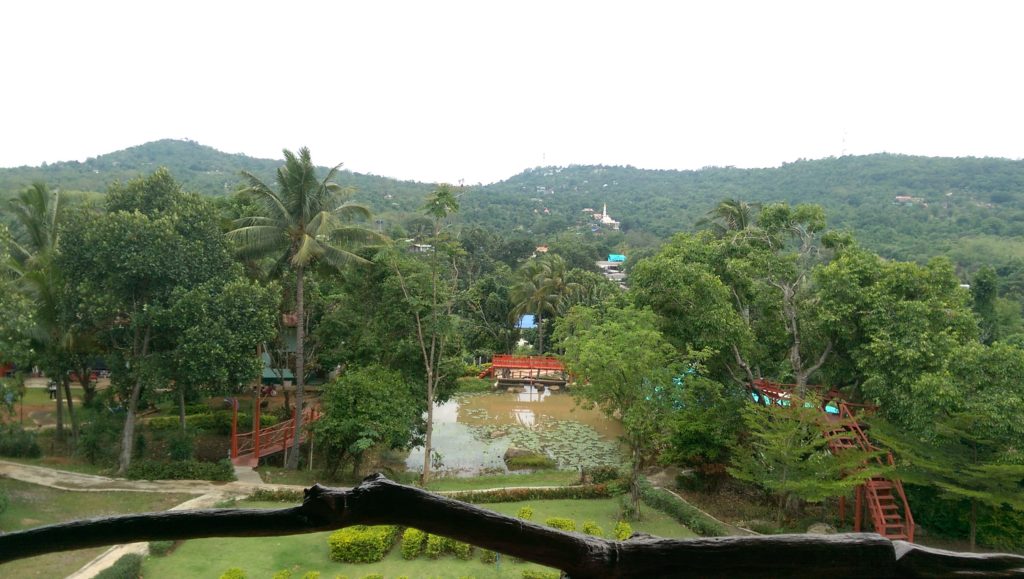 Mo, who was busy going in and out of the kitchen, greeted us with a warm smile and told us to get some coffee or water while we waited for the food. We sat down on the communal style wooden benches. There were plenty of other tables and benches to sit and the area was pretty spacious. We reflected on what just happened that morning. All in it, we thought it was awesome, from the run on the hills from hell to our extremely disciplined training session. The food came and we ate family style.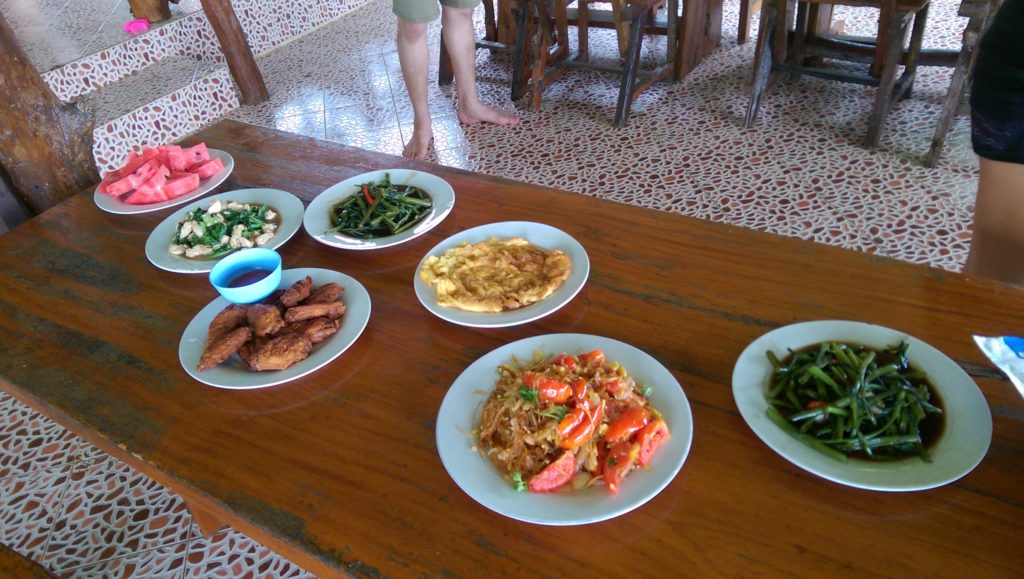 There was pak boong fai daeng, a popular dish with of stir fried morning glory dish with tons of garlic and hot peppers, noodles, Issan-style chicken wings, sauteed chicken and veggies, fruit, and an omelette. We had told Mo before coming that two of us ate vegan and she arranged the dishes carefully on the table so we ate from the proper dishes. The food was incredibly delicious and flavorful, and while it did not seem like a whole lot, we couldn't finish everything. We sat around, feeling tired, full, and ready to rest before training again.
"Wan nee bai nai mai ka?" We politely told Mo we were going to have to decline on going to the waterfall she wanted to take us to because we wanted to rest. She laughed and said we should rest because we trained very hard, but if we changed our minds, she can take us somewhere closer. We agreed to be taken somewhere around 1:00pm that was only half an hour away.
We slept as soon as our bodies hit the beds, and when our alarms rang, it felt like we didn't sleep at all. We agreed the run took a number on us, but we were only here for one day, so we should go explore a bit as well.
In the afternoon, it was just as hot as it was in Bangkok. We saw Kem as well a bunch of local community members gather around a chicken fighting ring. Some ground was being dug up and smoothed out. Kem said they were adding another ring there. A toddler was watching the tractor and excavator and mimicking the actions on the ground with his toys.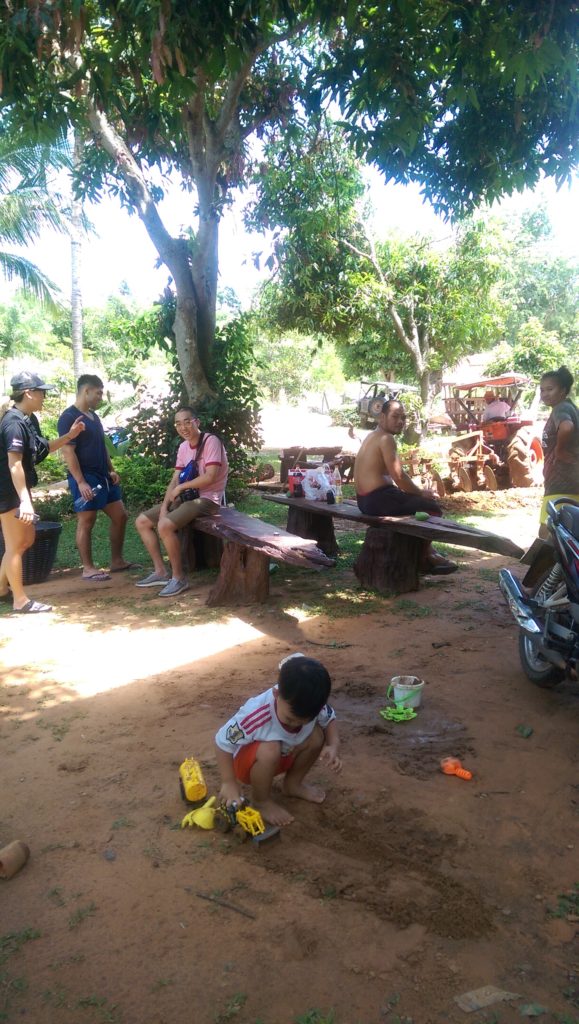 We got in a car and were driven to Suan Muang Porn Khao Yai, a restaurant with views of the lake and the mountainside. It was breathtaking and we wished we had enough time to enjoy a proper lunch. After enjoying ourselves in some fresh air, we headed back to the camp to get ready for our afternoon session.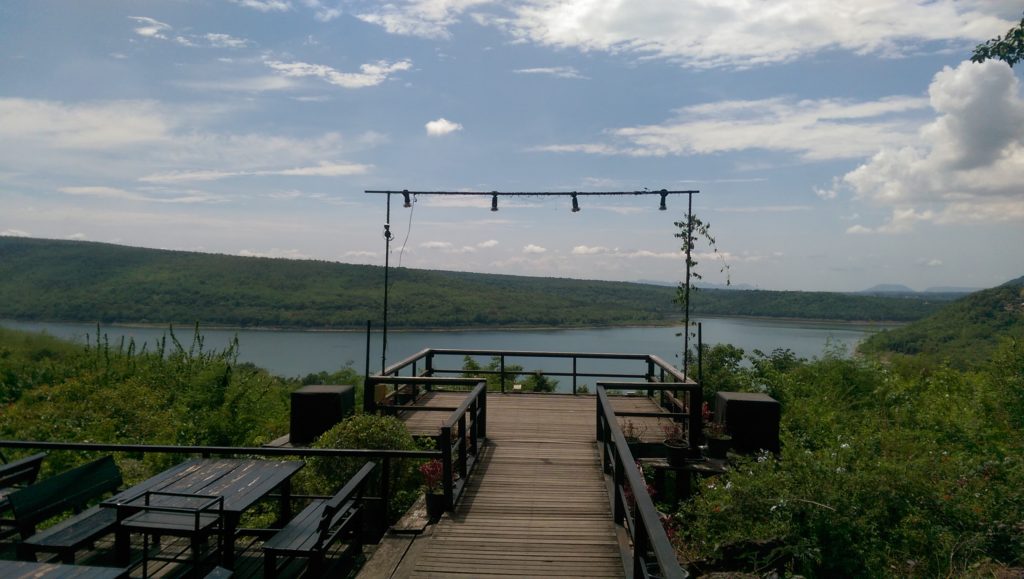 Our afternoon session started off with a light 2-3k run. Instead of turning left towards the hills, we turned right on the road. Thankfully, it was much less hilly. We saw more dirt road, less buildings, and more open ground. There were also lychee trees. After a very relaxed warm up, we did our pull-ups as soon as we got to the camp like we were told, and put our handwraps and gloves on.
We hit the bag until being called up by a trainer to hit pads. Kem was holding in addition to 2-3 other trainers. I was picked by this stern-looking man with a broad mustache. He held mostly power shots and took his time between shots, allowing me to reset and make sure I threw everything with good technique. Unfortunately, he wasn't in good shape so when I grabbed him in the clinch a few times and threw knees at his belly pad, he gasped for air and needed time to recover. After 3 rounds, the trainer holding for Yodwicha switched with him, and to my dismay, he tried to burn me out rather than train me. It was good that I only had him for one round, because I was getting rather annoyed with him. I exited the ring (by rolling under the ropes), and worked on whatever Kem told us to do on the bag.
Pblum, pblum! It was time to clinch again, and I got paired up with another small kid again, but he was strong and very fun to clinch with. We had a good time exchanging knees and he was courageous enough to do some jumping moves.
Yodwicha and Kem were continuously working to correct our technique, which was amazing. They were extremely humble and one would never know how great of a fighter each of them was without prior knowledge.
Conditioning routine, shower, meal time.
They cooked us a bit more food during this meal – spicy mushroom salad, pak boong fai daeng, and a stir fry for the plant-based people. We ate to our heart's content.
Mo made the long drive down the mountain again. Sitting in the back of the pick-up truck, we breathed in the fresh forest air and watched the stars. It felt quite free and peaceful despite the bumpy road and twists and turns.
We'll be back, Pak Chong. Back for the training, the hills, waterfalls, good food, and friendly people.
Kem Muaythai Gym
Location: Khao Yai-Thiang, Pak Chong, Korat, Nakhon Ratchasima
Proximity/Convenience to other things: Being about an half-hour drive up a mountain, it's not easy to get anywhere else off the mountain once you're at the camp. Exiting the road of the camp onto the main road, there are a number of food stalls and Thai-style coffee shops. There is not much "to do" besides enjoy being in nature, which is perfect for anyone who takes their training seriously and does not want distractions. There are some attractions in the same town, such as Khao Yai National Park, which is famous for their waterfall called Heo Suwat (featured in the film The Beach), as well as hiking, forests, and wildlife. If you don't have a car/motorcycle/someone to take you places, it is not easy to get around as there are almost no taxis available.
Price (includes training, accommodation, and meals):
Twin shared 1200 baht/night/person. 1000/night/person if you stay 30+ days
Single 1400 baht/night/person. 1300/night/person if you stay 30+ days
Training: Morning run starts at 6:30am, training finishes around 9:30. Afternoon training begins 3:00pm. They can adjust to your skill/fitness level. There is plenty of attention going around.
Gym Culture: Females and males spar/train/clinch together in the same ring. However, they do expect females to go under the bottom rope when entering and exiting the ring.
Accommodation: There are several rooms available, twin shared style as well as single. They are located one level above the gym and is in the same building as where the resident fighters and trainers stay. The rooms are very simple with nothing more besides a bed, small TV, and bathroom with heated water. Has remnants of nature in the room.
Food: Incredibly delicious Thai cuisine and they serve more than enough to get you full. They can adjust to dietary restrictions. They cook family style and you share the dishes with the other foreigner guests there. They have cereal, coffee, tea, and a water fountain.
Language: Limited English skills at the camp. Kem, Mo, and trainers know basic words as well as Muay Thai terminology. Foreigner bookings are done through their friend Jub, who helps manage their Facebook page and speaks English.
Getting there: You can have them pick you up from Bangkok and bring you back for 2400 baht roundtrip.
Alternatively, you can take a bus by going to
➤ BTS Mo Chit, then catch a taxi to "Mo Chit 2"
➤ Go to the third level and ask for "Pak Chong", pay 150 baht, ride the bus
➤ Kem/Mo will pick you up from Khlong Phai where the Mcdonald's is (be sure to tell your driver beforehand that this is where you want to get off. If you have language issues, you can call Kem/Mo and they will speak to the driver for you).
Coming back: It's the same process but reversed. Kem/Mo will bring you to the bus station where you can catch a ride for 133 baht back to Bangkok. The bus will stop at Mo Chit 2. There is a metered taxi stand.