The face of a fighter comes in many forms, and is something nobody can ever categorize or make pre-judgments about accurately. Yolanda Schmidt, the most recent winner of the Muay Thai Angels tournament, proves just that. "The stereotype that I am not feminine based on the sport I partake in, was once one of my biggest struggles. I constantly had to justify why I enjoyed such a 'violent' sport when I am such a happy, smiley and bubbly person," says the world champion.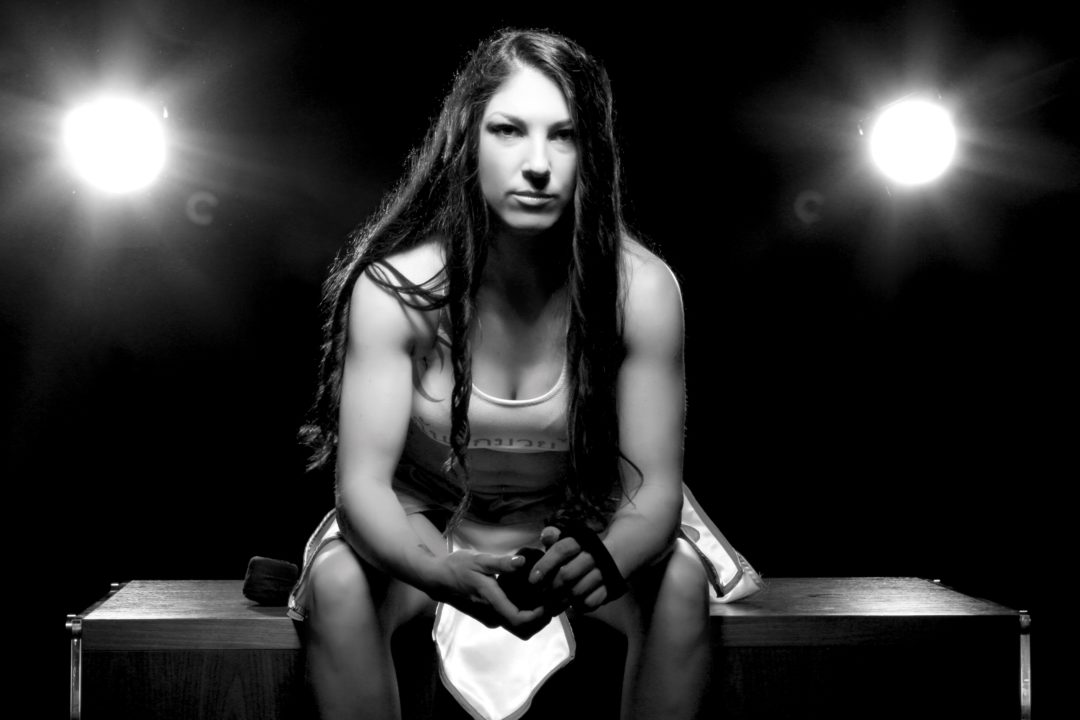 MTA featured top fighters fighters from around the world @ 125 lb to battle it out in a tournament that's months-long in the home of Muay Thai – Thailand. The show got a lot of attention (both good and bad) because the fighters had to fight in a full face of makeup and were marketed as "beautiful", "sexy", and "fighter" all in one. " I guess Muaythai angels highlighted that even the most beautiful or feminine looking women can be strong and skilled in this, not so much anymore, male dominant sport," reflected Yolanda. "It's breaking the stereotype that you are a 'tom boy' or 'manly' or less feminine if you are a boxer…I don't believe it was so much about having to fight in make up or having to be 'seen' as beautiful. We are beautiful, we all are in our own unique way."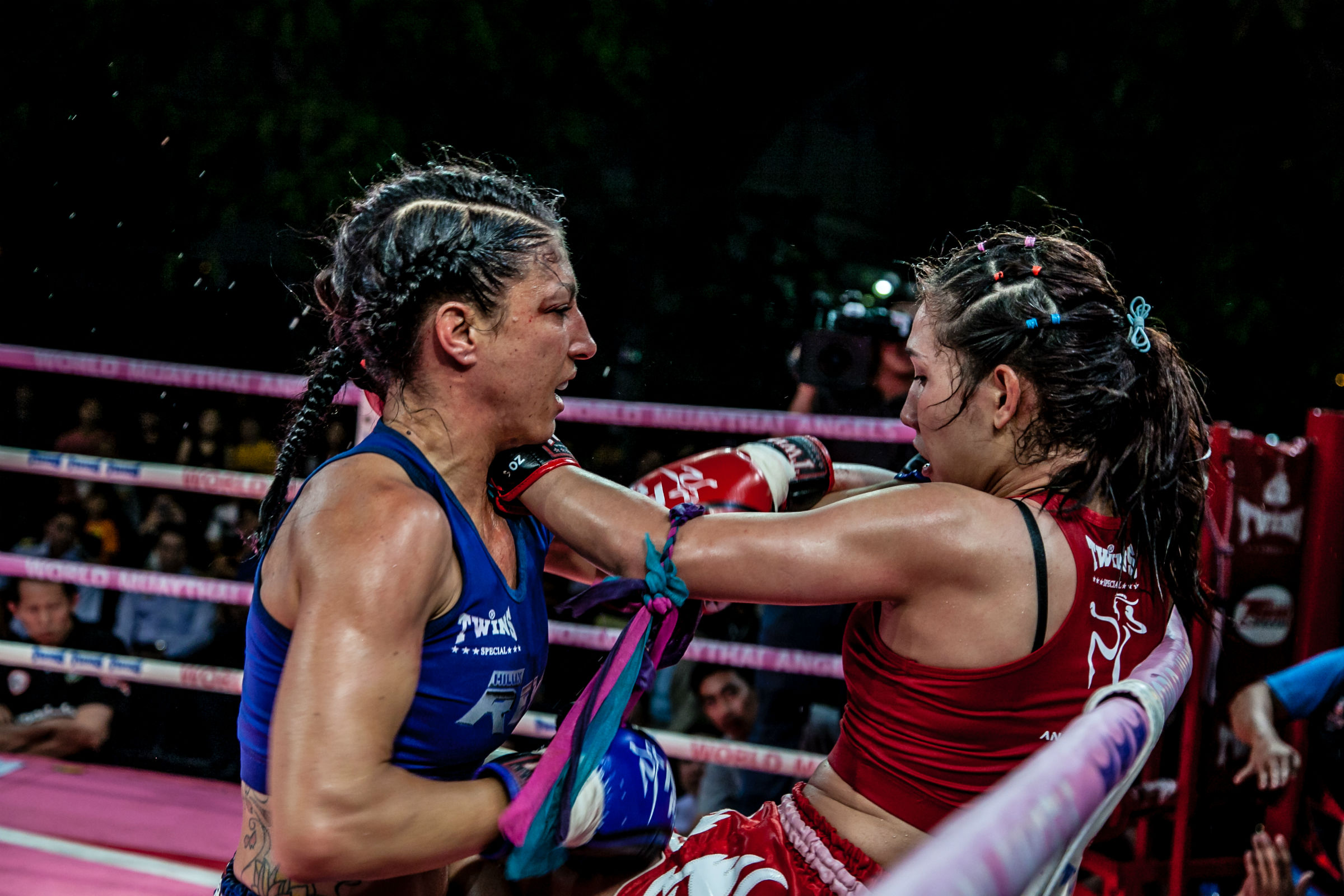 The makeup itself had its up and downs. "I'm not one to wear a lot of make-up, so having my make-up done is a treat, I guess," Yolanda adds. "The positive was that I got to feel glamorous, but the downside was how tiring it was to be at the fight venue that much earlier to allow time for hair and make up to be done. All that for it to be gone after the first round of sweating, clinching and taking a few shots." Yolanda, however, sees it all as worth it. "I don't think it should be seen as a negative thing, as honestly no one truly knows why they want us in make up, but who cares! I'll wear what ever they want me to if it's going to give me the opportunity to share the ring with some of the best in the world."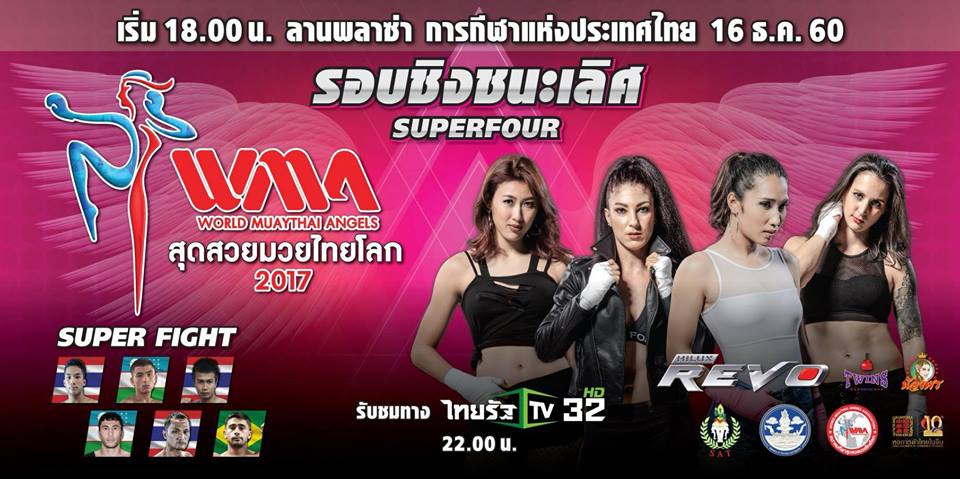 Some of the positive attention MTA received was that it was changing the female fight scene for the better, giving a stage for females to shine on and showing to the world that females, can indeed, fight at least just as well as the men can. "I feel that more and more fight shows are putting female bouts on so we get time to shine alongside our male counterparts," informs Yolanda. "It is also not uncommon to see all female fight cards these days. The world places emphasis on it being a male dominant sport but in reality, on paper it is not anymore, looking at the amount of females competing across the globe… I didn't choose a male dominant sport, this sport chose me and is now, more than ever, a sport where both males and females excel in. "
The most recent tournament had some hiccups with scheduling and overall poor planning, and resulted in many of the contestants (from an original 16) dropping out. In the final four of the tournament, it was Yolanda, Natalie Morgan (USA), Namtarn (Thailand), and favored contestant Chomanee (Thailand), who won the last MTA installment. Namtarn is a Muay Khao fighter who specializes in knees and the clinch, while Chomanee had a true Muay Femur style that was beautiful to watch when it came to technique and ring control. Namtarn and Chomanee are two of the best Thai fighters on the scene, and Yolanda had the opportunity to fight both of them on MTA. "Both very different fighters and posed different challenges for me," Yolanda acknowledges. "I am fortunate to have faced two of the toughest opponents in Angels. Namtarn has very long legs and Chomannee is strong and quick." Yolanda faced Chomanee in the finals of the tournament, where she was crowned the new MTA champion. The feeling of winning in her opponents' country felt "incredible" and she sometimes is still in disbelief that she faced and conquered them. "I am extremely proud that I won by judges decision on their home soil, as it is not common for a westerner to win on points in Thailand."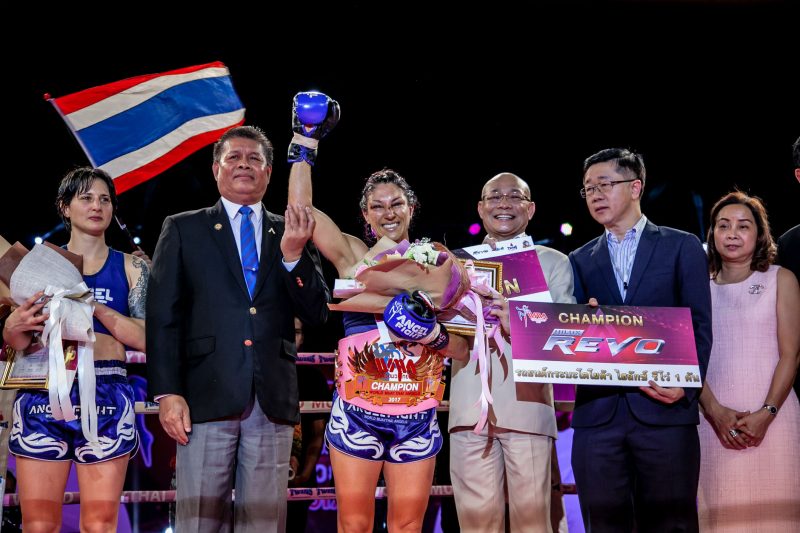 Originally from Johannesburg, South Africa, she moved to Sydney, Australia seven years ago for reasons that have the same echo as many who do move to a different country: to start a new life, build new opportunities, be safe, and for future success. And like many before her, she knows it wasn't as easy and picking a country and then going there. "It was one of the most difficult processes with many obstacles," Yolanda laments, "but when you have your eye on something, you simply just hold sight of it and push through."
It seems like this same mentality of having a goal and doing whatever it takes to get there that contributes to much of her success as a former dancer and, now, a fighter. Yoland used to dance competitively and represented her home country at the world championships in Irish Dancing (the dance style in the performance "Lord of the Dance"). In fighting, she is the proud holder of the current and past titles:
World Muaythai Angel 2017 @ 125 lb
WKN Australian Title @ 120 lb
WKA Australian Title @ 125 lb
WMC NSW State Title @ 121 lb
Thapae Stadium Title @ 121 Lb
In addition to those titles, she also has these medals and mentions:
Awakening Female Fighters Inspirational Fighter of the year 2017
Australian Muaythai Professional Female Fighter of the year 2017
Australian Muaythai Most Inspirational Fighter of the year 2016
IFMA Royal World Cup Bronze Medalist 2015
IFMA World Championships Bronze Medalist 2016
Australian Muaythai Professional Female Fighter of the year 2015
Awakening Female Fighters Up and Comer of the year 2015
Australian National Champion 2015 & 2014
Attaining all of these is no easy feat, and she draws inspiration from her trainer, whose passion for the sport and ability to train each fighter uniquely motivates her. She also attributes much of her success to her parents, who have molded her into the person she is today. And she never forgets who might be watching – those who look up to her push her to work even harder to achieve her goals so she can motivate them to do the same.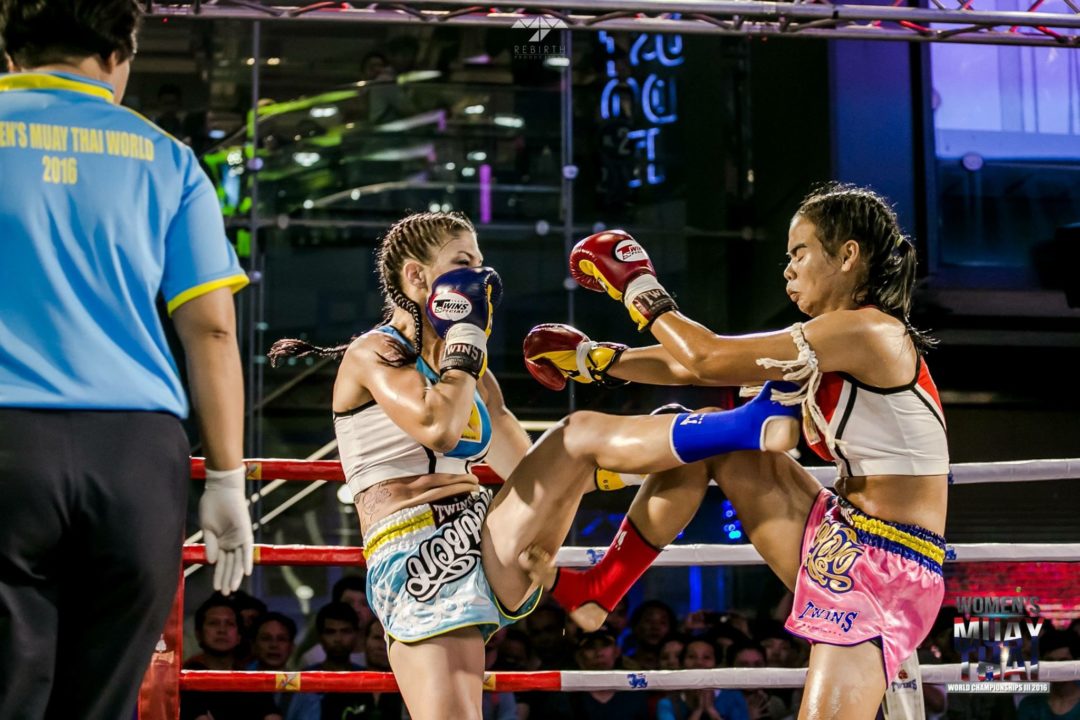 The most surprising part of Yolanda's journey is that it kind of just…happened. By the clause of "everything happens for a reason", one could say. She started doing "boxercise" once a week just to improve her cardio for dancing, but later found a martial arts gym and started doing MMA, kickboxing, and BJJ, but not seriously at all. But, an injury happened and Yolanda was forced to reconsider what she had been doing. "My shoulder was torn in BJJ and specialists told me that I should stop partaking in martial arts," says Yolanda. "After nine months away from any training, I found the Muaythai gym (PTJ Muaythai Gym) close to my university which did not include BJJ so I thought it would be a safer option for my shoulder."
And so the beginning of a new chapter (that's still ongoing) began. After six months of training Muaythai, she told her trainer that she had an interest in competing. "He told me he would let me know when I was ready, and here we are today," grins Yolanda. "If you had asked me four years ago what I might achieve in this sport, I would most definitely not even have answered that I wish to become a professional athlete. I had no intention of turning pro, representing the country or even the state. It goes to show that one should never rule out possibilities or limit yourself, as you never know where the road will actually lead."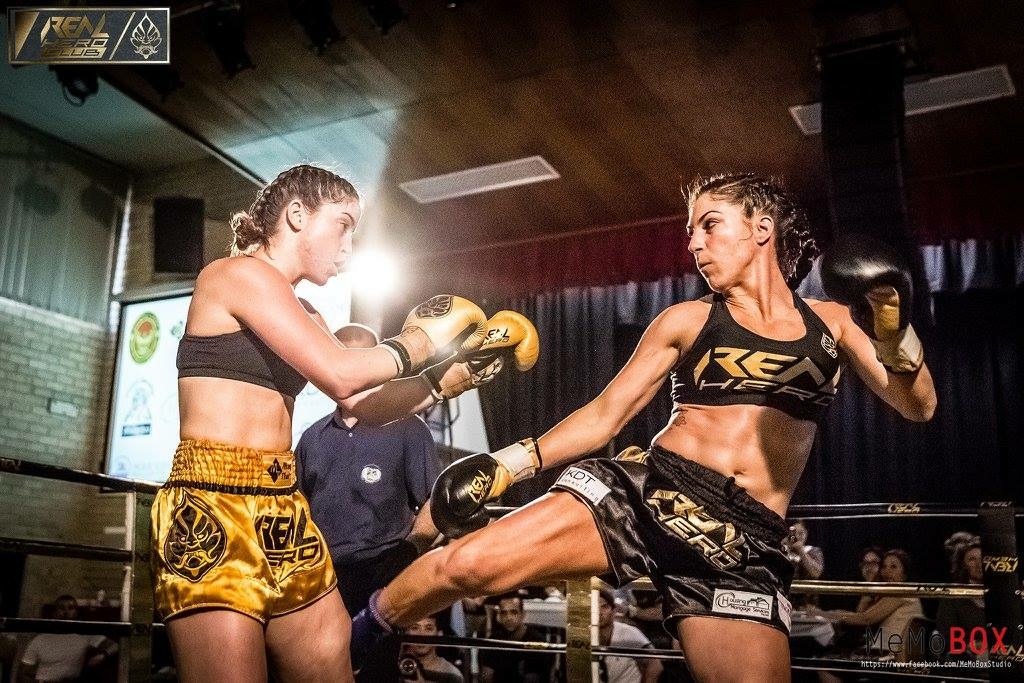 With fighting, Yolanda sees it as another way to challenge herself and channel her energy into. "The best part of fighting is the feeling when you have achieved a goal you have been aspiring to," according to Yolanda. But where there is good there is always a bad. "The worst part is probably the financial strain," Yolanda sighs, "but this would be the case for any professional athlete in a spot that does not have the financial backing we would like." Muaythai does not usually get funding from governments other than Thailand's, so doing it solely as a professional in any country is usually a tough obstacle to overcome. Injuries are another ordeal, something that can't be avoided at all, but Yolanda says to just make do with it. "There is always something and one is constantly adapting training to allow for fight camp to continue while working with what you got," cautioned Yolanda. "You never go into a fight 100% injury free."
Yolanda's next scheduled bout is in April against UK star Iman Barlow. This is a matchup many are excited to watch as these two strong fighters are sure to put on a great (potentially bloody) show. According to Yolanda, this bout had been for a while coming. "Abouta year ago, her opponent on Lion Fight pulled out a week before and we were contacted as a replacement, which was exciting. However, I couldn't get a visa in time. Iman is a very skilled fighter that I have had on my list of fighters I'd like to share the ring with for over a year now. Hence I'm extremely excited for this next bout. Preparations change at the tip of a hat, based on external factors. However for that which we can control we are simply training as we would for any fight. Every fight is as important as the next."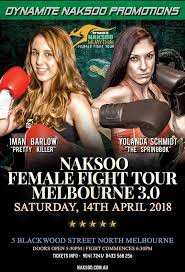 Yolanda has no regrets living this life and balances out the intense training by making sure she has a hobby to unwind in, and she credits her strong support network for being understanding and helping her succeed. "It leads me to how I cope. Having a fantastic support network, friends and family who I can count on when in need to let out frustration [is important]. Is it easy? No, but I would do it over and over again to succeed and feel the triumphs I have."
With more experience accumulating under her belt, Yolanda has found other reasons to fight. "I'm fighting for my mom for all she has gone through to get us kids to where we are!" says Yolanda. "Now I fight to create awareness around abuse against women and children. I want to make a difference in peoples' lives and promote health in a holistic view and not simply [only] physical health."
Now, Yolanda keeps herself busy by whether she has a fight coming up or not. As a self described "extremely busy person who needs to live by a schedule", she's a highschool teacher, sports coach, dance teacher, Muaythai instructor, and a fighter! She can offer quite a few pieces of advice for anyone looking up to her, and she would give these to her former self as well. "Don't be afraid to try," affirms Yolanda. "Avoid applying limitations to your potential and build a solid support network (family and friends you can count on) when pursuing your goals. Set goals, achievable goals, with a time stamp on them. Evaluate and alter goals where necessary and remember that sometimes things don't go as planned, but that doesn't mean that the outcome is negative. It simply means you're being redirected to something better."