Monlit Sitphodaeng, former trainer at Fairtex, prepared for his drive upcountry to a Northerneastern (an area commonly referred to as "Isaan") province called Chaiyaphum. Usually an active and funny person, he drove in solemn silence. The ride from Bangkok to Chaiyaphum was long, taking at least 5-7 hours, and this was his second time going there within a month.
Last time, he went to visit his friend and former student who was in the hospital, sick with cancer. "When he sees me again, his former teacher, he will become strong again," Monlit said hopefully.
Unfortunately, cancer does not care if you or your loved ones wish for you to become better.
Once again, Monlit was going up to Chaiyaphum, but this time, to become a monk and to help become a vital part of the funeral procession of the same friend.
This person was Phaiboon Fairtex, a tough fighter from the Golden Era. A southpaw with vicious low kicks and punches, he was known for never stepping back in a fight and hurting many with his right hook. Phaiboon was also responsible for bringing fellow Fairtex stablemate Jongsanan to the camp. Thanks to Phaiboon and Monlit, Jongsanan was able to achieve great victory and fame, just like Phaiboon.
Phaiboon had passed away from liver cancer just several days ago. He was 56 years old. And the time had come to proceed with the Buddhist tradition of familial gatherings, chantings, and cremation.
The first night of gathering and Buddhist prayers at Phaiboon's front yard could have easily been mistaken as a social gathering among friends to catch up. People were eating, laughing, drinking, and seemingly had a good time. But, everyone was wearing either black or white, a constant reminder of why people were really there.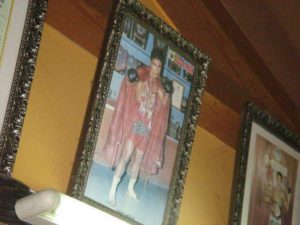 "He was a really tough fighter. Fearless." said Timothy Dharmajiva, owner of Sitsongpeenong Muaythai, where Monlit currently works. "You know Petchboonchu? Much tougher than Petchboonchu."
Rick Sollo, who trained with Phaiboon at Fairtex beginning in 1992, said, "He was a cool guy out of the ring and a fantastic pad holderin the ring. Working with him was always an event. We used to call him Charles Bronson and his toughness was an inspiration. We will not see another like him again….Our prayers to an unforgettable man, one of the best pad holders ever..no one else is close."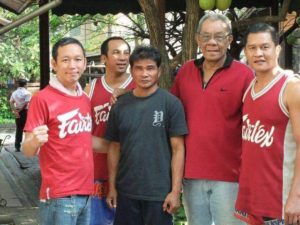 The next morning, close male friends and a few family members prepared for becoming a monk for a day. This often happens in Thai Buddhist culture as becoming a monk shows love for the deceased and support for the decreased's family. It also accumulates merit. For this preparation, the head is completely shaven along with the eyebrows to show non-vanity.
After, the men were taken to a temple to change into monk garb. Monlit came back to the yard dressed in a saffron robe, transforming both physically and in his aura. Lunch was presented to the newly-made temporary monks, and the monks are careful to follow a code of not having any direct physical contact with women.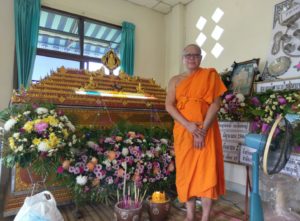 After a few hours, the clock struck noon. It was time to proceed with the funeral. All flower wreaths for Phaiboon were loaded into a pickup truck while the intricately decorated coffin was loaded into another. The novice monks lined up, holding a rope connected to the coffin, and hundreds of people walked behind the monks. Solemn music played during the walk to the funeral area.
Half a village worth of people, hundreds, sat down. The close family members sat inside an area in front of the monks, while other guests sat down in plastic seats surrounding the prayer area. Special guest Khaopong Sitthichuchai made an appearance to pay respects to Phaiboon. At the 1984 Summer Olympics, he won a silver medal in the men's Light Welterweight category, making him the second Thai ever to bring a Olympic medal back to Thailand.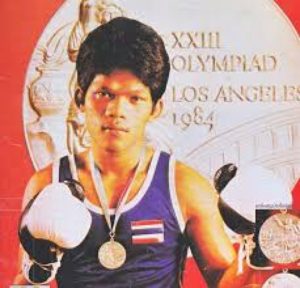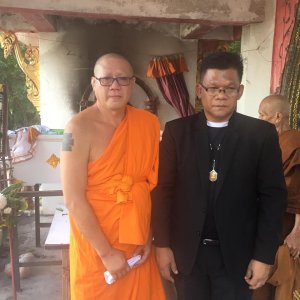 Prayers and speech went on for over four hours. There was even a traditional Thai dance performance as well as a Muay Boran demonstration.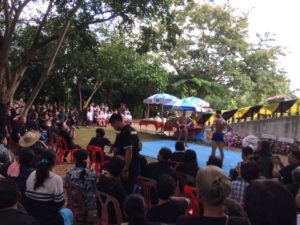 Offerings were made, and it was time to say final goodbyes to Phaiboon.
Monlit was the first to go up to the altar where the body was inside the coffin. Carrying a white paper flower, he walked up the stairs. There, the beautiful coffin had an opening, presumably where the head of Phaiboon was. In front was a bushel of herbs in a bowl of water. Taking the bushel, he shook the water into the opening a couple times. Tears rolled down his face as he placed the white paper flower down on a plate next to the bushel. He walked down the stairs silently and clearly unable to hide his grief any longer. The other monks followed suit, then close family members and other guests did as well.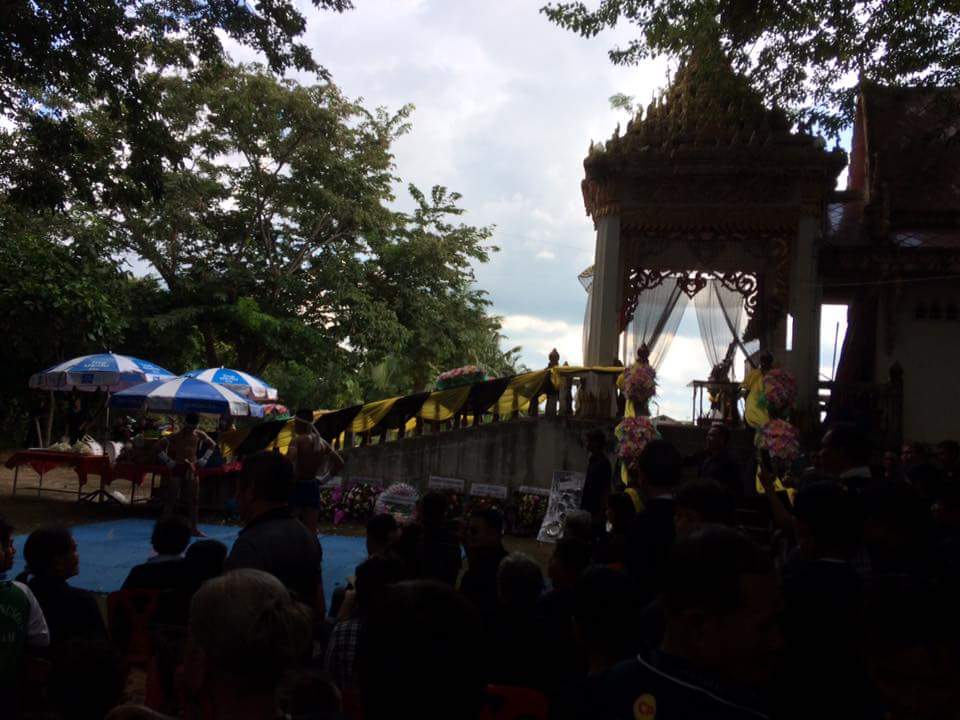 After all final farewells were said, everyone stepped back and said the final chanting prayers along with the monks. Unlike the night before, there was no longer fun in the air. Clear in everyone's mind was Phaiboon, and many people well already had swollen eyes and wet faces from the tears shed. Everyone waited as the coffin was loaded into the crematorium vault.
The door finally locked shut and everyone stood clear of the altar. Monlit and a select couple others stood around a button. Together, they pressed it. A firework-like sound sounded sharply as a spark traveled in a square, from tree to tree, before finally hitting the door of the vault.
Everyone stared at the altar for a bit longer before going on their way. The novice monks changed back into their regular clothes, Monlit included. Afterwards, Monlit walked back to his car and started the long drive back to Bangkok. In a melancholic mood, he was very reflective. Just an hour from reaching Bangkok, he started talking again, but in a different manner compared to the last couple of days. "Phaiboon…he was strong," Monlit said proudly. "I trained him. Aggressive, bold, and daring."
The memory of Phaiboon Fairtex continues and will always continue on in everyone's heart and memory. Rest in peace, warrior.