It's a scary and daunting time right now for everyone inhabiting this planet. People are getting infected at an alarming rate all over the world, and things are shutting down. Businesses have either limited their hours or are closed for the time being. Companies have started to tell their employees to start working from home. There are travel bans in place. Entire countries and cities are on temporary lock-down, with its citizens being unable to leave and foreigners unable to come in.
This article will be updated as news develops.
In the fight world, many shows have been cancelled or postponed. Because many places have put mandatory bans on events and gatherings over a few hundred people, this has prevented promotions from continuing with their shows.
Please support the continuation of content on Muay Ying via Patreon

The Numbers
April 20, 2020
Total # infected: 2811
# newly confirmed within the last 24 hours: 19
# total deaths: 48
# successfully recovered and discharged: 2108
Thailand's official number of infected people currently stands at 177, with 30 of those cases newly confirmed on Tuesday before noon (time of writing: March 17. Refer to above text for up to date statistics). Of the total number, there is only 1 reported fatality and 41 patients so far have successfully recovered from the virus. This overall number is suspiciously low when you consider Thailand was one of the first two countries to have a confirmed case of COVID-19 outside of China back in January. The number of actual cases is most likely exponentially higher when you look at how Thailand profits off tourism. Even to this date, only restrictions for visas on arrival have been put in place for certain countries, and the airports have yet to start any sort of comprehensive testing for the virus. For people flying in from certain countries, they are told to walk through a section that detects fevers. However, this doesn't give any sort of viable information as to who actually may be infected or not. Moreover, only selecting certain countries for this type of inadequate testing further buys into the myth that only Asian people are currently affected by this virus. After China, the countries most (officially) affected are Italy and Iran, with 24,747 and 14,991 cases, respectively. Click here to read on why the total number of actual cases is much, much higher than the number of confirmed cases.
As of March 18, Thailand has imposed strict conditions for those coming in from China, Hong Kong, Macao, South Korea, Iran, and Italy.
While it's not impossible to test every single person that comes into Thailand, the government has been heavily criticized for prioritizing tourism over the safety of its own people. A lot of large-scale events, such as the yearly S20 water music festival that happens during Songkran, have been cancelled, but large gatherings at clubs and parties have not. According to Sukhum Kanchanaphimai, secretary of the Ministry of Public Health, 70-80% of these cases are reported in Bangkok. One may think that this means the virus is more predominant in Bangkok, but that's not necessarily true. Testing for COVID-19 is only currently available at major hospitals, and it just so happens that the major hospitals are in Bangkok. According to the Bangkok Post, the test can only be carried out in large state hospitals such as Chulalongkorn Memorial Hospital, Rajavithi Hospital, Ramathibodi Hospital and Siriraj Hospital, as well as some private healthcare providers. All of the above listed hospitals are in Bangkok. Public hospitals charge 3,000-6,000 baht for testing, while private hospitals charge almost double that. Considering the average monthly salary of a blue-collared job is about 10,000 baht a month, even the public hospitals can prove to be not affordable for many in the workforce, and this is especially true if they have families.
Onto how COVID-19 is affecting the Muay Thai community. With tourism down all over the world, Muay Thai gyms are taking a huge hit in their business. What's supposed to be "high season" now is met with gyms struggling to stay afloat due to lack of foreign customers. This is especially true in places like Phuket, where the main income of gyms is from foreign guests and not local fighters. Although the first confirmed case in Thailand was in mid-January, it wasn't until the very end of February that promotions and committees started taking precautions against the virus.

Timeline in the World of Muay Thai
(WILL BE UPDATED AS NEWS DEVELOPS)
February 25: Thai Fight cancelled its February 29 event in Chiang Rai. They issued the following statement via social media: "The company has met with all parties involved with the arranging of the Thai Fight Chiang Rai event and has concluded that the event will be postponed due to risk of the virus spreading. We are primarily concerned for the health and safety of every Thai Fight fan, especially the tens of thousands who come to attend our live events; Thais and foreigners, male and female, all age groups from children to senior citizens.
"We would like to sincerely apologize to every Thai Fight fan and are truly sorry that we must reschedule Thai Fight Chiang Rai. However, our top priority will always be the health and safety of our fans. We hope you stay healthy and we will meet again when the situation has returned to normal."
February 29: Channel 8's Muay Hardcore show had hand sanitizer on site for anyone who wanted to clean their hands in a public space. Their Sunday show, Super Champ, also provided hand sanitizer.
Channel 8 announced a halt to their shows after March 1 due to the COVID-19 epidemic. They said they will start their shows again in May.
March 2: It was announced that the WBC World Soldier event, a star-studded event that was going to include WBC Muay Thai World title fights with Sitthichai Sitsongpeenong, Youssef Boughanem, and Yodwicha, was going to be postponed from March 15 to some time in July. The event was supposed to be held at Lumpinee Boxing Stadium.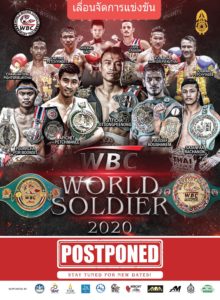 March 4: Lumpinee and Rajadamnern started checking all people coming into the stadium. There were fever thermometers and hand sanitizer on site. Shows to be continued as usual.
March 5: Lumpinee had people come and sanitize both the inside and outside of the stadium.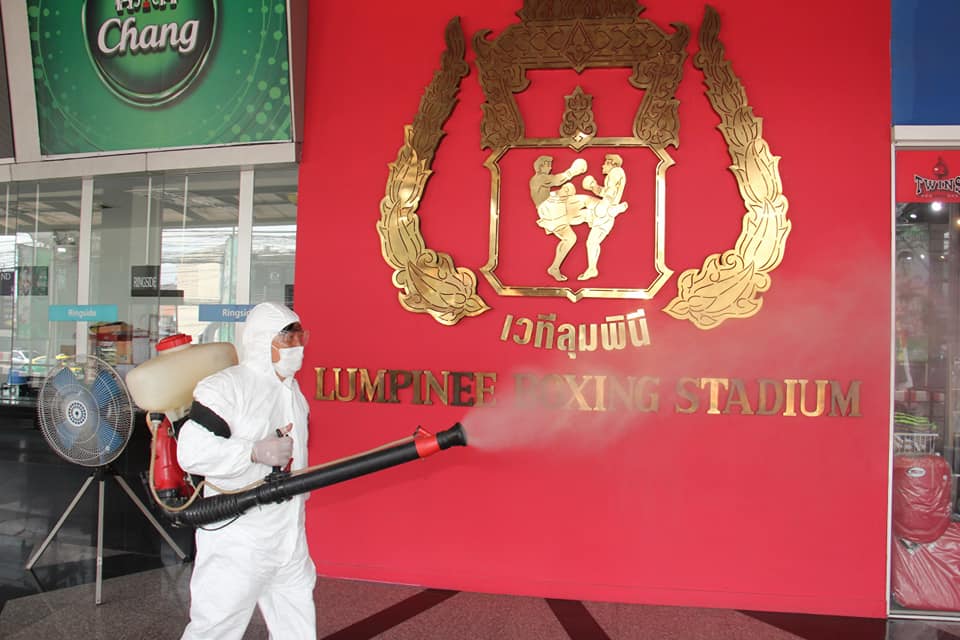 March 6: Lumpinee issued a statement that anyone who wishes to spectate need to be subjected to a thermometer scan, must use the hand sanitizer provided, and must wear a face mask when entering the stadium. However, just a day later, the stadium stated that there will be no one allowed in the stadium to spectate the fights, only fighters, cornermen, faculty, and TV personnel for streaming fights.
In hindsight, the show on this date was a significant factor in the spread of COVID-19 as many people reported to have contracted it during this show. There were more than 5,000 people in attendance. Please read ahead for more.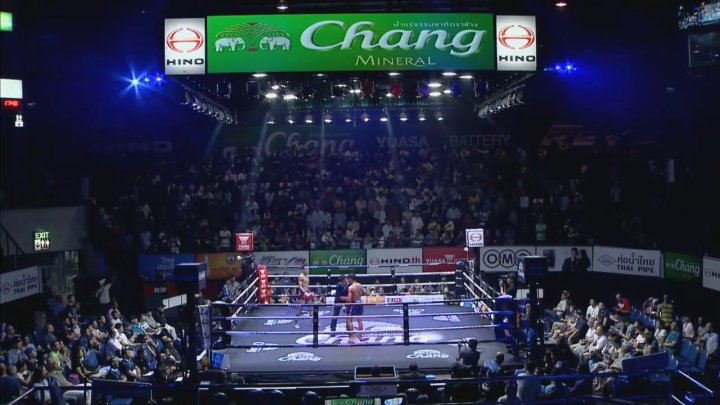 March 7: Omnoi Stadium is disinfected.
March 8: Starting today, Channel 7 had only fighters, cornermen, and TV studio staff allowed during the live filming of their weekly show. All gamblers and spectators are not allowed in until further notice.
March 10: Rajadamnern is still allowing spectators and gamblers to come for the fights. However, everyone is subjected to a fever thermometer scan and must use hand sanitizer and a face mask before entering the stadium. The stadium decided to cut rent costs for the fights in an effort to keep the fights going despite the already-large loss in revenue in Muay Thai and all sports in the country. The stadium also offered insurance for all fighters, faculty, and fans, and offered to cover costs if anyone contracts COVID-19 while in the stadium (registration required).
MBK Fight Night postponed their monthly show from March 25th to a later date due.
Channel 8 released their fight cards for March 21 and 22, despite stating just a couple weeks prior they were going to halt their shows until May.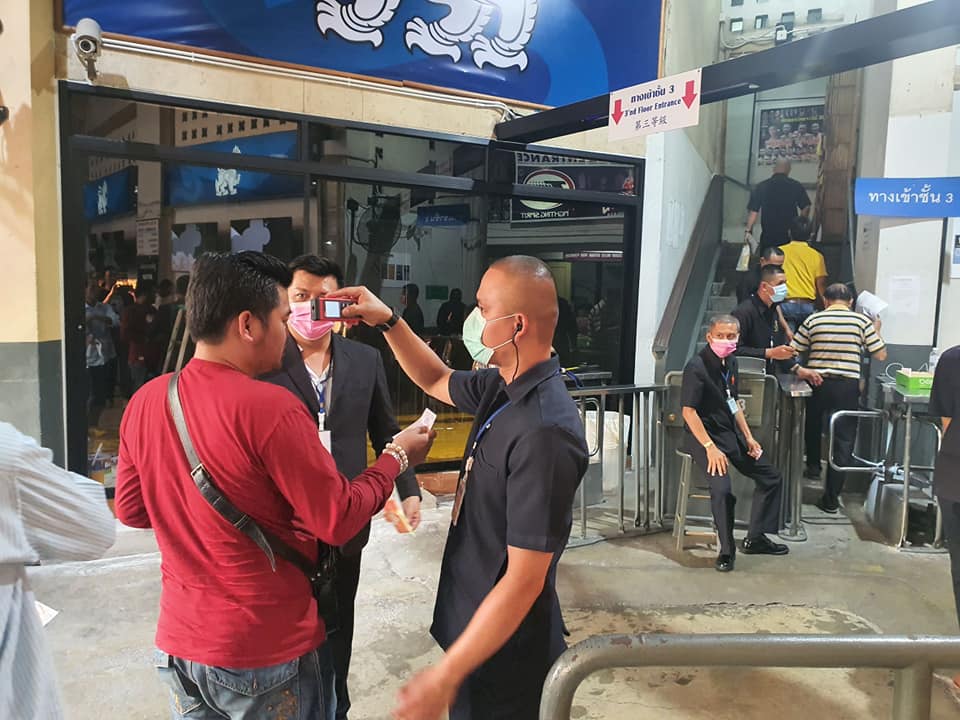 March 11: Petchbuncha Stadium in Samui was cleaned and stated all spectators will be checked with a fever thermometer and given hand sanitizer.
March 12: The 16th World Wai Kru Muay Thai festival officially cancelled due to concerns regarding COVID-19. This festival was held every year in Ayutthaya in honor of Naikhanomtom, with two days of fights at different venues.
March 13: ONE Championship announced that its next few shows will be audience-free, but the live streams will continue as usual for April 17 and 24, and May 1 and 8. For their May 29 show, they are still unsure if an audience will be allowed.
Rajadamnern continues sanitizing the stadium, and is still offering health insurance to boxing fans that register for it. The stadium has now reduced its rent to promoters to 20,000 baht per show in an effort to keep Muay Thai going. However, just a couple hours later, the stadium announced that they will be closed for the next 14 days in order to further clean the stadium and in an attempt to follow government protocols to prevent the virus from spreading.
Channel 3 stated that their televised shows will go on as normal, but without spectators or gamblers.
Celebrity Matthew Deane, who is an announcer and the owner of Khongsittha Gym in Bangkok, was diagnosed with COVID-19. He released a public statement via Facebook and Instagram, urging anyone who has come in contact with him in the last 14 days to self quarantine and get themselves checked out. Khongsittha also closed for disinfecting, with all the fighters and staff under 14-day quarantine. Matthew had also attended a match at Lumpinee on March 6 with many other well known members of the Muay Thai community.
Channel 8 cancelled its shows on March 21 and 22 after Matthew was diagnosed with the virus.
Channel 7 cancelled its March 15 show, expressing concerns of safety for the fighters and boxing fans.
Max Muay Thai announced that starting March 14, no audience will be allowed in the stadium. Their shows will still be aired on TV.

Bangkok Post
March 14: In response to a couple of Thai spectators posting on social media saying they've contracted the virus, Lumpinee stated they will close the stadium for at least two weeks, until the COVID-19 situation improves.
March 15: Boxing Reporters Committee offers 10,000 baht to anyone who works in boxing media who suspects they've contracted the virus so they can go see a doctor and get checked.
Nine people who attended Lumpinee Boxing stadium recently were confirmed to have contracted the virus, including the mayor of Chachoengsao PAO, Kitti Paopiamsap. He posted on his Facebook page saying that he was confirmed to have the virus. According to The Thaiger, "He believed he contracted the virus while at the Lumpini Boxing Stadium on March 6 from TV celebrity Mathew Deane." After attending the March 6 show, Kitti attended at least seven different functions, where he met hundreds of people.
March 16: Major General Rachit Aarunwong, director of the Army Welfare Department and president of Lumpinee Stadium, has been reported to have contracted COVID-19. He is currently being treated in a hospital.
Boat Petchyindee voluntarily went to get tested for the virus and was confirmed negative.
Thailand has yet-to-be approved plans to shut down crowded venues, such as schools and to suspend Songkran festivities. This plan was developed in response to the recent spike in confirmed cases.
Khongsittha becomes the first gym in Bangkok to close until the COVID-19 situation is figured out.
Lanna Muay Thai in Chiang Mai closes gym until April 27.
Muay Thai Acadmey in Bangkok closes until March 26.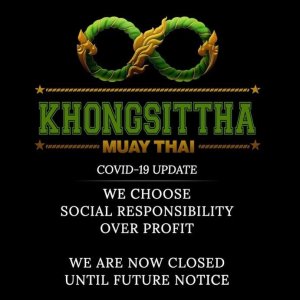 March 17: Lumpinee and Rajadamnern are still not holding fights until the end of the month. The well-known stadiums in Phuket and Chiang Mai are still holding shows and allowing spectators.
Thai government recently announced it's considering of banning any gatherings over 50 people.
It's apparent from all TV showings of Muay Thai events, they are all audience-free events.
Petchyindee Academy in Bangkok follows in Khongsittha's steps and closes until further notice.
Yokkao in Bangkok closes for the rest of the month as well.
Prime Minister Prayuth Chan-ocha said in a televised speech that
1) Songkran will be postponed to a later date
2) All educational institutions in Thailand will be closed starting March 18 for 14 days.
3) Boxing arenas, stadiums, and horse racing tracks in Bangkok will be closed until further notice.
4) Bangkok governor ordered the closure of all bars, pubs, massage parlors, saunas, cinemas and fitness clubs to be closed for 14 days starting March 18. THIS INCLUDES MUAY THAI GYMS, but it is yet to be seen if this will be heavily enforced on Muay Thai camps.
5) The closing of concerts, malls, and sports events are at the discretion of provincial governors.
6) Thailand remains open to foreigners, but strict conditions apply for people arriving from China, Hong Kong, Macao, South Korea, Iran, and Italy, including health certificates issued no more than three days before boarding along with health insurance, and they must download an app so the government can keep track of them in Thailand.
7) Malls, markets, restaurants, public offices and state enterprises remain open but are told to take preventative measures such as surface cleaning or use of thermo scanners.
March 18: Following Bangkok's lead, Phuket's governor issued an order to close all entertainment venues (including bars), all sports venues, cinemas and massage shops for 14 days. This means ALL MUAY THAI STADIUMS must close for the next couple of weeks. There is no word on gyms and most gyms are staying open until forced to close.
Bangla Boxing Stadium released their official statement regarding the closing but other stadiums have yet to be heard from, but are assumed to be closed due to government mandate.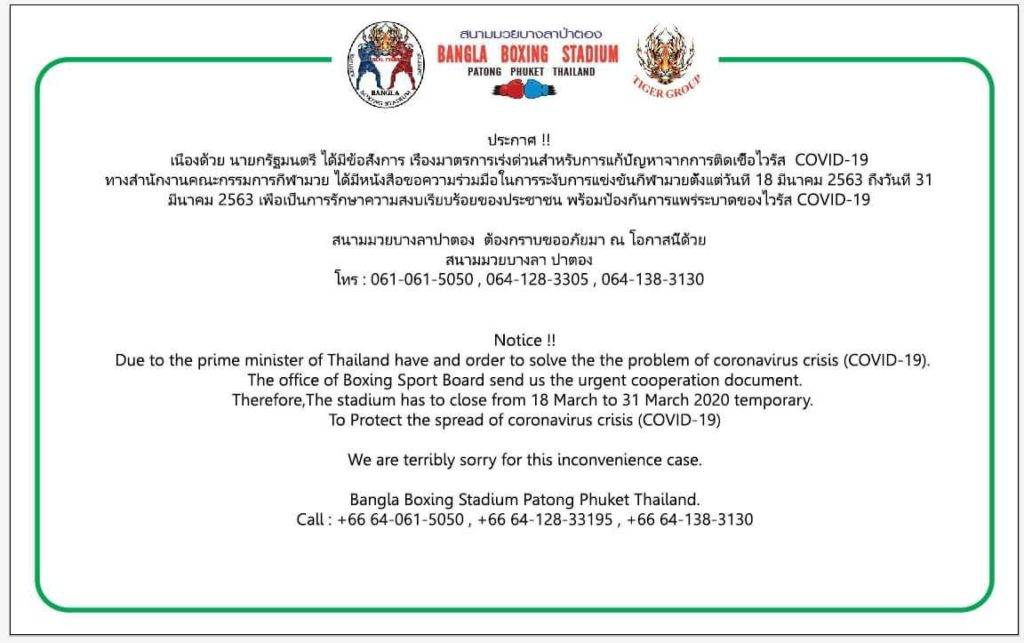 Attachai Muay Thai in Bangkok stated they will be closed until the end of the month. Many other Muay Thai camps in Bangkok seem to be staying open.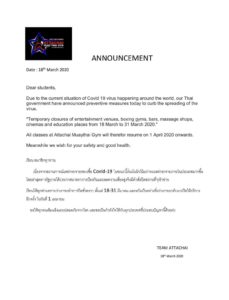 Yokkao in Bangkok closes until the end of the month.
Luk Klong Tan in Bangkok closes until the end of the month.
Fairtex in Pattaya closes to the public until the end of the month.
Sitsongpeenong in Bangkok closes until the end of April.
Jitti in Bangkok closes until end of the month.
March 19:  Chiang Mai governor ordered a number of different types of venues, markets, and gatherings to be closed, including boxing stadiums and "exercise and fitness venues" until April 1. This means no fights in Chiang Mai until (at least) then. It is unclear if Muay Thai gyms are forced to be close during this mandate, though some camps in Chiang Mai have already closed for the time being. This means that the major provinces for tourism and Muay Thai (Bangkok, Phuket, Chiang Mai) are forbidden to have any fights at least until April.
Powerhouse Phuket in Phuket closes until end of the month.
Sutai in Phuket closes until end of the month.
Rattachai in Phuket closes until April 5.
Phuket Fight Club in Phuket closes until end of the month.
Diamond Muay Thai in Koh Phangan closes until (at least) end of the month.
March 20: PK Saenchai in Bangkok closes until end of the month.
HongThong in Chiang Mai closes until further notice.
First cases of the virus announced in Phuket.
Tiger Muay Thai in Phuket closes until end of the month.
Phuket Top Team in Phuket closes until further notice.
Sinbi in Phuket closes until end of the month.
Rawai MT closes until further notice.
March 21: It's estimated that about 500 people total have been infected from visiting Lumpinee and Rajamdanern March 6-8. Everyone who was in attendance during those dates is urged to go get themselves checked out. Only 55 people have been confirmed since not everyone has gone for testing.
March 22: Bangkok has ordered all shopping malls to shut down from today until April 12. Supermarkets, convenience stores, and restaurants who do take-away will still be open. This new date also includes the closure of all sports and entertainment venues, including boxing stadiums. Many gyms will stay closed until this time as well.
March 24: Thailand has reported 3 new deaths, among which was "a 79-year-old Muay Thai guru who had several chronic diseases and was admitted for treatment on March 16." Name has yet to be released.
Thailand has also said it will declare a state of emergency starting Thursday, March 26. More details will be released then.
March 26: There is reported to be an investigation underway to see who is to blame for the Muay Thai event at Lumpinee on March 6. It is said that army chief Gen Apirat Kongsompong, who is chairman of the Lumpinee to find "someone responsible". Health authorities in Thailand are blaming the spread of the disease partly on boxing events, namely the show on March 6.
The army was wrong to organise Muay Thai bouts at Lumpinee stadium on March 6 despite a coronavirus disease (Covid-19) warning, and an inquiry was underway to find out who was to blame, defence forces chief Gen Pornpipat Benyasri said on Thursday.
"Those being investigated included Maj Gen Rachit Arunrangsee, director-general of the Army Welfare Department and director of the Lumpinee boxing stadium. The Army Welfare Department supervises the boxing stadium and Maj Gen Rachit is among those infected with Covid-19.
"It was reported that the Sports Authority of Thailand on March 4 asked the management of the Lumpinee boxing stadium to cancel its March 6 event. SAT cited a cabinet resolution on March 3 calling for the suspension of sports events on worries about the spread of the disease among crowds."
March 29: 
The latest death claimed by the virus is of a
68-year old man from Nonthaburi
(neighboring province of Bangkok) who had attended the big show at Lumpinee earlier in the month.
March 30:
In an opinion post,
Veera Prateepchaikul
 wrote an article regarding how the fights at Lumpinee were asked to be cancelled but the Thai army didn't heed the warning. In the
article
, Prateepchaikul state, "All the army officers involved in the event, as well as Maj-Gen Rachit himself, who is among the 50 infected by the virus, have been transferred to inactive posts, pending the findings. Many people, myself included, doubt the probe will lead to any decisive punitive action against the 'big fish'. There will, however, likely be some 'small fry' who end up as scapegoats."
Rajadamnern announces they will continue their closure until April 30th. All Muay Thai shows, gyms, and stadiums will follow suit due to government mandate.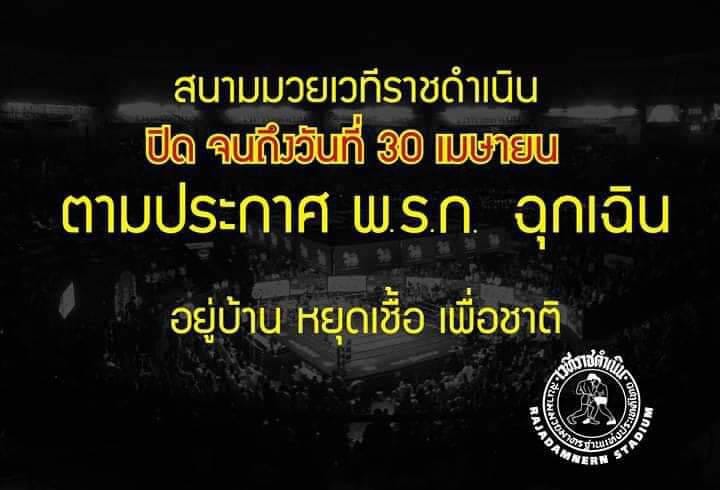 April 2: All public and private parks in Bangkok forced to close until April 30.
April 3:
Today is the start of a nationwide curfew
, banning people from being outside from 10pm to 4am. Medical, banking, and other personnel are exempt from this but must show appropriate documentation.
All travel to and through Thailand is banned until April 15, including Thai nationals returning to the country.
84-year old Rajadamnern Stadium faculty member Prasop Sumalee died today due to complications with COVID-19. He was already suffering with a chronic kidney condition and high blood pressure.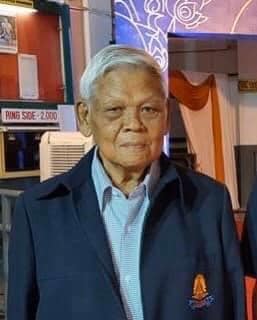 April 10: 
A meeting was held by the Professional Boxing Association and 
25 million baht
was approved from the budget to assist fighters and trainers who are affected by the virus.
April 20: Channel 7 has issued a statement saying that there will be no fights throughout the month of May.
April 21:
A
Bangkok taxi driver
, who had passengers to and from Lumpinee Stadium the beginning of March, died today.
Significance & Impact
With the cancellation of most fight events, big and small, domestically and internationally, what does it mean for home-grown fighters in Thailand? Because Muay Thai is a means out of poverty for a majority of fighters, they hail from poor provinces and they may be the sole breadwinners of their family. Many fighters support their parents, partners, and children with their fight purses. With the lack of fights, fighters are unable to make an income unless they are signed to a bigger international promotion, such as ONE Championship, that is continuing their fights (even if it's sans audience). This can put Thai fighters, who are already seen as an economically disadvantaged group, in a very difficult place. Because many of them sacrifice an education to pursue training and fighting full-time from childhood, trying to get another job for the time being is out of the question for many. Many camps, who typically make a majority of their income from their fighters, are sending fighters and trainers home due to the lack of fights and their inability to sustain their housing, food, and salary. A lot of fighters and their families are currently asking the government for help. It's also worth it to note that many of the troubles the fighters are facing, the trainers are also facing. Not all camps can afford to keep paying the trainers their monthly salary with no flow of income.
Songkran (April 13-15, dubbed "Thai New Year") typically hosts a great number of shows in the northeastern provinces (where many fighters and blue-collared workers hail from) and fighters can fight a few times a day over the course of the holiday. Fighters make some money from their purse, but those confident in their abilities will put up big side bets with their opponents. This year, due to virus concerns, it is most likely these fights and festivities, especially the infamous water fights, will be banned. This will be a huge loss of potential income for promoters and fighters. As of March 17, the Thai government postponed Songkran to limit the movement of people during the holiday. Normally, millions of people travel during this holiday.
Edited March 24, 2020. The government is still looking for the estimated 500 that were infected from Lumpinee and Rajadamnern stadia from earlier this month. Because a lot of businesses have halted or closed, many Thais who work in Bangkok have left the city and gone back to their hometowns. Just this past weekend, one big bus terminal saw around "80,000 passengers leaving for their hometowns." This is problematic because most of the infections have been linked to the stadium shows. Most Muay Thai fans, gamblers, and fighters are from the Northeastern provinces and work in Bangkok. Many of these people that didn't get tested could have potentially brought the virus back to their hometowns. This means the virus will be spreading unknowingly. The Northeastern provinces (often referred to as "Isaan") are some the poorest regions in the country, and many simply cannot afford to get tested. It is also unknown if hospitals in these provinces have the means to test people.
Edited March 30, 2020. Due to a lot of backlash that the army has received for continuing on with the March 6 Lumpinee show despite being asked by the Sports Authority of Thailand to cancel due to the health crisis, this may change the way boxing is promoted within the country. Because gambling is such a huge part in the sport, especially at the stadiums, there is a lot of talk about how the army isn't taking on the role of promoting Thai martial arts but for their own profit. There is an estimated worth of 40 billion baht a year when it comes to gambling in Muay Thai. Before the current health crisis, the Thai army has/had a huge role in terms of Muay Thai shows. They had the power to tell shows to shut down or continue. Also, any show that had backing form the army usually also had a good amount of sponsors and some air time. This role could be critically affected after this virus situation is over, if there is someone to discipline the ones actually responsible.
This article will be updated as news comes out. Please check back.
If you enjoyed this or found this useful, and want to continue seeing Muay Thai news (with focus on BOTH female and male fighters), training and fighting tips, gyms reviews, and general/miscellaneous content,
please consider becoming a donor on Patreon.
With donors, I will be able to deliver high quality content consistently as well as continue my fighting goals in Thailand.