Thailand was doing so well. The country had their lockdown, had their share of hardships, opened back up domestically (then internationally with restrictions), and was praised for what they did to contain the novel coronavirus and "flatten the curve" relatively quickly.
But now the country is reverting back to familiar stages, putting many in a state of anxiety and unemployment. And, no more Muay Thai. Again. What happened?
Please support the continuation of content on Muay Ying via Patreon
2020 – The Fall and Rise of the Country & Muay Thai
For the Muay Thai scene, it was non-existent from March until July 2020, with trainers, fighters, and gym owners unable to make an income from working. But when the country opened back up domestically and fights were given the green light, Muay Thai within the country, under "new normal" guidelines, was just like before. Fighters were fighting, trainers were training, and gym owners were operating their businesses as usual.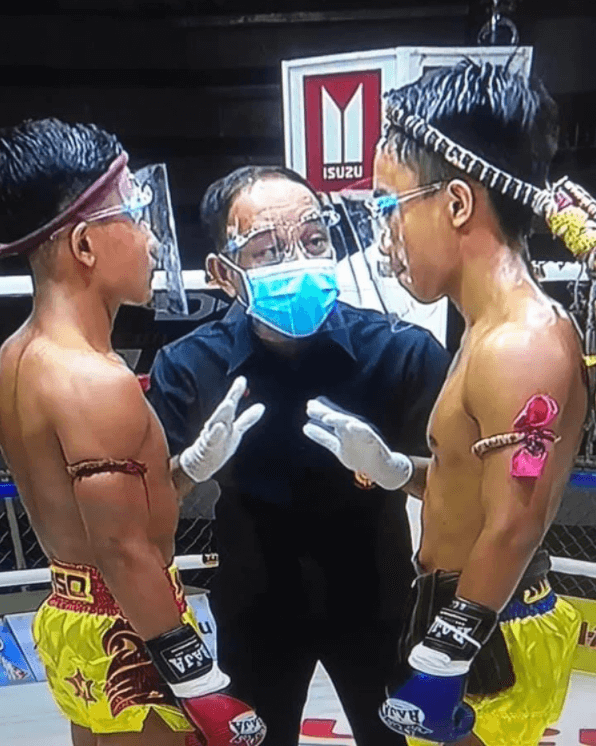 Muay Thai enthusiasts and striking fans looked to Thailand, following their regularly televised shows for fresh fight content, a rare commodity these days. Fighters outside of the country that have been itching to train and compete wished to come to the motherland of the sport, where problems seemed so far away. Even with the mandatory 14-day quarantine and limited special tourist visas, there were some people that started preparing to come over. In fact, the government was contemplating changing the quarantine to 10 days instead of 14 for tourists to help boost tourism and help the country's economy, which had been suffering drastically without the influx of international travelers. Thailand was in its early stages of opening the country back up.
COVID-19 Reappears
But the ride on the "good news" wave proved to be short-lived. In late November, three Thai women illegally snuck back into the country from Myanmar through a natural passageway, avoiding the 14-day quarantine. They entered into Chiang Rai and traveled around the country while being COVID-positive. This sparked a familiar panic that many believed was already in the past.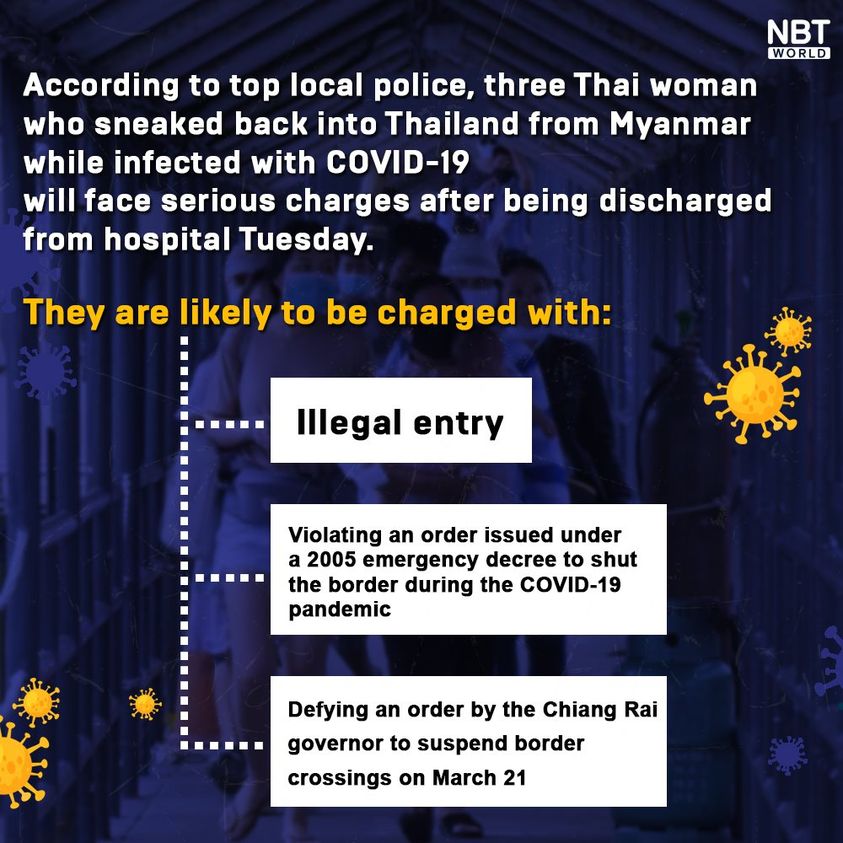 While this didn't prompt any major changes or action from the government, people started being aware of the virus and were worried about a possible second wave if the infections linked to these women could not be contained.
On December 17, a shrimp farmer in Samut Sakhon tested positive for the virus. This was the first confirmed local case. The 67-year old woman had not been abroad. The health authorities started tracking her movements. Just a couple of days later, the number of confirmed cases in Samut Sakhon linked to the shrimp farmer and the market she worked in surged to over 500 in the estimated 1000 people they tested in relation to the case. According to reports, most of the confirmed positive cases were of migrant workers, sparking a lot of xenophobic blame for the possible oncoming second wave. The province immediately went into lockdown, the government made a national announcement stressing the importance of mask-wearing and social distancing.
Fights Canceled
As the virus slowly spread to other provinces, Thai Fight was one of the first promotions to cancel their show. They did the same back in February when news of the virus first came around, erring on the side of caution. Their show was scheduled for December 26 in Nan province and it was canceled just five days before on December 20.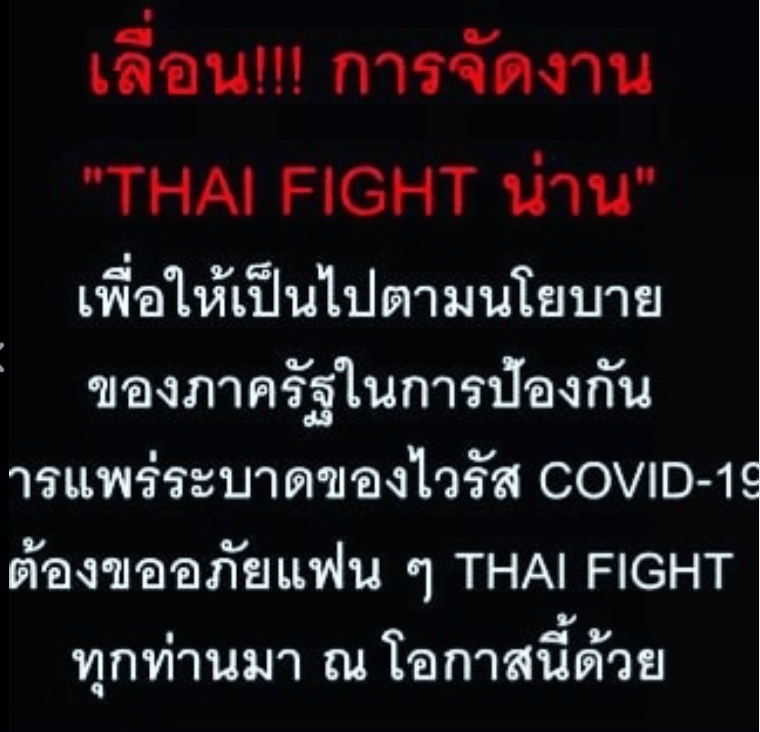 The newest cluster of outbreaks happened shortly after Lumpinee Stadium had their first (and only show) of the year post-lockdown on December 8. Lumpinee was responsible for a cluster of outbreaks back in March, which gave the industry some negative connotations amongst locals. On December 20, Lumpinee Stadium announced that they will not be hosting the planned shows for the rest of the year.
Omnoi Stadium, which regularly televised fights on Saturdays, announced they were going to move their fights to Rajadamnern since Omnoi Stadium is located in Samut Sakhon, the province where the main outbreaks are. The plan was this to be for a few weeks, from December 19 to January 3. When this didn't work out, they were given the green light to host their shows at Peace TV stadium in Bangkok from Channel3.
Rajadamnern Stadium had their 75th birthday show planned for December 23 and announced that, due to the recent outbreaks, it would be a closed-door event (no fans allowed). A day later on December 22, they canceled the birthday show and all shows until further notice. This included the shows Omnoi was planning on hosting temporarily at the stadium.
Channel 8 (Muay Thai Super Champ and Muay Hardcore) originally were going to go ahead with their fights that weekend. Sawsing Sor. Sopit, the matchmaker for the women's bouts, announced that the fights will go on but entry will be limited to just the fighter and two corners. No fans allowed. As many expected, they, too, ended up canceling their Super Champ show on December 27, making the announcement on December 25.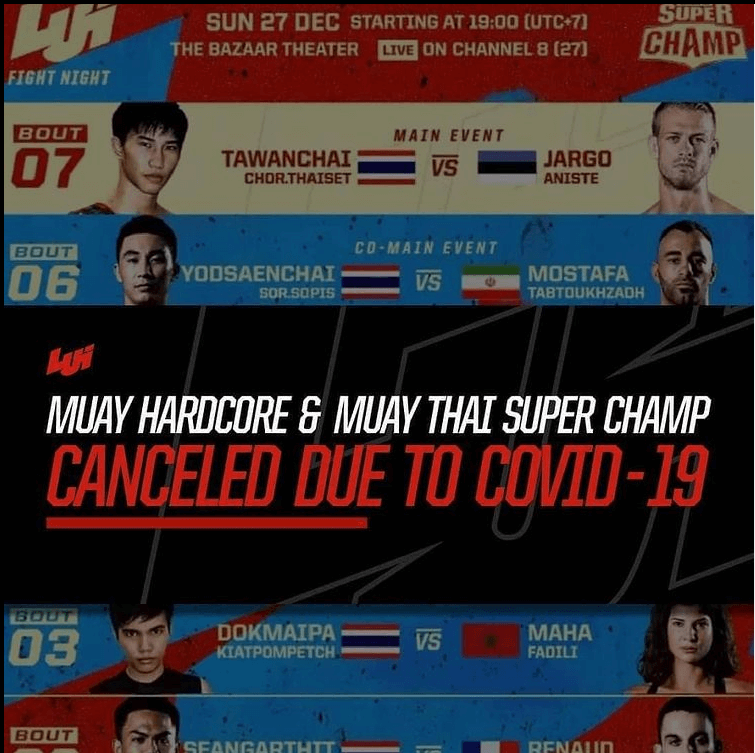 One of the last shows left standing was Channel 7 Stadium, which had regularly televised fights every Sunday. They held their show on December 27 and had a show scheduled for January 3. On December 29, they announced that they are canceling all shows until further notice.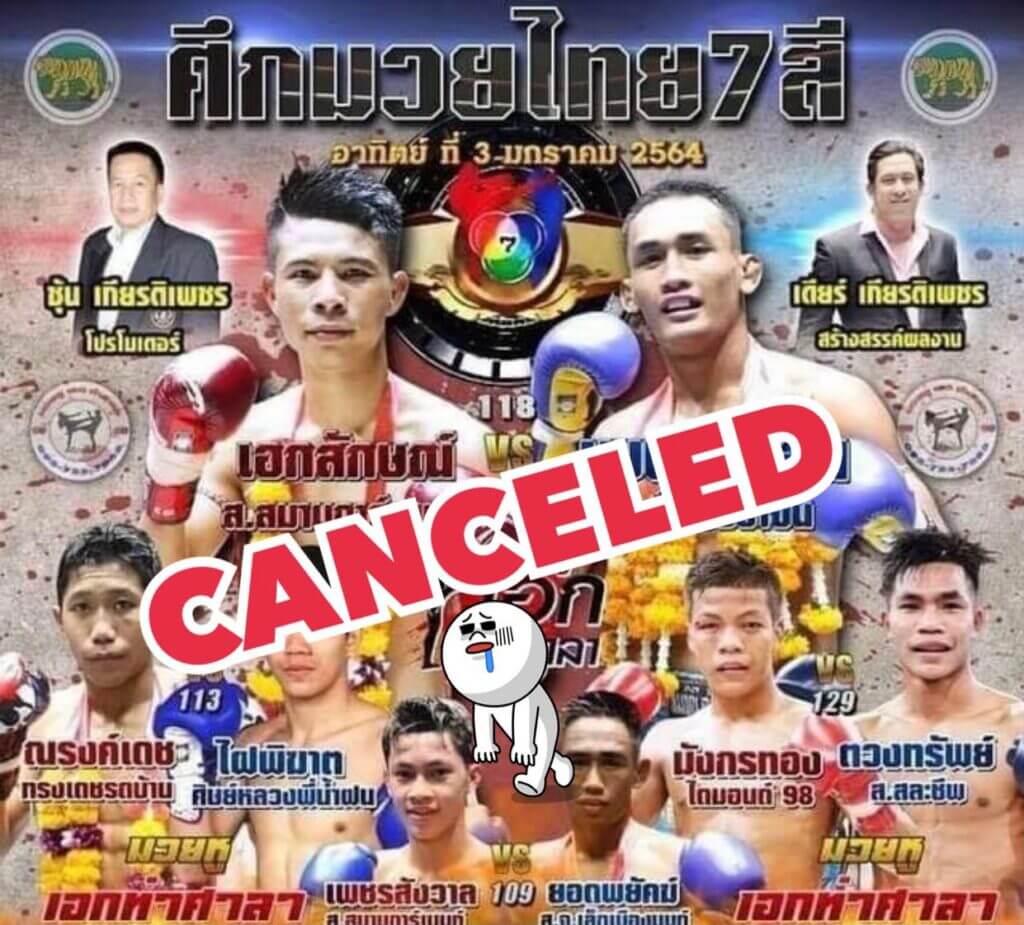 On December 30, the Sports Authority of Thailand issued an order for all Muay Thai shows to stop as the number of COVID-19 cases were on the rise in the country. This forced the only show remaining at the time, the fights originally that were supposed to take place at Omnoi but were to be hosted at Peace TV, to cancel.
Now What?
The ended 2020 with an air of uncertainty. No fights for the foreseeable future, but some fighters still stuck around to train in case things changed after the start of 2021.
At this point, the number of new infections were increasing by hundreds per day. It was no longer sporadically nor in single digits. The government designated provinces with confirmed cases into colors – red, orange, yellow, green – in order of severity. Bangkok, where the major stadiums and high profile gyms are, is considered a "red" zone.

On January 1, the governor of Bangkok announced closures starting January 2 for many types of venues with no specified end date. Fitness gyms, sporting stadiums, and Muay Thai gyms were on this list. The fighters that stuck around to train now had no choice but to go back to their home provinces. The trainers and gym owners are now, once again, left with no work. How long will this "bad news" tide keep people down?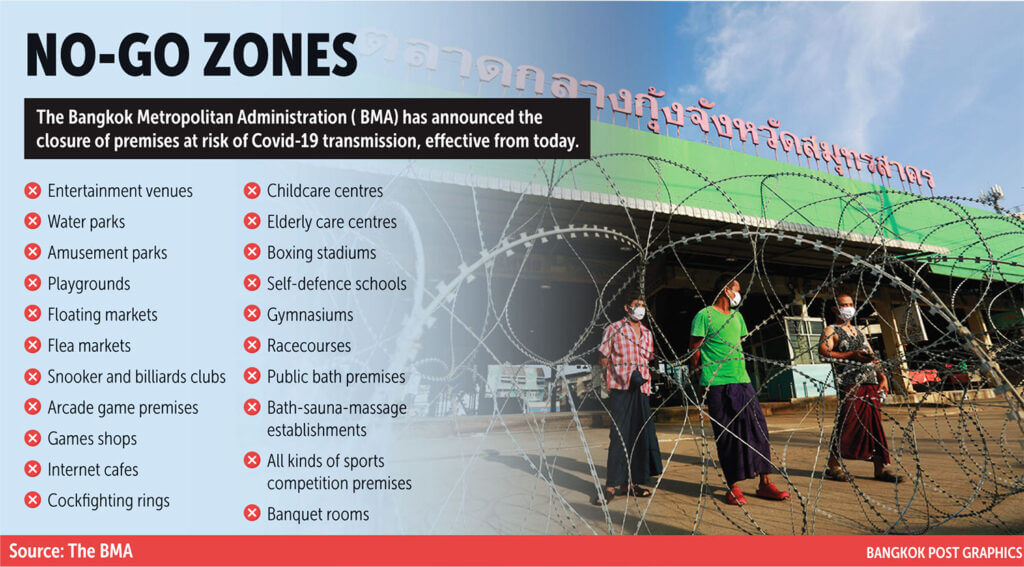 With shutdowns and a lockdown that only lasted roughly four months in 2020, many are hoping that this time around, it won't last as long. The Centre for COVID-19 Situation Administration decided to not enforce a national lockdown "because of the devastation it would cause to businesses and the wider economy." However, this can change as the situation develops.
The timing was unfortunate as it seemed that women's Muay Thai was finally gaining some traction and deserved recognition within the country. Channel 8 was finally featuring more than one women's bout per card and recently had their "ERA OF MUAY YING" weekend. The struggles within the Muay Thai community continue for those who depend on fighting for survival and for those who are fighting for equality. With any luck, their efforts will not go forgotten when conditions improve and Muay Thai is allowed again.
If you want an in-depth guide to training in Thailand, I've got just the thing.