If you weren't looking for this gym, you'd never find it. Located in a narrow soi among food stalls, Thai-style apartments, and a khlong canal, P.K. Saenchai Muaythaigym, is located in one of the most unsuspecting areas of Bangkok. And in the most unsuspecting alleyway.
As you make the turn into the narrow soi, you may feel uncertain about where you are. If it weren't for the giant signs pointing towards the camp scattered throughout the narrow roads, you'd feel lost for sure. But suddenly, a camp appears. And it is massive.
Contents
Location & Accommodation
Just a few minutes away from Central Rama III, the area is unassuming, unpretentious, and full of locals. Busy, but not touristy in the slightest.
Although the Rama III area itself doesn't have too much going on (aside from the mall and industrial buildings), it is just a few kilometers away from the hustle and bustle of Sathorn and Silom. From here, you can get onto the BTS (sky train), which easily connects to other areas of Bangkok.
The community that the camp in is just about as local as you can get. Accommodation is offered just a few alleys down from the camp, less than a 10-minute walk. Between the camp and the apartments, there are numerous street stalls selling a variety of foods. Grilled chicken, som tam, takoyaki, sushi, roti, spring rolls…just to name a few. These stalls seem to come and leave in shifts. (For those practicing Islam, there is a small Muslim community selling halal food near the apartments)
The rooms are simple, no-fuss. You'll have a bed and a shower, which will be sufficient if you're in the country to focus on training. You can ask the camp to rent one of their motorbikes during your stay for a decent price. Having a motorbike is recommended – not just for getting to and from the park, but also for making short runs to the convenience stall, massage fronts, or the malls. The walk from the camp to the main road takes at least 15 minutes. There are plenty of motorcycle taxis (win motosai) within the area, but don't expect to see any taxis until you reach the main road.
Please support the continuation of content on Muay Ying via Patreon
The Camp
P.K. Saenchai is a sprawling camp. Equipped with five rings (one of them being a cage, which replaced a boxing ring in early 2021) and a dozen assorted bags, a full weights section in front of the gym…as well as treadmills and other equipment. And the gym has to be big – there are close to 40 fighters on their roster. Although not all the fighters are there are the same time, the gym has to be big enough to house them and the non-Thais that come to train.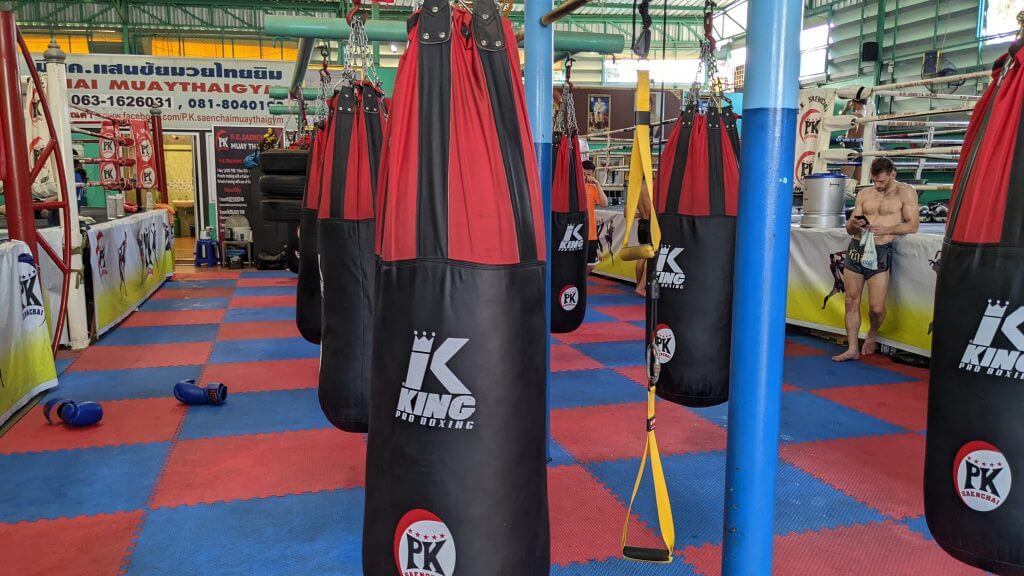 P.K. doesn't really have a "style" to their fighting or training. Gyms like FA Group are renowned for their muay khao fighters and their relentless clinch work. Sitmonchai is known for low kicks. But P.K. has a variety of fighting styles from their fighters. Rodlek and Pongsiri throw heavy hands. Tawanchai, Sangmanee, and dozens of others are muay femur, relying on fight IQ and kicks to win. And then there are the muay khao like Chamuektong and Chatpetch. The age range of the fighters is also interesting. Most camps have fighters with ages that max out in the mid-20's, but P.K. has several high-level fighters well into their 30's – Rodklek, Wangchalong, Pongsiri, and Chamuaktong. That being said, a bulk of their roster is still made up of teenagers and men in their early 20's.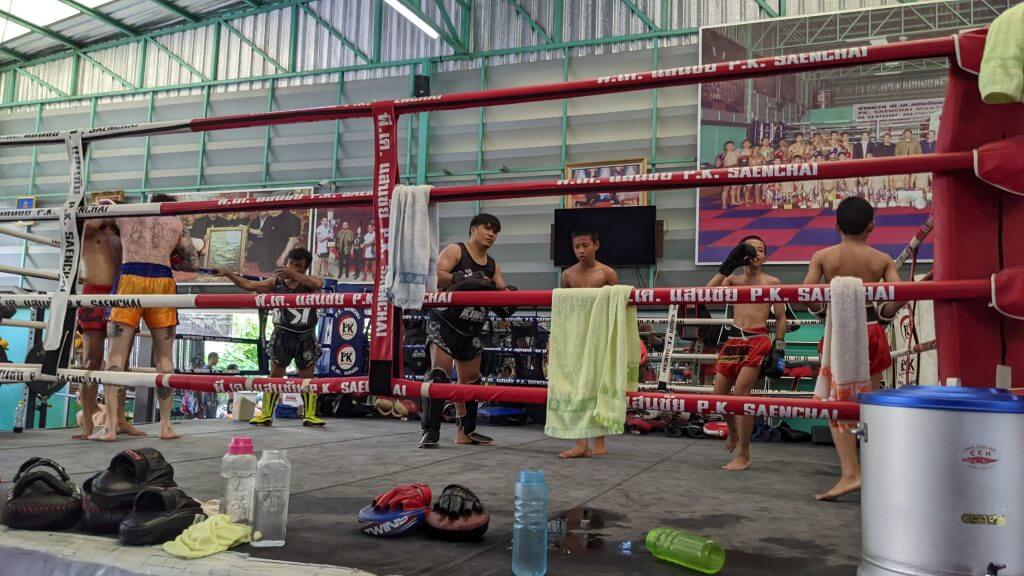 P.K. Saenchai puts their roster fighters first – they're the camp's claim to fame and how they make their money. Keep this in mind as this will be a recurring theme throughout the article. Everything else comes secondary. What does this mean? It means nobody is going to hold your hand and tell you what to do. Nobody is going to think twice about why you missed training. You will have to find your own motivation to ask for things like:
What time is the morning run?
Where is the morning run?
What time is afternoon training?
Can you find me a sparring or clinching partner?
And you will have to find your own motivation to do things – wake up early in the morning to run and lift weights. Show up to training. Hit the bag. Do your sit-ups. P.K. is ideal if you've been to a Muay Thai camp in Thailand before and have a good amount of self-discipline. If you've never been to a Muay Thai camp and have zero clue or direction about what to expect and what a good routine to follow is, you will probably feel lost. Most gyms in Bangkok do prioritize their Thai fighters before anyone and anything else. The fact that P.K. does this plus the massive size of the gym and the number of people coming in and out means there are fewer opportunities for the trainers to give you a lot of individual attention. This does NOT mean they don't care – they just simply don't have the time. If you want to be taken seriously, show up consistently and work hard.
These notions and ways of training have been solidified under Sia Kaek, the tough boss of the gym. (No, Saenchai does not own the gym.) His son, Game, has slowly begun to take over the camp over the last few years. Although a contrast in characters, both types of energies allow the gym to thrive. During your stay, Game will be the main person coordinating things for you. He speaks decent English and is always willing to help.
That being said, let's move on to what training is like.
Training
There is no set time for the morning run and no set time for the afternoon training. The morning run at the park is officially at 6, but the fighters aren't there until 6:15. The run finishes at 7-7:30. People trickle their way from the park to the gym (about a 5-minute bike ride).
At the gym, there is a bagwork routine of knees, teep, kicks. This will be followed by strength and conditioning – usually with the strength coach, who's there everyday. You're also free to do your own thing (or do nothing at all).
The morning is quite different from most other gyms. Many other gyms have a light but proper training (padwork, sparring, etc.) in the mornings. P.K.'s morning structure is incredibly loose.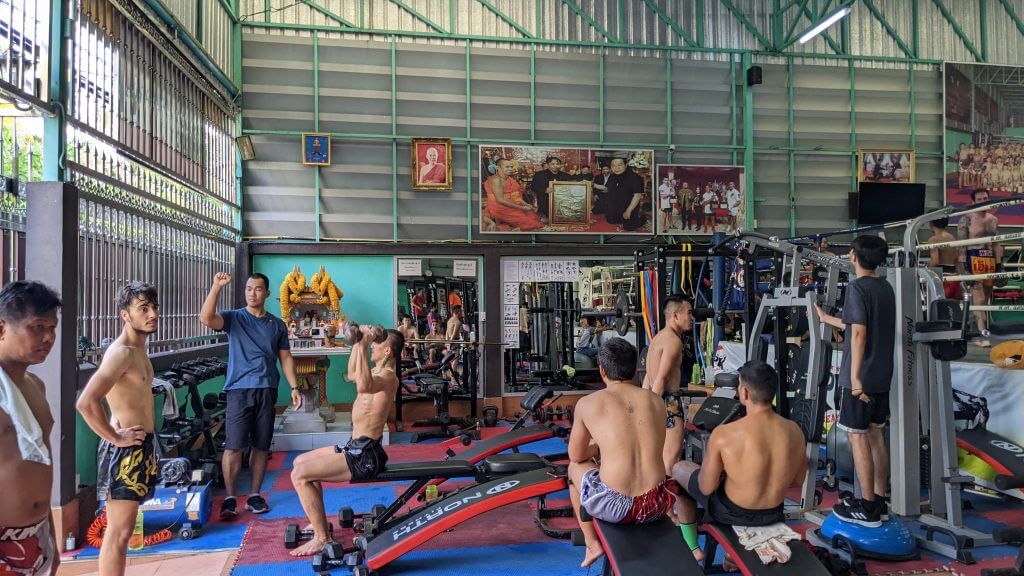 Afternoon training is where most of the action happens. You can walk in any time from 2-5pm. A warm-up is done by running on a treadmill and jumping rope. You are provided with iced water and towels to make up for all the sweating you'll do. There's usually someone going around and refilling all the water bottles, which is a nice touch. This same person also mops up sweat around the gym through the afternoon session.
The Thai fighters don't all come at the same time either. Locals, who are just interested in working out, come in as well, usually towards the late afternoon and early evening.
If you stay at the camp for long enough to secure a consistent trainer during your stay, they may tell you to come in at a certain time that doesn't coincide with their fighters. Again, keep in mind that P.K. prioritizes their fighters. If you come at a time where all the trainers are busy with them, you can be hitting the bag for rounds on end until one of them frees up.
The best thing about P.K. Saenchai, hands down, is the padwork. No matter what your level, you will get a minimum of 5 rounds. Padwork is a mix of Thai pads, boxing mitts, elbow work, and low kicks. Three times a week, a boxing trainer comes in and you will work on your hands in a small group for a couple of rounds, in addition to hitting pads with a trainer. In comparison, it is standard for most Muay Thai camps in Thailand to do just 3 rounds unless you have an upcoming fight.
Some trainers are looking for only power shots for the entire training session. There are trainers whose style is to break their fighters with endless "Five kicks, five kicks, five kicks" followed by a sweep and crash to the canvas. There are trainers who are more fast-paced. There are trainers who are sticklers for technique and fight IQ.
After you are done hitting pads (which is, truthfully, the most structured and rigid aspect of training), you hit the bag. The rest of the training session depends on what you take the initiative to do. You can ask for a sparring or clinching partner. You can work with the strength coach to do some lifting. You can also just pack up and leave.
Remember that what you do (and do not) do will always be noticed (even if it'll never be verbally acknowledged). And that may affect how seriously they take you or if they believe you're fit to take a fight during your stay.
Although there is an MMA cage at the camp, they do not offer any training aside from Muay Thai for now. The cage is there because the camp has quite a few fighters signed to ONE Championship under Muay Thai and kickboxing rules. The camp may offer an MMA program in the future.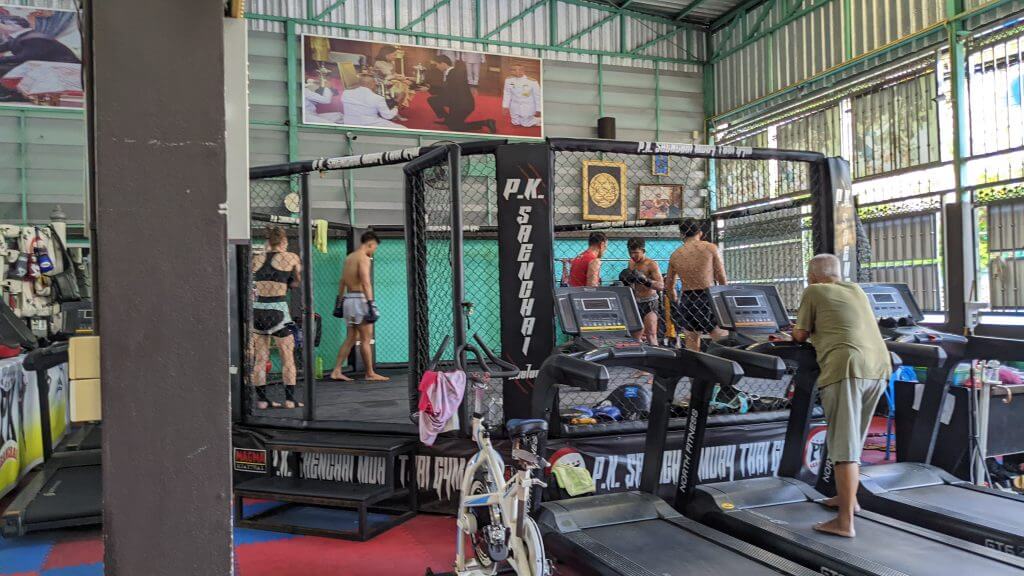 Other Things to Do
When you're not training, you'll either be resting or looking to enjoy a short break from Muay Thai. Here are some places to check out that are close (or easy to get to, even in Bangkok traffic) to P.K.:
Central Rama 3 – The closest shopping mall to the camp. Not a bit mall, but has plenty of food stalls, restaurants, and international clothes brands.
H.M. King IX Park – Where you will run in the mornings. Right next to the river.
Mahanakorn Building – The tallest building in Thailand. Has a skywalk, great views of Bangkok, and a sky bar.
Yaowarat – The largest road in Bangkok's Chinatown. Loads of street food at nighttime. Souvenir and gold shops open in the daytime.
Silom Night Market – No-frills night market
Asiatique – A riverside open-air mall with scenic views. Better to go at nighttime. Pre-COVID, the Muay Thai Live show also had some real Muay Thai fights at the end, which allowed new and low-level fighters to stay active.
ICONSIAM – This vast and stylish place right next to the river provides a mini-escape if you're getting tired of Central Rama 3.
Temple of the Emerald Buddha (Wat Phra Si Rattana Satsadaram / Wat Phra Kaew) – Located within the Grand Palace.
Silom Rd. & Sathorn Rd. – These two big roads run parallel to each other. Known for being a commercial neighborhood, there are plenty of high-end bars, restaurants, and coffee shops.
Sukhumvit Rd. – A bit more out of the way than Silom and Sathorn, Sukhumvit has just about everything you're looking for. You'll find that this road has way more tourists than the other areas. The sky train runs on this road, so it's fairly easy to get around. Note that traffic on Sukhumvit is horrendous, especially during rush hour.
Things to Note
There are many aspects of the gym are that extremely traditional and Buddhist. And there are other aspects of the gym that are more progressive.
Before the cage came about in 2021, there were two rings that women were forbidden to touch. Now, there is just one (the middle ring on the right side of the gym) that women cannot touch or get on. Those rings were blessed by a monk. This is a similar process to why women are not allowed to fight in certain stadiums, such as Rajadamnern (and formerly, Lumpinee).
Women do not have to roll under the bottom rope upon entering and exiting the ring.
Like at most other gyms, all of the roster fighters are men. While there are a couple women that fight under the P.K. name like Angela Chang and Belen Bode, they are not officially part of the roster and P.K. does not sponsor foreign fighters.
The camp employing a full-time strength and conditioning coach is pretty progressive for a Muay Thai camp in Thailand. Although there is still a long run in the morning, the morning training is replaced by weightlifting, which is fairly uncommon as far as most Thai camps go. Traditionally, many Thai camps didn't believe in weightlifting because they thought it would make their fighters bulky and slow. This is why a lot of Muay Thai camps make bodyweight exercises and running the bread and butter of their S&C.
The camp also has a boxing trainer come in a few times a week. This is becoming more common for Thai camps with the goal for many of their fighters to compete internationally.
The trainers don't speak English (aside from a few words here and there), so there will be a lot of "monkey see, monkey do" when it comes to learning and refining techniques. Keep your requests simple. Learn some Thai and they will find it easier to open up to you. (See our articles on Gym Etiquette in Thailand and Muay Thai Terminology)
Summary
Location: Bang Kho Laem, Bangkok
Proximity/Convenience to other things: Where the camp is situated doesn't have a whole lot going on (aside from Central Rama III and local shops and food), but in just a few kilometers you can find more high-end restaurants, bars, and coffee shops.
Price: Contact the camp for more info as this changes pretty often. Facebook | Instagram | Email
Training: Morning run starts around 6am. No Muay Thai training in the morning, just bagwork and weightlifting. For afternoon training, you can come in any time from 2-5pm. The padwork, in its variety and quantity, is some of the best by Thai camp standards.
The concentration on the camp's fighters and lack of direction may put visitors off as they won't get the attention that they may have imagined having. Of course, this is not to mention the sheer size of the gym, meaning it's easy to get lost in the crowd.
Gym culture: Women do not have to go under the bottom rope when entering or exiting the rings. Women cannot touch one of the rings (middle one, right side of the gym). The main thing to keep in mind is that the gym cares about its roster fighters before all else. If you've trained at another gym or two in Thailand before for an extended time and are a self-motivated individual, this gym may be a decent fit for you. However, if it is your first time at a Thai camp, you may feel lost as you don't have much to reference the training structure.
Language: Limited English skills at the camp. The trainers know a few basic words and Muay Thai terminology. A lot of "monkey see, monkey do" when learning. Game, the manager, speaks English and will be able to assist you when he's at the camp.
Getting there: Use of Grab app recommended to reduce confusion for all parties.
Taxi (car or motorcycle) is the best option. The gym is not within walking distance of any train station.
If you're coming from a bit away and wish to avoid Bangkok traffic, you can also take the BTS to Chong Nongsi or the MRT to Khlong Toei. From the BTS or MRT, you can either hop into a taxi to the camp. Location of camp is hard to describe, especially if you don't speak Thai.
Simply put, if you are looking for special attention or someone to guide you throughout each training session, this may not be the place for you. But if you're showing up to work hard alongside their many prized fighters to improve your Muay Thai without expecting special treatment, this could be a good fit for where you're at in your Muay Thai journey.
If you want an in-depth guide to training in Thailand, I've got just the thing.