Hua Hin isn't usually on the list for tourists wanting to explore Thailand – afterall, for beaches, they usually go down south to Phuket or Samui. Or they go to Pattaya which has a more steady stream of foreign tourists wanting for a taste of both sand and nightlife.
For Muay Thai lovers, though, Hua Hin is the home of a small gym that houses the talents of Phet-tho and Phet-ek Sitjaopho (Kru F and Kru O, respectively), twin brothers and possibly the best Muay Femur teachers of all time. (At the time of writing, Kru O is in Sweden teaching.)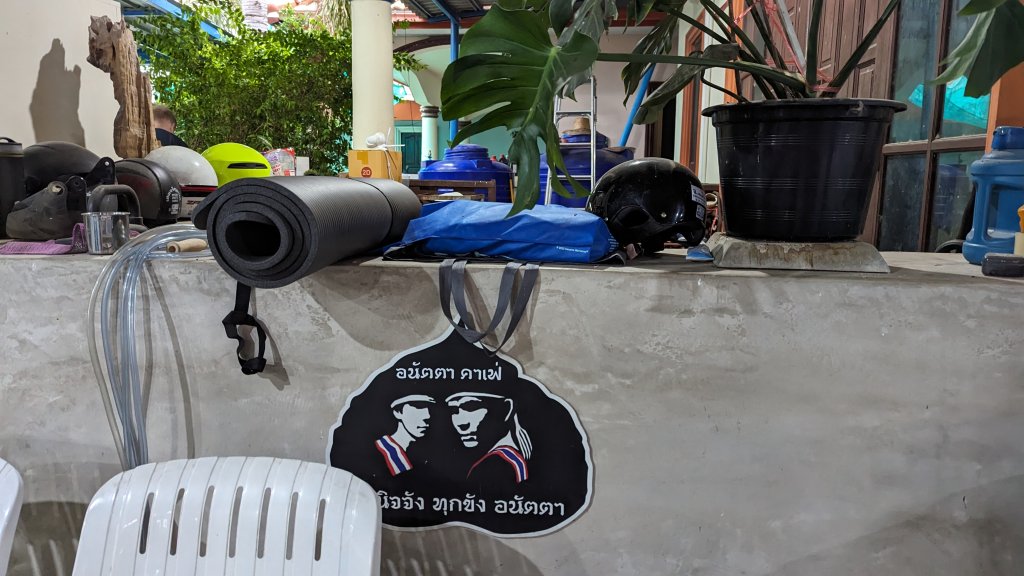 Hua Hin, just 3 hours south of Bangkok, is a quiet and unassuming beachtown. It definitely has small-town vibes as soon as you arrive, surrounded by a lot of trees and a taste of nature. Downtown is where all the action is at, from the quiet beaches and cafes to night markets to international restaurants. However, drive just 15 minutes away from downtown, and it can feel like you're somewhere else entirely. Wide roads curving up a hill, edged by tropical trees remind you that you're just another being in nature's world. The crisp, fresh air can be a welcome change from the urban smog, the slow pace of life more at the surrounding's pace as opposed to the bustle of city life.
From the main road, a turn onto a winding road brings you past numerous family-owned restaurants, packs of street dogs, and a large government complex. From there, another turn is made onto an unnamed road. You may be unsure as you drive past a herd of cows grazing on a plot of land and go towards a big pack of dogs. Thankfully, the dogs are not aggressive, and look at you with curiosity and dogs wagging.
"Your destination is on your left", says Google Maps. And, indeed, to the left, there is a ring, heavy bags, and Kru F sitting on the edge of the ring smiling.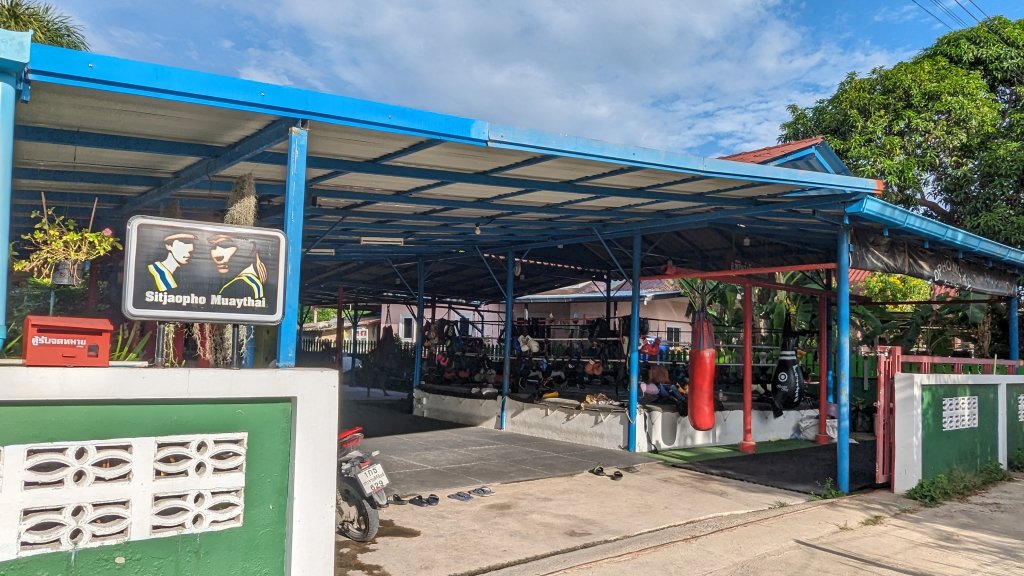 Contents
Arrival
Hua Hin has a small airport, but (at the time of writing) only has flights to and from Chiang Mai. Chances are, you will be arriving by car or bus from Bangkok.
You can book a taxi or private service from Bangkok to Hua Hin for about 1200-1500 baht. You can also take the minibus from Ekkamai Bus Terminal for 200 baht – it will drop you off downtown (at the same stop to get on a bus back to Bangkok).
From where you are dropped off, get P'Win motosai (motorcycle taxi) if you don't have a lot of bags. Taxis are not as plentiful as they are in busier cities, so feel free to use a ridesharing app like Grab to take you to your accomodation should a bike not be suitable.
Location & Accommodation
Sitjaopho is about a 15-minute drive from downtown Hua Hin. It is located in a residential area – afterall, the gym is operated out of the front yard of the owners' (Kru F and his family) house. Being such, Sitjaopho does not offer any accomodation-food-training packages that many camps do. You will have to book your own accomodation and pay for training separately. It also goes without saying that food is your responsibility.
If you are not planning on training twice a day, an accomodation closer to downtown may be better suited for you so you can enjoy the beach and other attractions Hua Hin has to offer. If you are planning to make your trip to Hua Hin only about Muay Thai, booking a place close to the gym will save you a lot of time going back and forth.
Kru F recommended a few accomodations close to the gym, including The Bike Loft Hotel, Monmai Resort, and Triple Z Hotel. In terms of booking for training, it's best to message the gym via Instagram to let them know the dates you are coming and get a quote for your sessions.
Should you need to rent a motorbike during your stay, the gym can help with that. You can also ask your accomodation if they offer daily rentals.
The Gym
Sitjaopho may be a gym operated out of a home, but the most was made out of the space available. There is one ring, seven assorted types of heavy bags, plenty of empty mat space for sparring or doing your bodyweight conditioning, as well as a large mirror and restrooms towards the back. The gym has plenty of heavy skipping ropes for warming up as well as some basic barbell equipment – but is otherwise no-frills.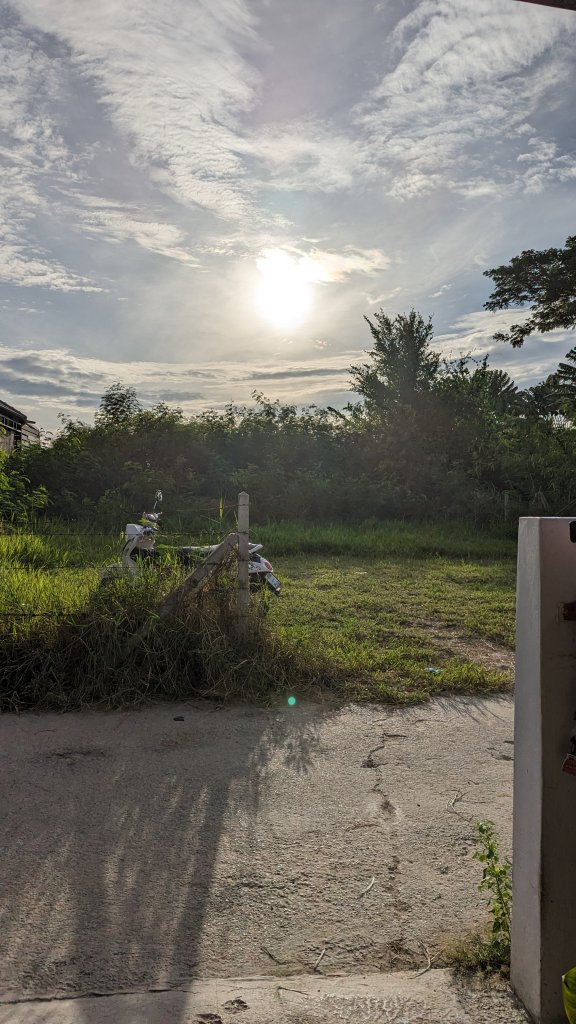 As stated earlier, the gym is located in a relatively-residential area that feels more country than beachtown. This means dirt roads, dogs, cows, and the smells of nature.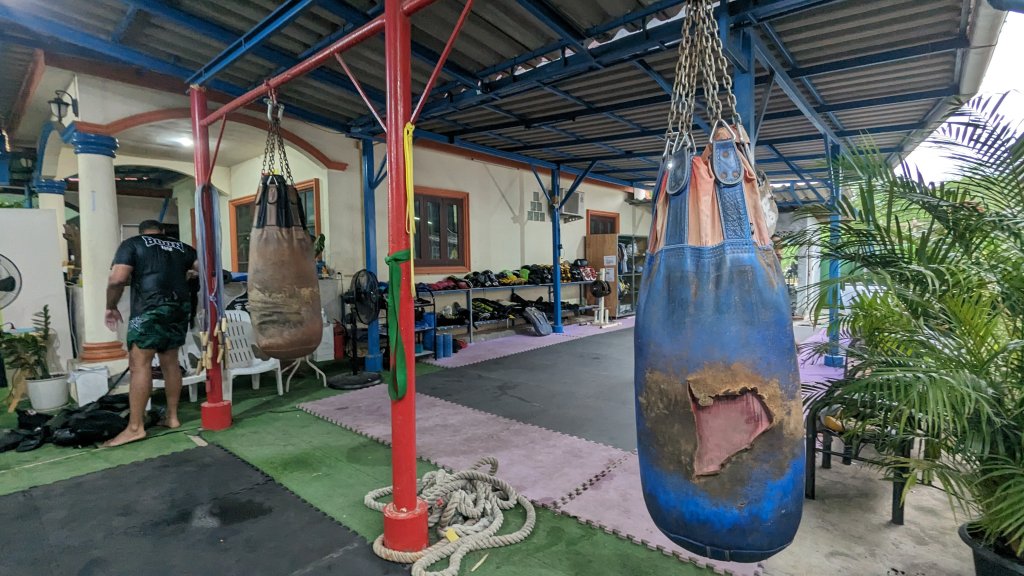 Training
The best way to describe the training environment at Sitjaopho is that it is friendly, low-ego, and welcoming. None of the trainers expect you to prove yourself before getting attention or better training, which can be often a norm at Thai camps (see reviews for Fairtex and PK Saenchai). Which brings us to our next point…
Sitjaopho is not a camp. This means that, unlike many other famous gyms you may know of in Thailand, they do not have a stable of Thai fighters. The way their training sessions are operated are more akin to high-level Muay Thai gyms outside of Thailand than other gyms (that are camps). This can have both benefits and drawbacks.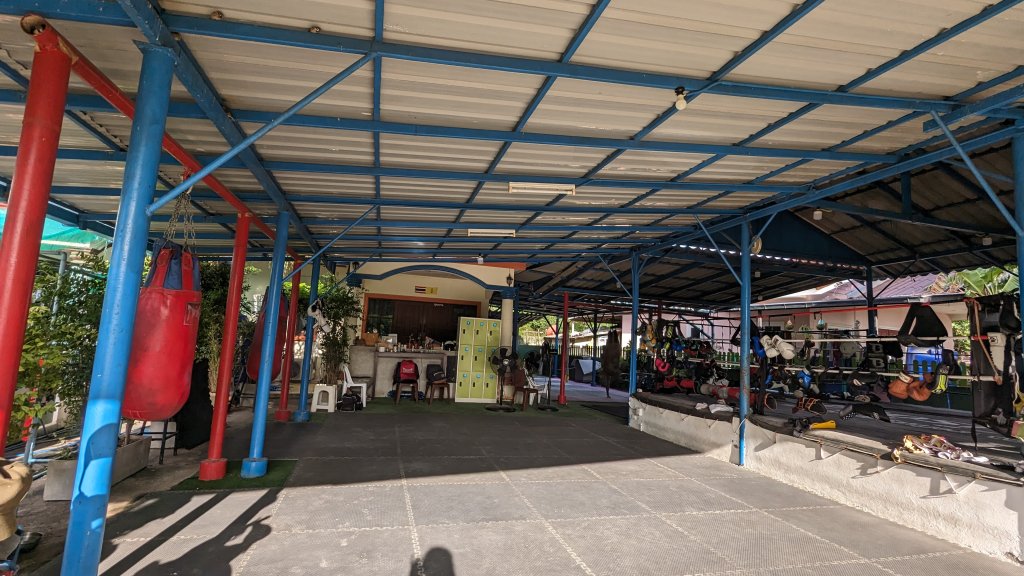 The benefits of this is that the focus is more on the students (like you) who come through the camp. Every person gets attention from Kru F and the other trainers there, and nobody feels like they got looked over or left out of anything. At camps, Thai and other professional fighters are prioritized over everyone else, so it's very easy to get lost in the mix during training – something you don't have to worry about at Sitjaopho.
Things are also done relatively at the same time by everyone. For example: when hitting pads, most people are hitting pads at the same time. Those waiting their turn are either shadowboxing or hitting the bag. Those who are done hitting pads are told to gear up to spar. When everyone has sparred for X number of rounds, everyone is then told to clinch. There is little guesswork of "What do I do now?" as you are kept busy doing something the entire time you are there.
Sessions are structured. People are told what to do and matched up appropriately by size and skill level during sparring and clinching. There is a huge emphasis at Sitjaopho on technical work instead of just muscling and trying to knock people out during sparring, which makes the environment extremely low ego and inviting to Muay Thai practioners of all levels.
Being a gym and not a camp, another aspect that sets Sitjaopho apart from many other Muay Thai places in Thailand is that all the trainers, including Kru F, participate in the sparring and clinching. They are part of it as if they are one of the students, and everyone (at some point during their stay) get a turn with each of the trainers. Working with the highly technical trainers is what most people are after when they come to Sitjaopho – they will literally kick your ass in the most polite and pain-free way. When training at Sitjaopho, expect to spar, and spar a lot. And when sparring with the trainers, expect to be humbled over and over.
Of course, not being a Muay Thai camp has its drawbacks, too. When people come to Thailand, many want to work with Thai fighters instead of other foreigners. And, because there is no stable of Thai fighters, there is no morning group run, nor will you not be told to run before morning training or do an intense bag routine to wrap up your sessions – it's something you'll have to take upon yourself if you are planning to fight at some point. Runs are orchestrated by the people who train at the gym, so if you want to run, ask to join them.
Author's note: I don't blame Kru F for not wanting to be a camp. There are too many politics involved in housing, training, and developing Thai fighters. Not to mention that the fight scene has its own set of obstacles that many former fighters don't wish to relive. It seems like Kru F is happy with what he's doing and loves what he does, which is teaching Muay Thai to people who choose to train. He's managed to create an environment that is difficult to replicate if his focus had to shift to investing in Thai fighters.
In general, the morning sessions are fairly light and are structured at the whim of what the trainers feel like doing that morning – it can be just sparring, it can be a few rounds of pads followed by sparring, or it can be pads then clinching. Everyone does ab work and pushups together to end training.
The afternoon sessions generally go like this: 3 rounds of padwork followed by a few rounds of sparring followed by 30 minutes of clinching. 100-200 skip knees on the bag, then everyone does ab work and pushups in the ring together.
(If you are training for an upcoming fight, I heard you get additional rounds on the pads and extra work in tailored to your fight, but I can't say for sure as I didn't see anyone in fight camp when I was there)
Women do not have to roll under the bottom rope to enter or leave the ring.
If you wish to fight, Kru F has connections to the local stadiums in Hua Hin. From what I heard from many people who have trained with him over the years, he is very adamant on getting fair matchups for his students. People who prove themselves to be at a higher level may get matched up at Rajadamnern Stadium at Kru F's discretion.
Other Things to Do
Hua Hin has a very clean and quite beach. There are also other beaches in the vicinity, such as Khao Takiab (Monkey Mountain, known for the shameless monkeys who will take whatever you have in your hands for their own!) and Suan Son Pradipat Beach. Cha-am is a nearby town that is popular for day trips from Hua Hin.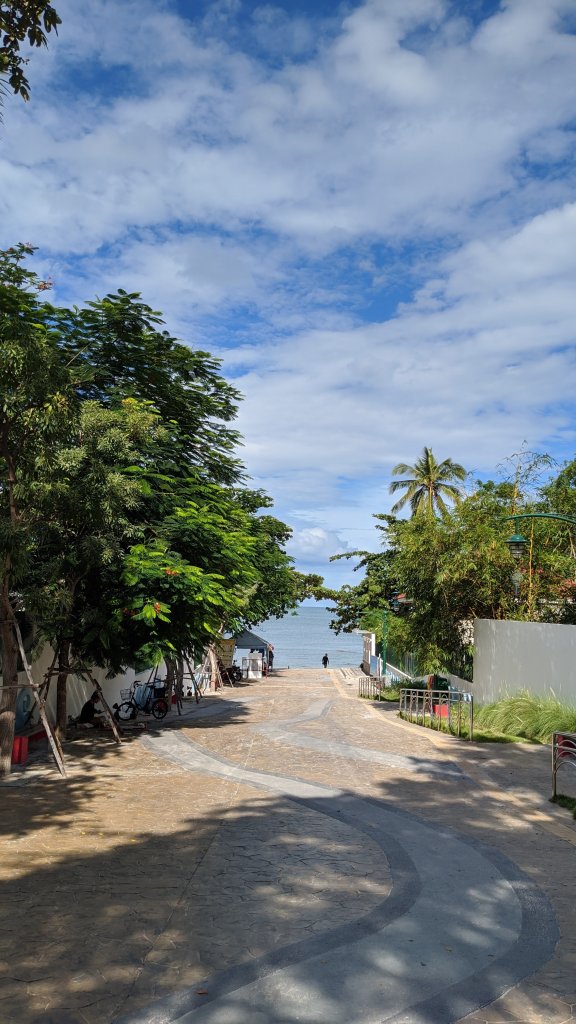 Every Tuesday, some people from the gym go to Pae Mai night market, which has some shopping but is mostly food.
Become a Patron!
Things to Note
Sitjaopho's training is structured, but depending on your goals, you may need to come earlier or stay later to do more. This room for flexibility is ideal for people looking for a non-intimidating environment to learn, train for fun, and improve their Muay Thai skills. If you are a fighter, as with anywhere else, you have to be self-motivated to put in the extra work where necessary. And, if you're looking to have fun on your trip to Thailand and train casually, there is low pressure to have to do a long run or keep up a certain intensity in order to be seen by the trainers.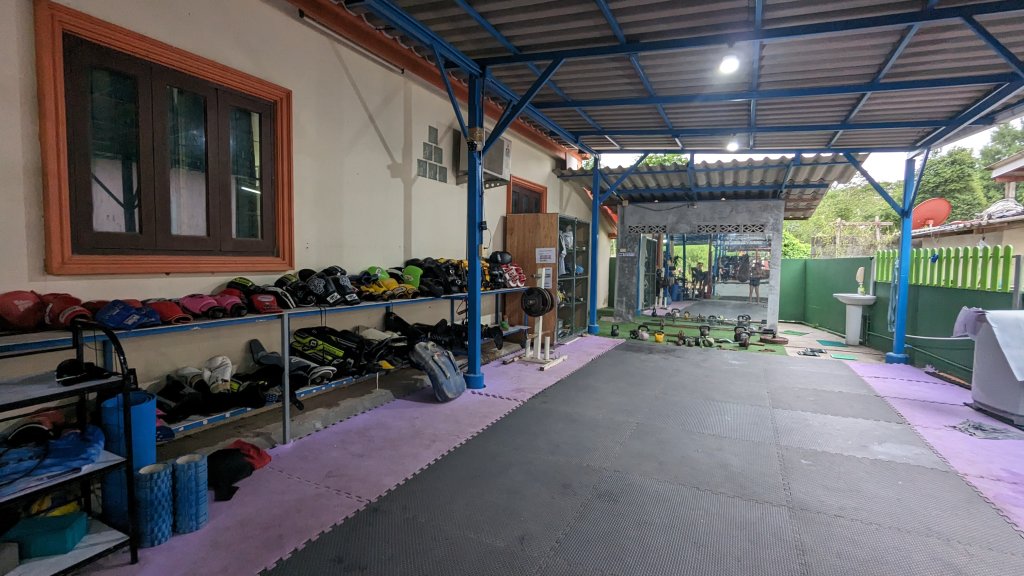 It's also important to note that although Hua Hin's roads are nowhere as chaotic as Bangkok's, if you choose to rent a motorbike, it's highly recommended you practice somewhere away from the main road. Accidents can and will happen, so always drive modestly and don't let the feeling of being on vacation take your cautiousness and common sense away. There are large open sewer and drainage systems on the sides of the main roads you can easily fall into if you are not careful, and it has happened with people from the gym who didn't know how to ride motorbikes.
What started the gym's popularity several years ago were technical sparring videos between Kru F and Kru O.
As people started visiting the gym and videos were taken, the Muay Thai community got to understand the philosophy behind Kru F's view of Muay Thai and how he, as a devout Buddhist, has intertwined the fight world and a life of peace. Perhaps one of the most beloved Muay Thai teachers, he is just as authentic in person as he is in his interviews.
Kru F's peaceful demeanor and focus while training is infectious – it is no wonder everyone who's met him only has positive things to say about him and Sitjaopho.
Summary
Location: Hua Hin, Prachuap Khiri Khan
Proximity/Convenience to Other Things: Plenty of restaurants near the gym. Downtown Hua Hin (and the beach) are about a 15-minute drive away
Price: Contact Sitjaopho to book your training and for training fees as this can change
Training: Morning training starts at 8 and afternoon training starts at 3:45. Light training session in the morning that includes some pads and sparring. Afternoon sessions will include pads, sparring, and clinching.
Gym Culture: Inviting, friendly, and inclusive. Women do not have to go under the bottom rope when entering or exiting the rings. Because it is a relatively small gym operated out of someone's home, it is easy to make friends at the gym and get to know the trainers. As with anywhere, the longer you stay, the more warm they will be towards you.
Language: There is a lot of English spoken at the gym, so all the trainers have some level of ability to communicate with you. Kru F has the best English skills at the gym
Getting there: Taxi or bus (via Ekkamai Bus Terminal) from Bangkok. You can also fly in from Chiang Mai.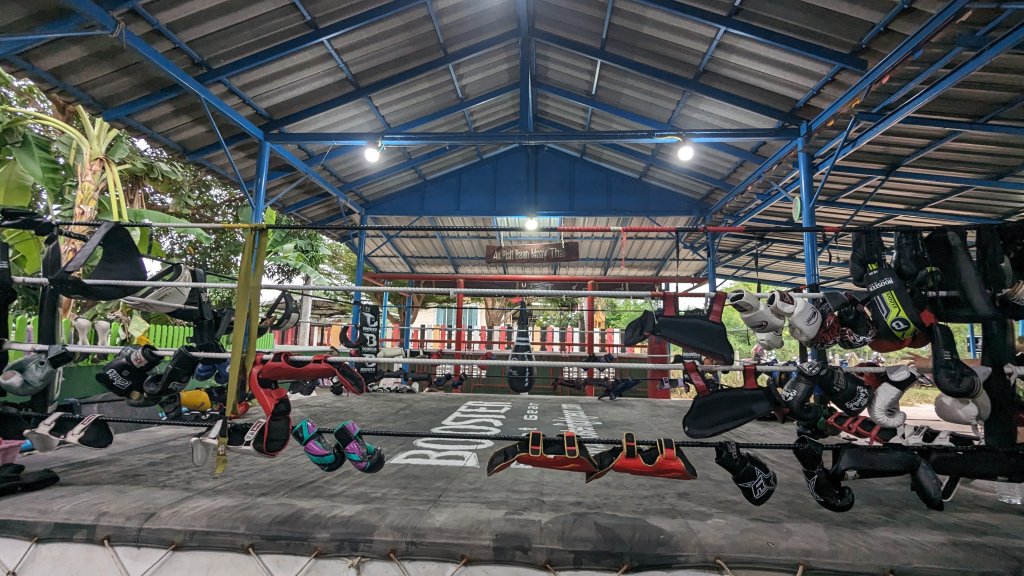 Please support the continuation of content on Muay Ying via Patreon
If you want an in-depth guide to training in Thailand, I've got just the thing.