If you eat Halal, there's some great news for you: Although Thailand is a predominantly Buddhist country, there is a Muslim population. In this Thai Language multi-article series, we explore the basics of Muay Thai and what you need to get around and get what you need while in the country! Welcome to Thai Language – Part 4e.
Please support the continuation of content on Muay Ying via Patreon
-Don't forget to add ka or khrap at the end of all questions and statements to sound polite!
-Refer to Thai Language – Part 1: Basic Rules & FAQ's for a refresher course for Thai language basics
-Refer to Thai Language – Part 4a: Food for food vocabulary
-Refer to this general guide to Basic Practices when you have a dietary restriction
While, statistically, it only stands at about 4.6% nationally, you will see Halal-friendly food stalls in every mall food court. There are even entire markets (often situated near mosques) that have food that's Halal! In Southern Thailand, about 25% of the population is Muslim.
When a food stall is Halal, you will see the a variation of the above: the Arabic script for "Halal", sometimes with English words for Halal under it.
Some popular Thai dishes are actually of Muslim origin, such as massaman curry (gaeng mat-saman แกงมัสมั่น). Other well-known dishes are chicken biryani (khao mok gai ข้าวหมกไก่) and crispy roti (โรตี) flatbread filled with banana, egg, or chicken.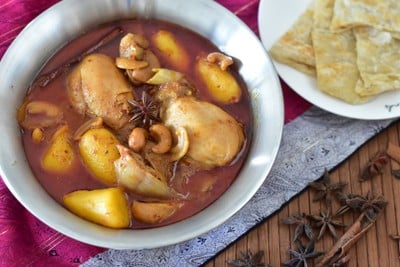 Vocabulary
If you aren't extremely strict about your food being Halal but will still avoid any and all pork products, you can use the following vocabulary phrases to help you out:
| | | |
| --- | --- | --- |
| English | Romanization | Thai |
| pork | (neua) moo | (เนื้อ)หมู |
| Don't add ___ | mai sai ___ | ไม่ใส่ ___ |
| I don't want ___ | mai ow ___ | ไม่เอา ___ |
| I don't eat ___ | chan/pom mai gin ___ | ฉัน/ผม ไม่กิน ___ |
| I am Muslim. | chan/pom ben kon moos-lim | ฉัน/ผม เป็นคนมุสลิม |
| mosque | ma-sa yid | มัสยิด |
| Is there a mosque nearby? | taew nee mee ma-sa yid mai | แถวนี้มีมัสยิดไหม |
If you want an in-depth guide to training in Thailand, I've got just the thing.