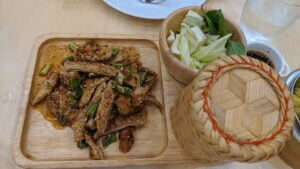 It's very easy to think that it's impossible to be plant-based while traveling within Thailand, but it's actually pretty easy! There are options everywhere if you know where to look and what to say.
In this Thai Language multi-article series, we explore the basics of Muay Thai and what you need to get around and get what you need while in the country! Welcome to Thai Language – Part 4c.
Please support the continuation of content on Muay Ying via Patreon
-Don't forget to add ka or khrap at the end of all questions and statements to sound polite!
-Refer to Thai Language – Part 1: Basic Rules & FAQ's for a refresher course for Thai language basics
-Refer to Thai Language – Part 4a: Food for food vocabulary
-Refer to this general guide to Basic Practices when you have a dietary restriction
Vegetarian & Vegan
Vegetarian and vegan are put together because they can be one and (almost) the same OR completely different from each other in Thailand. There are three words you should be familiar with:
Mangsawirat means "vegetarian" but this is often a very loose form of it. This is often interpreted as someone who doesn't eat visible pieces of meat, but is still okay with seasonings (like fish sauce) and other animal products in their food (examples: soup broth made from pork bones, vegetables stir-fried in animal fat). Eggs and dairy are assumed to be okay by someone who eats mangsawirat.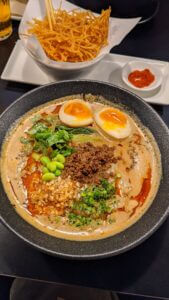 Jay is a term that also means "vegetarian". It comes from Chinese Buddhist influences (斋). There is tesagan gin jay which is called "Vegetarian food festival" every year in Thailand. For nine days, those who participate (usually Thais with Chinese ancestry) will eat no animal products (no meat, no dairy, no eggs, no byproducts of any of the aforementioned foods), no garlic/onions/shallots, no drugs or alcohol, and no sex. The most popular areas in Thailand for this festival are in areas where there are lots of ethnic-Chinese Thais living – in Bangkok, it is Yaowarat Road and in Phuket it is at the Chinese temples in Phuket town.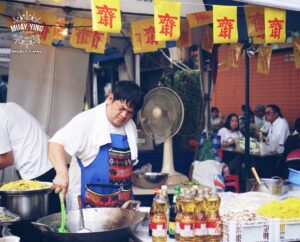 Jay is basically a vegan diet with several other "catches". This is meant to cleanse the body and the mind, and observing the jay festival every year will supposedly contribute to a long and healthy life. This term and use of "vegetarian" is clearly much more strict than mangsawirat.
Almost every food court in Bangkok has a jay food stall marked by the yellow and red flag.
Wigan is the Thai version of the word "vegan". This is a relatively new term as there had to be a term in between mangsawirat and jay that didn't have religious contexts and included garlic, onion, and shallots. This word is still not well known in the Thai language, so some explaining might be needed. The chances of someone cooking your food knowing very clearly what jay means is not very high, and the chances of them knowing what wigan means is much, much lower. Because of such, it may be easier if you were just to use jay in most cases.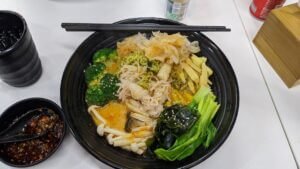 | | | |
| --- | --- | --- |
| English | Romanization | Thai |
| Does this contain ___ ? | sai _ mai | ใส่ _ ไหม |
| Don't add ___ | mai sai ___ | ไม่ใส่ ___ |
| I don't eat ___ | chan/pom mai gin ___ | ฉัน/ผม ไม่กิน ___ |
| I eat vegetarian | chan/pom gin mangsawirat | ฉัน/ผม กินมังสวิรัติ |
| I eat vegan | chan/pom gin jay | ฉัน/ผม กินเจ |
| I can eat ___ | chan/pom gin ___ dai | ฉัน/ผม กิน ___ ได้ |
| meat | neua sat | เนื้อสัตว์ |
| fish | bplah | ปลา |
| seafood | aa-haan ta-lay | อาหารทะเล |
| egg | kai | ไข่ |
| milk | nom | นม |
| onion | hoo-a hawm | หัวหอม |
| garlic | gra-tiam | กระเทียม |
Jain
People who follow Jain vegetarianism will be more than pleased to know that virtually every single Indian restaurant will offer Jain options.
Those who wish to dine in other establishments will need to use some phrases to make sure the ingredients use adhere to Jain guidelines of no animal products and no root vegetables. Use the follow vocabulary and phrases to get what you need.
| | | |
| --- | --- | --- |
| English | Romanization | Thai |
| Does this contain ___ ? | sai _ mai | ใส่ _ ไหม |
| Don't add ___ | mai sai ___ | ไม่ใส่ ___ |
| I don't eat ___ | chan/pom mai gin ___ | ฉัน/ผม ไม่กิน ___ |
| I eat Jain. | chan/pom gin chain | ฉัน/ผม กินเชน |
| meat | neua sat | เนื้อสัตว์ |
| egg | kai | ไข่ |
| milk | nom | นม |
| root vegetables | pak raak | ผักราก |
Special tip! When looking for places while out and about, refer to the Happy Cow application for your mobile phone. It works around the world and can point you to the nearest vegan and vegetarian food options near you. It sometimes even will say if it has Jain options in the description.
If you want an in-depth guide to training in Thailand, I've got just the thing.