While the term "kosher" is barely heard within Thailand, it's not completely unknown within the country. In this Thai Language multi-article series, we explore the basics of Muay Thai and what you need to get around and get what you need while in the country! Welcome to Thai Language – Part 4d.
Please support the continuation of content on Muay Ying via Patreon
-Don't forget to add ka or khrap at the end of all questions and statements to sound polite!
-Refer to Thai Language – Part 1: Basic Rules & FAQ's for a refresher course for Thai language basics
-Refer to Thai Language – Part 4a: Food for food vocabulary
-Refer to this general guide to Basic Practices when you have a dietary restriction
There is a very small Jewish population in Thailand, and a majority of that population is in Bangkok. There are Chabad Centers in Bangkok, Chiang Mai, Phuket, and Koh Samui – each have a kosher meat restaurant, bakery, and food store on site, according to Jewish Thailand. The largest selection is available in the main branch of Bangkok.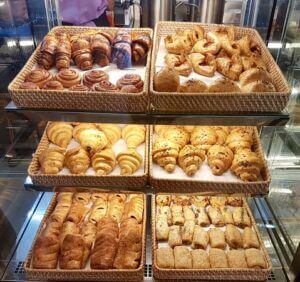 When planning on sticking to strict guidelines, you would want to stay near Kosher restaurants, a supermarket, and/or have your own kitchen to cook. Thaikashrut has a comprehensive "Kosher Product List" for when you're browsing in supermarkets. It's suggested to shop at the chain supermarket called Villa Market since they have a wide selection of approved products and other international goods that are difficult to find in the local grocery stores. When visiting stores, it's good to already have an idea of what you want so you can show the employees a photo of it if you have trouble finding it.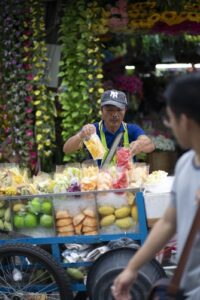 When it comes to eating out, stick to the restaurants that have been endorsed by one of the previously listed websites or one Kosher Thailand. Almost all food otherwise would not be an option for you. As a side note, freshly cut fruit from street vendors and stores is permitted.
Below, you will find some phrases to help you during your travels in Thailand. However, because most locals are not familiar with the concept of Kosher food and its guidelines, do not expect to find many options when it comes to attempting to find street food that fit within your dietary guidelines.
| | | |
| --- | --- | --- |
| English | Romanization | Thai |
| Kosher/Jewish | yew | ยิว |
| Do you have Kosher food? | mee aa-haan yew mai | มีอาหารยิวไหม |
| Is there a Kosher shop around here? | taew nee mee raan yew mai | แถวนี้มีร้านยิวไหม |
| Where is Villa Market? | wila market yoo tee nai | วิลล่ามาร์เก็ตอยู่ที่ไหน |
| Do you have this? | an nee mee mai | อันนี้มีไหม |
| fruit | po lo mai | ผลไม้ |
If you want an in-depth guide to training in Thailand, I've got just the thing.