This is the first out of a three-part series of the ULTIMATE guide to planning of, before going, and during your stay in Thailand. This is meant for those who haven't made their first trip over to the motherland of Muay Thai yet, as well as for those who want want more general knowledge / to make their experience a bit more smooth next time.
*There are special tidbits in this series for women, as women can and will have different experiences training Muay Thai in Thailand compared to men*
In Part 1, we will cover the initial steps of planning your trip. This includes all the technical stuff behind your stay, from having a place to stay to making sure you can stay in the country for your amount of time. With this part, the earlier you get everything done, the better.
Part 1: Planning Out Your Trip
Please support the continuation of content on Muay Ying via Patreon

Figuring Out and Choosing Your Dates
Thailand has "high" season and "low" season when it comes to tourists – this is no different with Muay Thai gyms. High season is during November to April, and low season is from May to October. High season peaks during December and January, coinciding with the holidays. Some people are only able to go during the holidays due to work and school responsibilities. But for those lucky enough to be able to choose, how do you go about deciding which "season" may be suitable for you?
| | | |
| --- | --- | --- |
| | Pros ✔ | Cons ✘ |
| High Season | Dry season – you don't have to worry about getting rained on or having to cancel plans because of the weather | Plane tickets are usually more expensive |
| | More people – easier to make friends and have people to train with | Gyms can be overcrowded – you may find yourself hitting the heavy bag for 10 rounds before you're called over for pad work, or with no heavy bag at all because there aren't enough |
| | More fun – this comes with more people being around you. Staff and trainers are also usually at peak when there are more people around | Limited availability – if a gym runs out of rooms, you're out of luck and will have to find accommodation elsewhere (and pay extra for food, taxi, and training). This means you MUST be someone who plans way ahead in advanced! |
| | Less mosquitoes! Dry season means mosquitoes have fewer breeding grounds. | Extreme heat – Thailand's starts warming up quite a bit starting in February and extreme heat can last until June, peaking in April. Many people find it difficult to train in this weather due to dehydration. |
| | | |
| Low Season | Plane tickets are usually cheaper at this time | Monsoon season – flash floods and heavy rain can mess up your plans |
| | Generally cooler – the air is much more comfortable to train in | |
| | More space and attention – with less people, you won't have to fight over a heavy bag and the trainers are able to keep a better eye on you | Can feel a bit stale at times if there aren't many others at the camp |
| | Availability is usually not an issue – you don't have to worry about potentially not having a room at the camp if you didn't book months in advanced | |
Whichever season you find to be more suitable for you would depend more on your personality and what you can find to be really annoying. High season is ideal for those who enjoy the social side of Muay Thai and don't mind having to share personal space, and for those who want to be a tourist at times. Low season is ideal for those who want to save money and be less stressed about planning ahead, and don't mind potentially bad weather.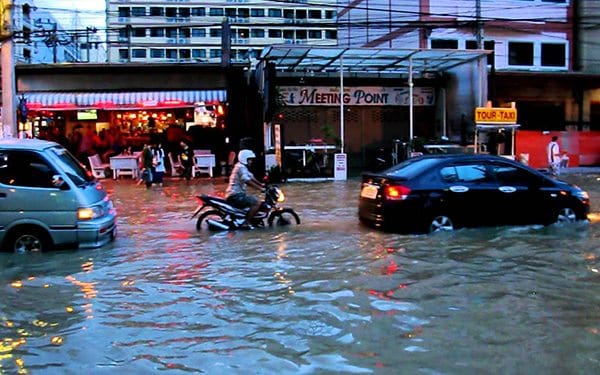 After you've figured out what month or time frame you'd like to go, your duration of stay is at the mercy of how long you can take off from work/school/etc. Ideally, you want your trip to be a minimum of 2 weeks. This takes into account travel time, jet lag, and you wanting to progress. If you don't already live in Asia, flying to Thailand can take a minimum of 7 hours for those who live in the land down under, 12 hours for those flying in from Europe, and more than 20 for those coming from the US! This means at least half a day (or more!) of your time is spent just traveling one way, and you have to repeat that when you head back home.
And let's not forget a pesky thing called jet lag. The further you're flying in from, the greater the time difference, and the longer it will take you to adjust to Thailand's local time. This can take more than a week if you're not used to traveling so far. Therefore, if you have to take a long flight, staying just a few days is not going to feel worth your time and energy. On top of all that, staying a few days will not allow you to bond properly with the trainers at the camp; there needs to be time for the trainers to get to know you, like you, and work on what you need to work on. If this bonding process does not happen, you'll likely get nothing more than a glorified, expensive, far-from-home workout…but walk away having learned nothing. Or even worse, the bonding just starts to happen and you're just starting to learn, and it's time for you to leave.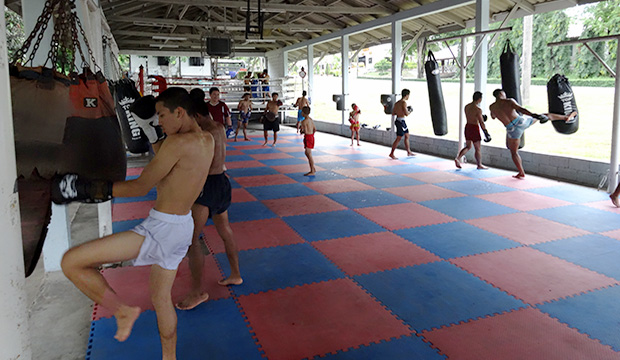 If you want an in-depth guide, I've got just the thing.
Choosing a Gym
Before booking your plane ticket, you'll need to know WHERE in Thailand you are going to. The three most popular provinces are Bangkok, Phuket, and Chiang Mai, and all three places have reputable gyms. You can read ALL the gyms reviews from ALL these provinces…OR, you can narrow down your search by considering what environment you want to be in and what you really want to do outside of training.
If you already have a gym or two in mind, and will deal with issues as they come, skip right on to the next step of booking your accommodation.
| | | | |
| --- | --- | --- | --- |
| | Bangkok | Phuket | Chiang Mai |
| Setting | City and suburban areas | Island and jungle areas | Mountain and jungle areas |
| Transportation | Extremely easy to get around but there's A LOT of traffic. Taxis and motorcycles can be found anywhere. Grab app makes everything extremely easy. No need to rent a car or motorcycle. Locals use cheap vans and "songthaew" buses to get around – if you ask the right people, they will let you know which of these to ride. There is also the sky train (BTS) and MRT. | Not as easy to get around as Bangkok when it comes to public transportation. Taxis and tuktuk's can be found at nearly every tourist destination, but are PRICEY. Grab app is pricey as well. Most people rent a motorcycle to get around as the daily rate is cheaper than a single taxi ride, but keep in mind that this can be very dangerous. | Bicycles, taxi, songthaew buses, motorcycle (rented) |
| Popular Destinations Outside of Training | Shopping malls, museums, nightlife, temples, daytime and night markets | Beaches, waterfalls, night markets, nightlife | Temples, mountains for hiking, elephant sanctuaries, waterfalls |
| Food Most Commonly Found | Central Thai, Isaan, Thai-Chinese | Southern Thai, Thai-Malay, Thai-Chinese, Central Thai, Western | Northern Thai, Central Thai, Burmese |
| Prices | Cheaper | More expensive than the other two | Cheapest |
| Pollution | Busy areas can become extremely polluted as there is poor air quality control and an abundance of vehicles concentrated in an area. In early 2019, schools had to be shut down due to the bad pollution because students were getting nosebleeds. This is the air quality of Bangkok vs New York. You can input your own city to see how compares. | Not an issue | Not an issue, except during crop burning season (can happen anytime between late February and early April). Pollution during crop burning has been ranked the WORST in the entire world. |
| Communication | English is generally limited. The touristy areas will have shopkeepers are easier to communicate with, but for the most part, taxi drivers and food stall cooks will have trouble understanding you beyond the basics. | English is generally not an issue when it comes to getting what you want due to the sheer concentration of tourists. | Communicating in English isn't much of an issue unless you go to the really small restaurants that are off the beaten path and are usually only frequented by locals. |
And of course, there are the nearby provinces and cities to the three above, such as Pattaya, Hua Hin, Chiang Rai, Koh Samui, and Nakhon Ratchasima that many have chosen for their Muay Thai holiday – each have their own special character and will require further research on your part.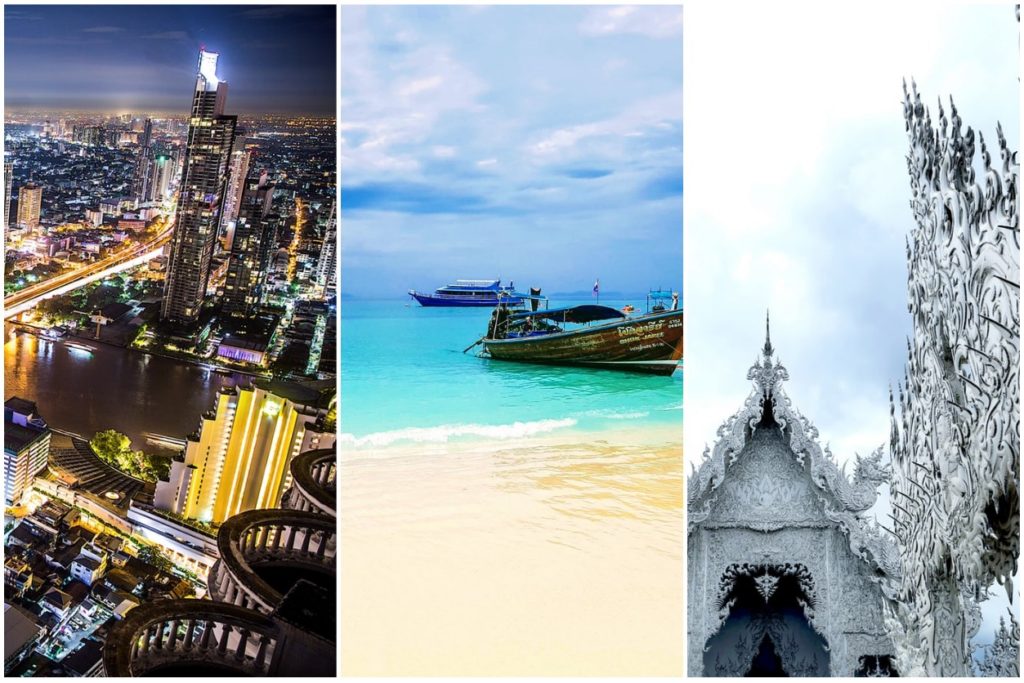 Now that you know which area you want to be in, it's time to look up some gyms. This can be overwhelming, especially since there are A LOT of gyms that have opened up in the past few years. Be patient, as this step is crucial to you getting what you want out of your stay. The best things to do is ask your training partners that have been to Thailand which camp they went to and if they liked it. Your fellow teammates will have a good sense of what you will also consider "good" and "bad" when it comes to training.
If no one from your gym has been to Thailand yet to train, or if no one has anything good to say, turn to Google, Facebook, and/or Instagram.
Google and Facebook will have reviews and pictures, but Instagram will (usually) have more pictures and videos. Read the reviews and pay attention to what repeats several times. Also pay attention to how long the reviewer stayed at the gym, if that information is provided. Cross reference this with the gym's Instagram account – see who has tagged the gym in relevant posts and "review" those accounts. From there, you can determine if you value this person's judgment or not. Paired with the reviews you'll read, you can decide if this is a gym you want to be at. If not, move onto the next option that shows up in your search. If this is too much work for you, pick just ONE platform to make your judgments on. However, utilizing at least two will give you a better understanding of the place.
You can also head to the gym's website (if they have one) and look at pictures/videos, and what other things they offer at the facility (recreation room? weights? swimming pool? spa?). However, keep in mind that they are trying to promote themselves so some of these angles can be misleading.
There are also some excellent old fashioned gyms with poor social media (or none at all!) that you may want to train at. Keep in mind that if their social media is not a priority for them, they might be spending their energy growing their stable of Thai fighters, and therefore not care much about you being there.
It's always good to have a first choice and a second choice when it comes to picking gyms, just in case your first choice doesn't have room for your dates.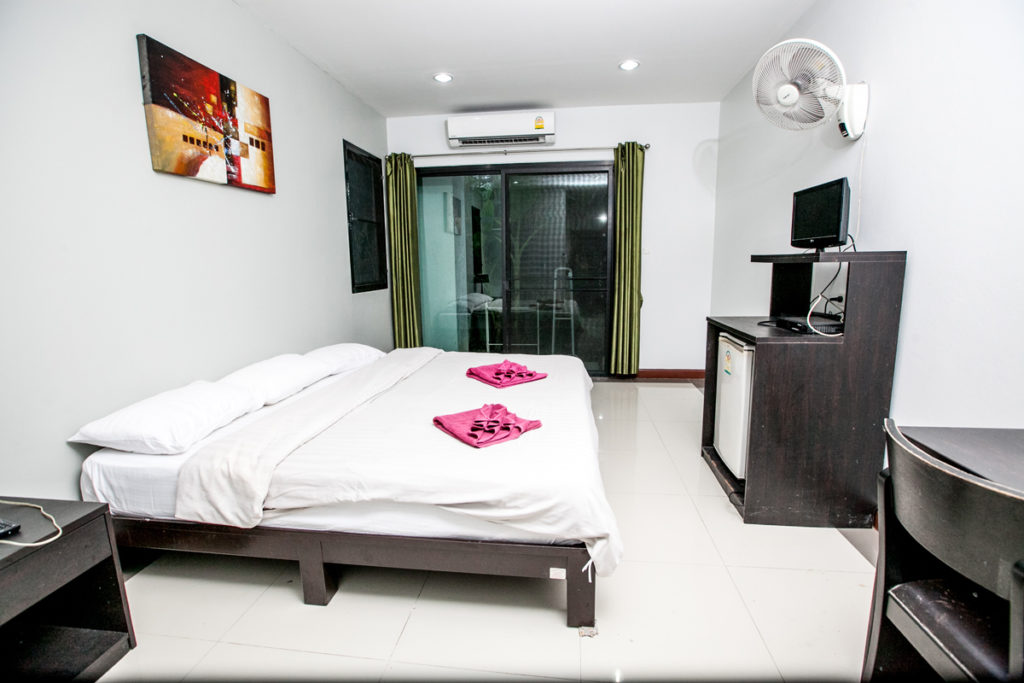 Gym Accommodation and Availability
Great, you've picked out a gym! Now, it's time to see if they have space for you for your selected dates. If it's your first time training in Thailand, it's highly recommended you stay at the camp. This will take the guesswork out of a lot of things, and all you have to do is walk a few steps from your room to training to wherever they're serving food. Some people complain about the price, but in reality, it also makes sense economically. Hotels often charge a similar rate for only accommodation, while at the camp, you'll be getting accommodation, training, and (at most places) food. If you want a peace of mind during your stay and to just focus on training, definitely stay at the camp.
Most places charge a different rate for a shared room vs a single room. If you like your privacy and DO NOT want a roommate, you will have to pay more. Most gyms will also offer price tiers depending on your length of stay – the longer you stay, the cheaper it will be per day. Some camps may not offer accommodation on site, meaning it will be a short distance away from the camp.
Something else everyone should be concerned about is security. Ideally, the camp should have CCTV (security cameras) and your room should have a lock. A safety box is a plus. Security is important because nobody wants their money or other valuables to be stolen from their room, from another guest or local in the area.
Questions to ask before officially booking are
1) if you will be staying on site. If not, how far away you are from the camp and if transportation is offered if you're more than walking distance away.
2) if the rooms are serviced and how often (cleaned, water replenished, sheets changed, garbage taken out)
3) if they offer a discount for your length of stay
4) if food is included in the price, and if they can accommodate to your food restrictions (if you have any)
5) if there is CCTV
6) if there is a lock and key for your room, and if there's a safety box available
7) other requests due to your personal preferences, food restrictions, allergies, etc.
8) what you need to bring
If the answers to those questions are satisfactory, go ahead and book your stay at the camp. This is usually done through Facebook or email, but more modern gyms have booking forms directly on their website.
*If you plan on going to different gyms, I highly recommend you stay at each gym for a minimum of three weeks. Similar to how staying less than two weeks can hinder your ability to bond with the trainers and fighters, continuously gym hopping will affect your progress negatively because you're not giving yourself enough time to adjust to each gym's style and that the trainers don't have time to cater the training to your needs. It's understandable to want to experience as many gyms as possible, but you won't be getting a quality experience at each one. It's better to have one very good experience rather than a few half-hearted ones.*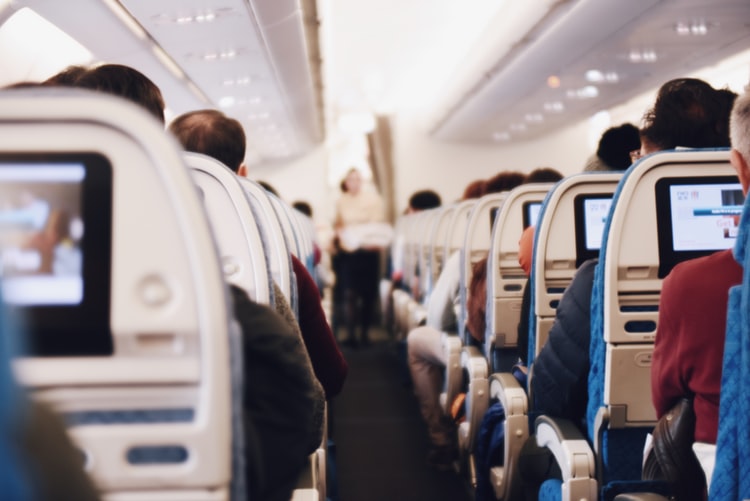 Booking Your Ticket(s)
Now that you have your accommodation and gym figured out, it's time to book your plane ticket(s). This step came after because I believe it's more important to go where you want to go, rather than pick another place in the same province you booked your ticket for because your first choice wasn't available. Use Google Flights, Skyscanner, and Traveloka to compare prices. Don't wait too long between searching everyday and booking, though – your prices WILL increase.
If your trip is open-ended, you will still need to book a ticket out of the country. Thai Immigration officers at the airport will want to know when you're leaving the country. In lieu of a plane ticket going home, you can book a ticket to a nearby country, such as Malaysia or Laos, for cheap, for the sake of showing them a ticket out of Thailand.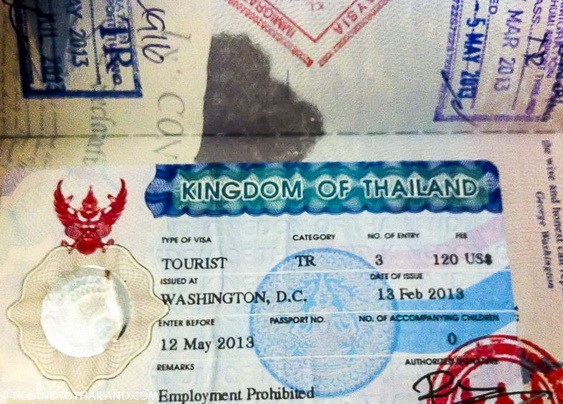 Visa
Many countries can get into Thailand without a visa, but for longer stays, a proper visa will be needed. Keep this in mind as you plan your trip. As of September 7, 2019, these are the countries that are visa-exempt (no visa required, for tourism only, usually 30 days allowed unless otherwise stated). The stay can usually be extended for another 30 days at the immigration bureau before the stamp expires :
| | |
| --- | --- |
| Andorra | Luxembourg |
| Argentina (90 days) | Macau |
| Australia | Malaysia |
| Austria | Maldives |
| Bahrain | Mauritius |
| Belgium | |
| Brazil (30 days and 90 days) | Monaco |
| Brunei | Mongolia |
| Cambodia (14 days only) | Netherlands |
| Canada | New Zealand |
| Chile (90 days) | Norway |
| Czech Republic | Oman |
| Denmark | Peru (30 days and 90 days) |
| Estonia | Philippines |
| Finland | Poland |
| France | Portugal |
| Germany | Qatar |
| Greece | Russia |
| Hong Kong | San Marino |
| Hungary | Singapore |
| Iceland | Slovak Republic |
| Indonesia | Slovenia |
| Ireland | South Africa |
| Israel | Spain |
| Italy | Sweden |
| Japan | Switzerland |
| Korea (30 days and 90 days) | Turkey |
| Kuwait | Ukraine |
| Laos | |
| Latvia | United Kingdom |
| Liechtenstein | United States |
| Lithuania | Vietnam |
The following countries can get a visa on arrival (a visa is required, but they can get it once they've reached a Thai airport):
| | |
| --- | --- |
| Bulgaria | Mexico |
| Bhutan | Nauru |
| China | Mauritius |
| Cyprus | |
| Ethiopia | Romania |
| Fiji | Saudi Arabia |
| Georgia | Taiwan |
| India | Uzbekistan |
| Kazakhstan | Vanuatu |
| Malta | |
All other countries must get a proper visa from the Thai embassy of their home country before getting on a plane to Thailand.
If you plan on training in Thailand for a few months, get a proper visa before leaving your country! Thailand is getting increasingly strict about people coming into their country, so regular "visa runs" are much harder to do. You will save money in the long run by getting a proper visa beforehand, too.
A single entry tourist visa is a 60-day visa (can be extended for another 30 days before the stamp expires). When timed correctly, you can get a total of 90 days out of this visa.
A multiple entry tourist visa is a 6-month visa that allows you to come in and out as you please, with a 60-day stamp each time you enter (can be extended for another 30 days before the stamp expires). When timed correctly, you can get a total of 8 months out of this visa.
Other important things to note:
-Your passport must be valid for the next 6 months
-Your passport must have blank pages available
-You may be asked to show money for your stay in Thailand
-You will need to fill out where you're staying on an arrival card, so have the address ready before getting on the plane.
On the next part of this three-part series, we will discuss preparing for Thailand. This will include getting your fitness levels up to par, what to pack, and what to expect.
Part 2: Preparing for Thailand
Special thanks to Helen Tran and Deren Tran for your input regarding Phuket and Chiang Mai.
If you enjoyed this or found this useful, and want to continue seeing Muay Thai news (with focus on BOTH female and male fighters), training and fighting tips, gyms reviews, and general/miscellaneous content,
please consider becoming a donor on Patreon.
With donors, I will be able to deliver high quality content consistently as well as continue my fighting goals in Thailand.