They say a picture is worth 1000 words.
If so, upon looking upon this picture, what sort of story could you give?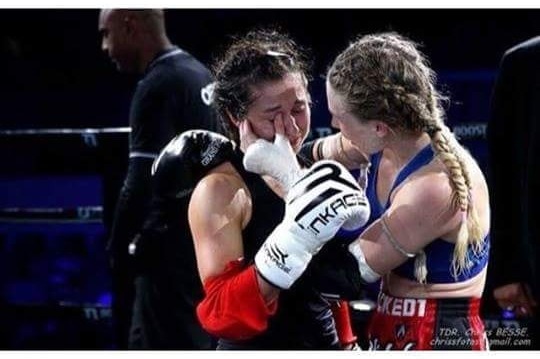 On the left is Fanny Ramos, IFMA European champion from France. On the right is 27-year old Lisa Brierley from the UK. They fought on Lion Fight in July 2018 in Fanny's home country. Lisa took the fight on just days' notice – afterall, the fight was for the inaugural Lion Fight World Flyweight (112 lb) title and she just couldn't pass up the opportunity. Lisa, the underdog, won the bout, finally getting her name out on the international scene. She told Lion Fight after, "I am a true fighter and will always take the risks and aim high."
But it was this moment, captured perfectly in this photo, that won her respect from Muay Thai fans everywhere. Lisa, competitive but humble and graceful, embodies what every martial artist should be.
Originally a karate practioner, she was introduced to Muay Thai when her family moved to a different town and there were no karate dojos nearby. Her competitive nature told her that she needed to be the best at it. Being the only girl in the gym, she often looked up to the boys and thought of wanting to be "as good as them."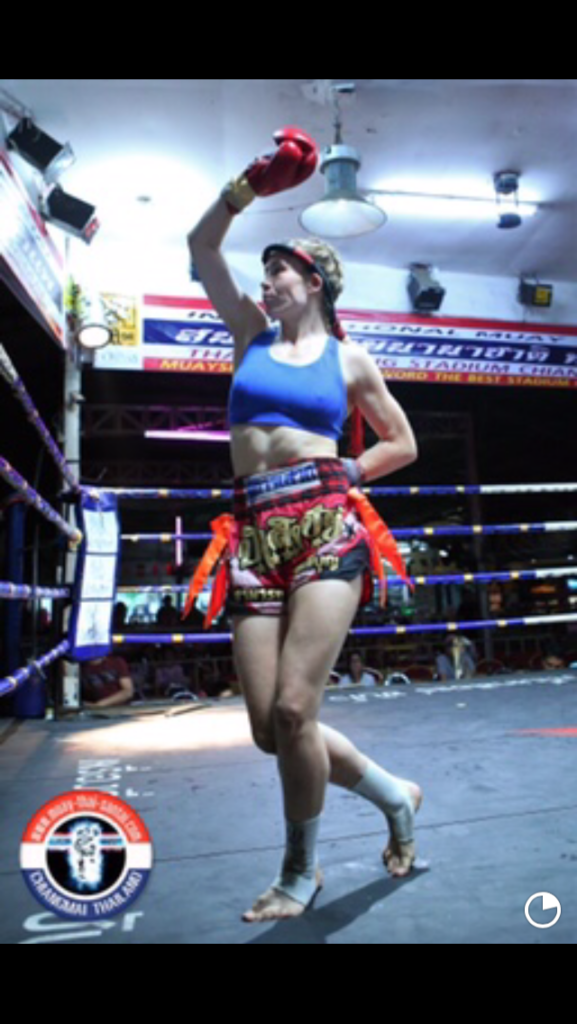 Now, fighting out of Wor Santai in Chiang Mai, with 34 fights and multiple titles to her name (Lion Fight World Champion @ 50kg, Muay Thai Grand Prix World Champion @ 50kg, Thapae Stadium Champion @ 51kg), she has certainly exceeded her expectations and is up there in the fighting scene. But because nak muay are a dime a dozen in the motherland of Muay Thai, names and faces often become blurred as the top fighters are always coming in and out of the scene. So many people had no idea who she was due to her "fighting in the backyard scene in Thailand."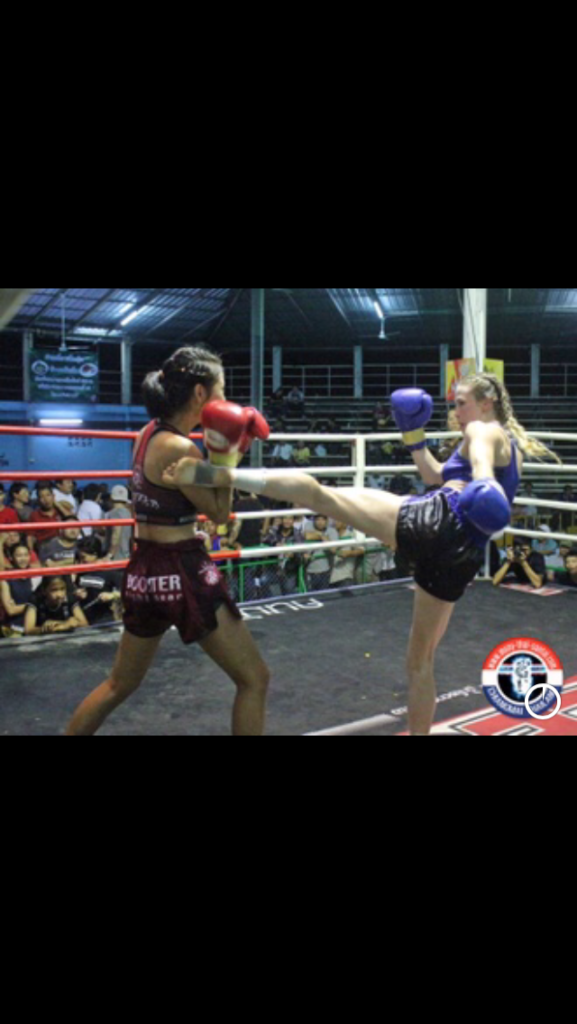 Lisa had her eyes set on another goal: winning the WPMF World Championship. The current champion, Thananchanok Kaewsamrit, has been proven to be hard to beat, with only Nongbiew being the only noteable person to defeat her. Lisa stepped up to the challenge during the WPMF Queens Cup in Bangkok in past August. However, a freak accident happened during the first round – she threw a left kick and missed. She felt a pop in her right knee as she tried to regain control of her body, and instantly felt the instability.
"Many people have stated my injury occurred in the second [round] from Thananchanok's low kicks," says Lisa, "but that's not correct…[she] could see something was wrong with my legs and took action. However, she was kicking my left leg when the injury was in the right." Lisa tried to fight back from the low kicks but her leg buckled and fell down, resulting in an eight-count.
Showing how much she wanted to fight, she continued to go on all 5 rounds despite her knee becoming more and more weak, causing Lisa pain every time she put weight on it. Lisa was fighting two battles at the same time: the one with the woman in front of her in the ring, and the one with herself inside her head. Lisa vividly remembers her thoughts. "Then round three came and I took an elbow to the nose. I remember, clear as day, thinking 'Fuck it, this can't get much worse'."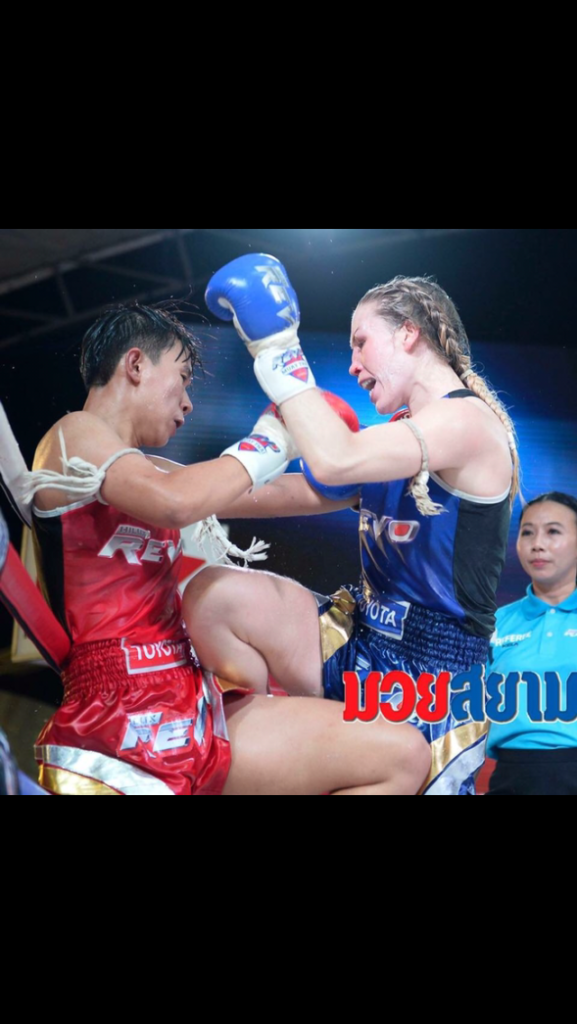 She also remembered words from her trainer, "No pain free, no tired free." Lisa explains, "By this, he means you don't go through pain and tiredness of training and fighting for nothing, to give up and not try your best to win. This ran through my head for the rest of the fight."
"My head knew I had lost the decision from receiving that eight count," Lisa reminisces, "but my heart wasn't going to let me stop trying until that final bell rang. I lost but I could only hope I had won the heart and respect of my corner, opponent and the people watching."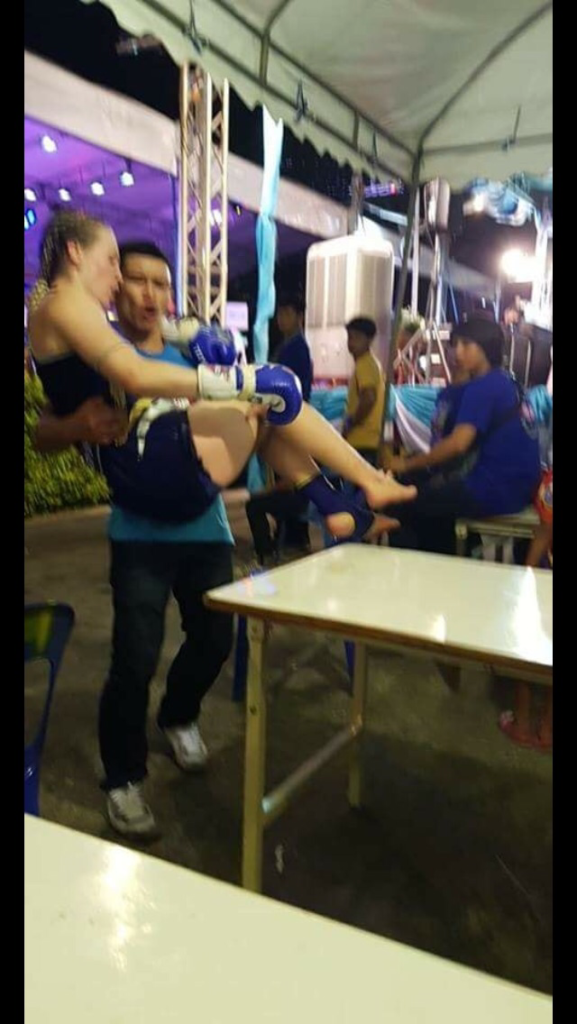 After the fight, Lisa went for a MRI and found out that she had tore her MCL and ruptured her ACL. If you don't know anything about these tendons, just know that this is a tough one to come back from as an athlete, but it's not impossible.
Lisa is in need of ACL reconstruction as well as MCL repair. The typical recovery time is 6-9 months, but there are waiting lists and the time to wait is simply too long. Luckily, Lisa found a private surgeon who can help her out and cut down her recovery down by a year. Unfortunately, private surgeons don't come cheap anywhere, and Lisa's friends have set up a GoFundMe page to help her out.
"We all know the big bucks aren't in Muay Thai so we want to help Lisa afford her surgery,  and get back to doing what she loves and keep on inspiring so many," writes her friend Joshua Twining.
Lisa is current in the UK, spending some quality time with family and friends, but wishes to return to Thailand as soon as possible. "I want to help others on their Muay Thai journey as much as I can," Lisa says. She also wants to do some volunteer work at orphanages, schools, and villages, something she's been wanting to but didn't have time for because of training and fighting.
"Don't be so hard on yourself. Be patient and the rewards will come," Lisa says of her journey so far. "Whenever you are passionate about and want to pursue, remember to enjoy it…and smile!"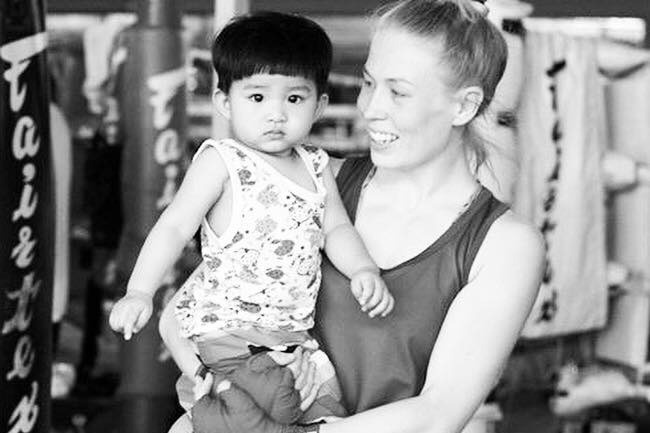 Lisa needs a total of  £4000 for her surgery and is past 50% of her goal. If you would like to help Lisa's recovery and get her back to fighting as soon as possible, you can donate via her GoFundMe Page.