Being a registered nurse is not an easy job. Nurses have to be on their feet on long shifts with short breaks. They see events, what many would consider traumatizing, on a daily basis. They see people at their worst. They see people at their best. And all of this is both exemplified and amplified during this time in the U.S. with COVID-19 spreading at an alarming rate.
Please support the continuation of content on Muay Ying via Patreon

Carody Irish lived in Thailand for a number of years as a professional Muay Thai fighter. She's been training for 5 years and has had 17 fights, and is a USMTO and amateur WBC champion. During her time in Phuket, she snagged the Patong Stadium title. Now that she's returned Stateside, she's continuing to work as a registered nurse. Carody has been a RN for 11 years, and now, she's fighting a different kind of opponent.
In San Francisco, California, where Carody current lives and works, there are currently 568 confirmed cases of COVID-19 and 8 deaths (time of writing: April 6, 2020). The city was ordered to "shelter in place" from March 16, and the order recently extended to last until May 3. "We are still experiencing a lot of illness related to the pandemic," Carody says. "I believe most cases of mild but the numbers are labile. I would say most of the healthcare professionals I work with and know are finding the situation to be critical."
Adhering to her duty as a nurse, Carody does her best to protect herself and those around her as much as possible. "I take good care of my health," Carody states. "I use a mask in public, use cough and sneeze hygiene, and wash my hands all the time." In addition to sanitation methods to help slow the spread of the virus, Carody recently signed up to go back into a hospital setting. "I recently left the emergency department for a position in Helicopter Emergency services," Carody continues. "It's a difficult situation to be in, as far as working on a medical helicopter goes. We may not know exactly what the patient has gone through prior to our contact with them. We have several procedures in place – we use full PPE with every call and decontaminate the helicopter after use." Carody adds, "It is a challenge to care for these patients as they they tend to be complex. It is also challenging to encounter different hospitals with differing policies."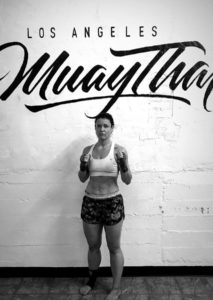 "I have seen very sick patients, but mostly, I have seen a gross miseducation of the patient population," Carody confides. "This is not by fault of medical crews that they [the patients] have encountered, but by their own ignorance and disregard for the safety of others." Carody thinks a lot of people are taking action based on hear-say and not on research of fact-based information. "This leads to ignorant and irresponsible behaviors in the community. This is happening all over the world and in our country."

Thanks to the ignorant and irresponsible behaviors Carody referred to, there are more patients infected with COVID-19 than need to be. Because of the surge in patients, there is a huge lack of resources. "Not only are healthcare workers exposed during assignments due to lack of PPE (personal protective equipment)," Carody begins, "but many non-healthcare workers must still go outside the shelter-in-place. They need to take care of loved ones or buy food and supplies. If we had more resources to assist with this, maybe this would decrease exposures." This concern of the lack of PPE was also expressed by firefighter paramedic Evan Look and 3D printer D.C.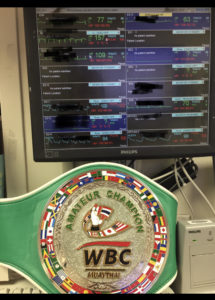 Because most people are out of their normal routine, unable to relieve a lot of stress in a healthy manner, there is a lot of fear building up. "It is a very real and understandable emotion," Carody emphathizes. "This causes stress to the immune system, leads to use of drugs and alcohol, and can also lead to racism and xenophobia." In the U.S. and some other nations, there have been an increased amount of nationwide racism and xenophobia towards Asians. In the U.S., there have been more than 1,000 incidents against Asian-Americans in less than two weeks. Some examples that were documented are a man on a NYC subway train violently demanding an Asian man move away from him, the stabbing of three Chinese-Americans in Texas, and an Asian man being attacked as he was collecting cans for recycling. The FBI has even warned of a potential surge of hate crimes that's to come. Evan Look, another San Francisco-based fighter, who's a first responder and of Chinese descent, said that even he was the target of these racist jokes in public.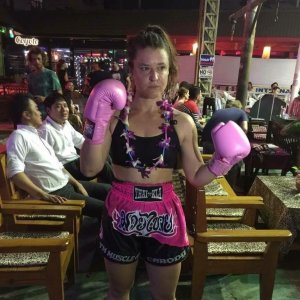 The American healthcare system has notoriously lagged behind that of other developed countries, and this is becoming more and more apparent with patients filling up hospitals faster than others with the virus can be treated. Carody points out, "We've [the U.S.] always lacked in comparison. If you don't have money to pay for higher level care, you most likely won't receive it. In general, I see terrible loss of income for many. I also see loss of life. But I think our ground level healthcare workers do a great job with what they are given to support others."
Hospital work is extremely stressful during this time and Carody finds it hard to watch her coworkers and friends struggle. "They are such a beautiful and resilient group of people," Carody affirms. "I want to show my support to them by being there when they need a break, or even to let them have someone to talk to. No hugs yet, though!" Carody laughs. "I also care about the community of San Francisco so much. This is where I landed after I returned from Thailand last year. This is an amazing place with incredible people. I want to help them get well and return to life, as soon as they can."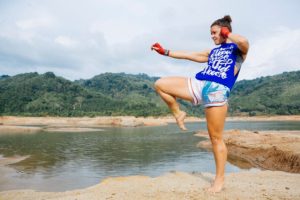 As bleak as the current situation is, especially for those in contact with COVID-19-positive patients, Carody finds some silver linings. "The earth is reviving," resounds Carody. "People are learning new things about themselves and their family members. People are getting a chance to slow down. I hope in a few months, the outcomes will improve, and we will be able to reflect honestly and positively."
To close, Carody suggests to everyone that they take good care of themselves. "Eat well, sleep, exercise, and check in with your emotions. Be there for one another. And wash your hands!"
Thank you, Carody, for everything you're doing during this time. Thank you for being selfless and putting the needs of the world before your own.
Fighting COVID-19 is an article series that highlights individuals within the Muay Thai/fighting/martial arts community who are either on the front-line of treating patients, providing information and news on their platform, or using their skills to assist others during this time. If you know someone who deserves to be recognized for what they're doing, please send a private message via any of the social media platforms or email muayyingac@gmail.com
If you enjoyed this or found this useful, and want to continue seeing Muay Thai news (with focus on ALL fighters, not just men), training and fighting tips, gyms reviews, and general/miscellaneous content,
please consider becoming a donor on Patreon.
With donors, I will be able to deliver high quality content consistently as well as continue my fighting goals in Thailand.