Most fighting fans never thought they'd live to see the day – when Lumpinee Boxing Stadium allows a female fighter was allowed to grace the stage. After almost 70 years of existence between the old and current locations, the legendary mecca of the sport is preparing to have women on, starting as soon as the authorities will allow it.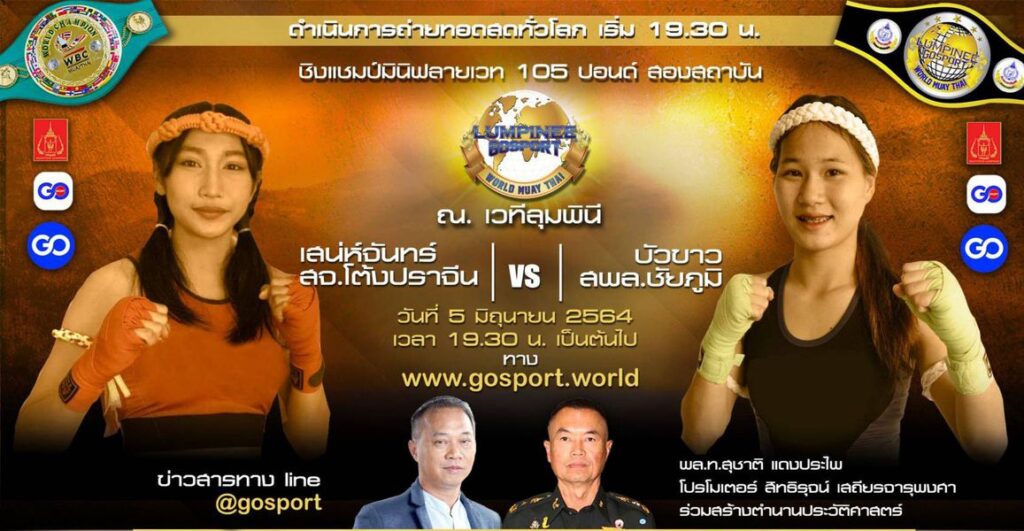 Contents
Article will be updated if any of the fight dates change.
History of Lumpinee Boxing Stadium
Lumpinee Boxing Stadium, arguably the most famous Muay Thai stadium in the world, has been the setting for numerous famous fights. It's seen the beginning, peak, and end of countless fighters. The stadium has hosted championship fights (both Thai and non-Thai) such as the Golden Era greats and current powerhouses. However, the stadium has never included female match-ups since opening up over 65 years ago in 1954.
Please support the continuation of content on Muay Ying via Patreon
For those who don't know anything about the stadium, it's hard to believe that a place that placed signs forbidding women to even touch the ring is about to host their first-ever female bouts. For more on the matter, read this article that covers some possibilities as to why there are more opportunities for women now.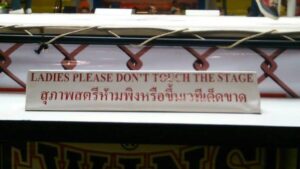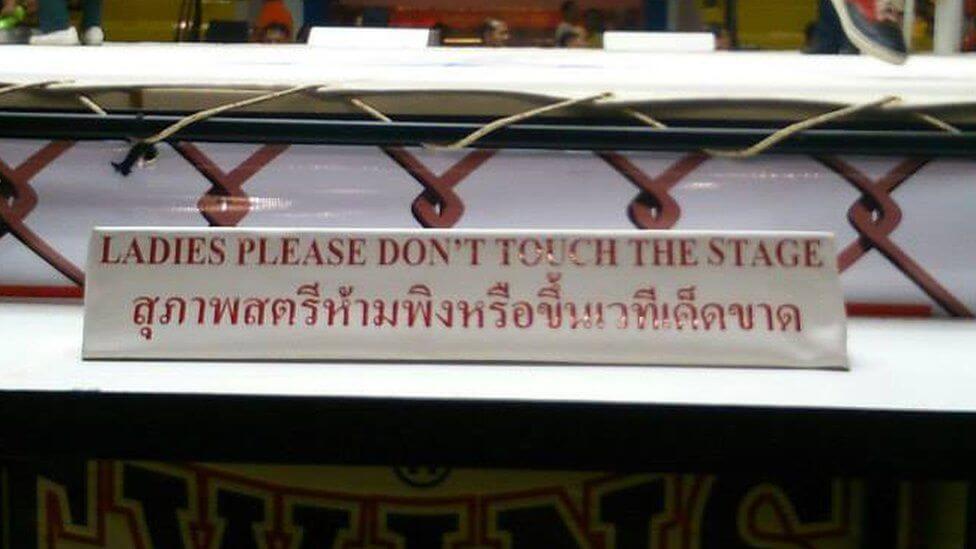 Changing Times
People who believe that women should be entitled to equal rights as men are pushing for changes in infrastructure and society to reflect those beliefs. When it comes to Muay Thai, women have shown their potential to work hard and make waves, but have few avenues to reach their true potential.
Right now, more people are beginning to realize that the world is changing. This is the case with Lt. Gen. Suchart Dangpraphai, Director of Lumpinee Boxing Stadium. He stated that when he wanted to organize shows that allowed women to have their place in the cards, he was met with a lot of resistance. This resistance came from those who wanted to keep "traditions and culture" as they were, meaning no women allowed on the Lumpinee stage. But the great news is that there are just as many people who want to welcome new traditions and question the cultural aspects of not allowing women to fight in the stadium.
When news came out that there were talks of having women fight at Lumpinee, Muay Thai fans all over the world shared it when it came out in April. Many were in disbelief but were happy to see policies change with the times.
According to the Lt. Gen., with so many voices supporting the new concept of women at Lumpinee, the Lumpinee Go Sport series was born.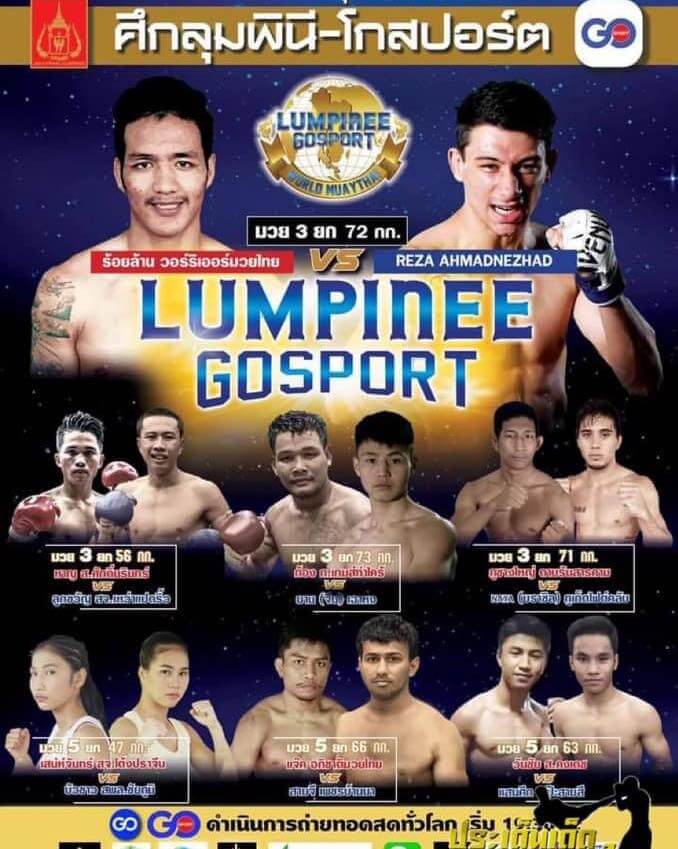 Originally scheduled to debut on May 5, the date was pushed back a couple times due to the current third wave of COVID-19 in Thailand. At the time of writing, gyms, parks, and sporting arenas are still closed in Bangkok. This means fighters out of Bangkok camps are not able to train legally, nor are they able to fight.
After a few talks regarding the current pandemic, having closed shows (no spectators) seems to be what the industry is aiming for so it can move forward. The new tentative date is Saturday, June 19. By June 14, the Muay Thai industry will know if it will be given the go-ahead.
Edit (June 13): Sanaejan vs Buakaw is pushed back to July 3rd. DATE IS STILL TENTATIVE.
The History-Makers
Buakaw Mor.Kor.Chor. Chaiyaphum hails from Chaiyaphum province in Northeastern Thailand. She's 21 years old. She won gold in the Asian Muaythai Championships in Macao in 2018. She's won awards for best wai kru competing under IFMA as an amateur athlete.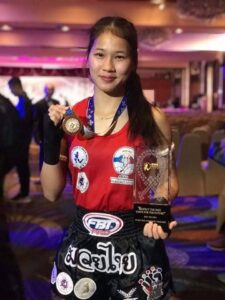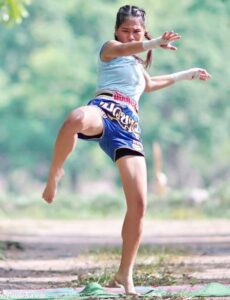 Sanaejan Sor.Jor Tongprajin is from Chanthaburi province in Eastern Thailand. She's 16 years old. In March, she won the PAT (Thailand) title at 105 pounds in Korat (Lady Fighter promotion). It's said that she is muay khao (knee and clinch fighter).
These two will meet at Lumpinee Boxing Stadium (hopefully) on June 19 with a weight limit of 105 pounds. This debut bout for women at the stadium will also award the winner with the vacant WBC Muaythai World and Lumpinee titles in the mini flyweight class.
Round Two
Come July 3rd, another piece of history will be made. Dangkongfah Jaosunoimuaythai is scheduled to fight Souris Manfredi for the WBC Muaythai World Super Flyweight (115 lb) title.
Dangkongfah has been on a roll, not having lost any of her fights since the end of 2019. She won the PAT (Thailand) title in September 2020 in a heavily-scrutinized fight against Allycia Rodrigues. (Long story short: Allycia just came off a win in her ONE Championship debut vs Stamp Fairtex for the Muay Thai title. This fight between Dangkongfah and Allycia was the third match between them, Allycia with the first win from March 2019 and Dangkongfah with the second win in November 2019.) These two factors skyrocketed Dangkongfah to the top of the world rankings, and she now sits at the #1 spot on the WBC Muaythai Super Flyweight rankings.
Souris Manfredi, although ranked below Dangkongfah at #4, is no stranger to combat sports nor to making history. She is the WLC (World Lethwei Championship) women's champion at bantamweight. She won the inaugural bout after knocking out Meisha Katz, becoming the first female Lethwei world champion.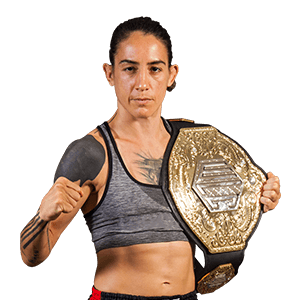 Having trained martial arts from a young aged, she's well-versed in Judo, MMA, and kickboxing. Manfredi has won the Thapae Stadium and Chiang Mai Stadium titles when it comes to Muay Thai. In a few weeks comes arguably the most important fight in her fight career.
The two fighters will meet for a title fight at Lumpinee Boxing Stadium. The WBC Muaythai Super Flyweight title is on the line. Manfredi will make history as the first non-Thai woman to fight at Lumpinee.
Edit (June 13): Dangkongfah vs Souris is pushed back to July 10th. DATE IS STILL TENTATIVE.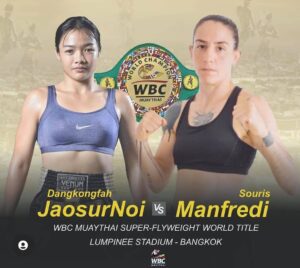 Times are changing. Women in Muay Thai are starting to enjoy more stage time and opportunities. Hopefully, with these newfound avenues to exposure, there will be progressive changes in the sport. Little by little, we can change some incorrect attitudes about women fighters, allowing them to get equal pay, equal spotlight, and equal opportunities.
If you want an in-depth guide to training in Thailand, I've got just the thing.