When it comes to training Muay Thai in Thailand, there are two main types of gyms: tourist gyms and fight gyms. While both can offer quality training, they cater to different types of people with different goals.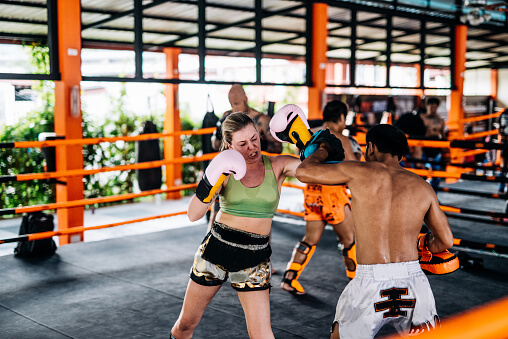 Please support the continuation of content on Muay Ying via Patreon
Tourist Muay Thai Gyms
Tourist Muay Thai gyms are designed to cater to travelers who want to experience the sport of Muay Thai without necessarily competing. These gyms offer a more relaxed atmosphere where students can train in a fun and supportive environment. Classes are often led by English-speaking instructors who have experience working with foreigners.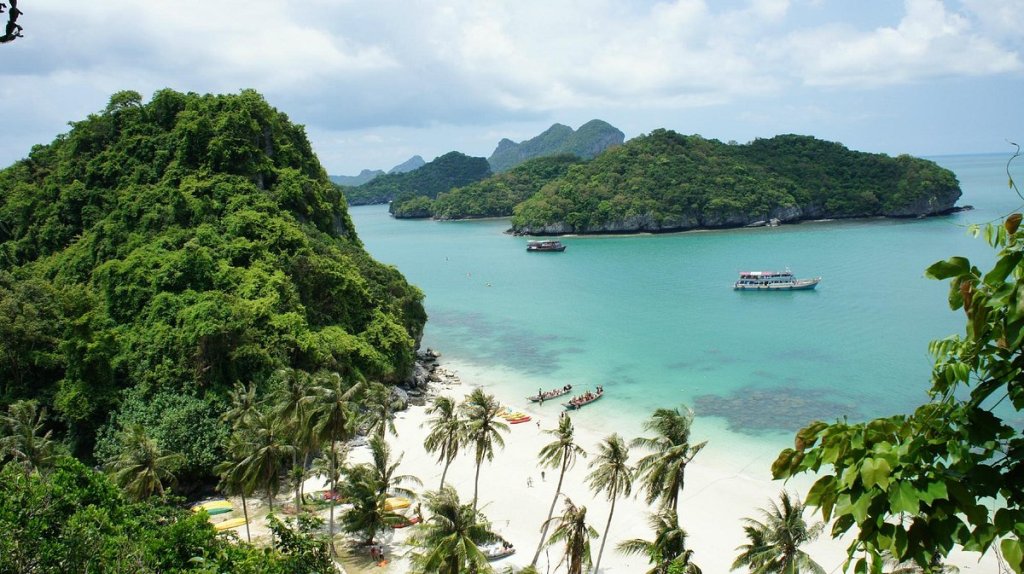 If you're a beginner or just looking to get in shape while experiencing Thai culture, a tourist Muay Thai gym is the perfect choice for you. The focus is on getting a good workout and learning the techniques of Muay Thai in a supportive environment. However, if your ultimate goal is to compete professionally, you may want to consider a fight gym.
Giveaway signs a gym is catered to tourists: There are little to no active fighters at the gym. The trainers are more focused on giving you a workout (long, unrealistic combinations) than teaching you (eg, correcting your form or technique). They're not bothered by people coming in and out of the gym as they please to train. The fighters that are at the gym are competing at a casual local level.
Fight Gyms
Fight gyms, as the name suggests, focus on training fighters for competition. These gyms are more intense and often have a strict training regimen that includes sparring and conditioning. Instructors are typically former professional fighters who have competed at a high level. Students at these gyms are expected to take the sport seriously and be committed to training.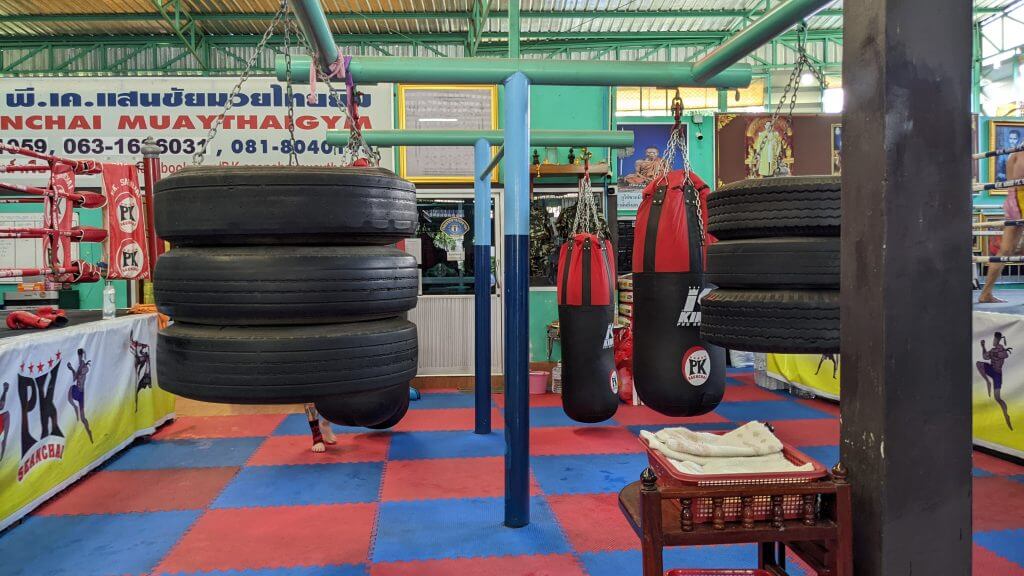 If you're serious about competing in Muay Thai, a fight gym is the way to go. You'll be training alongside professional fighters and receiving top-notch instruction. Keep in mind that these gyms are not for everyone. They are intense, and the training can be grueling. Additionally, they may not have as many amenities as tourist gyms.
Giveaway signs a gym is a fight gym: Their priority lies in their roster fighters. The trainers are teaching and putting emphasis on doing basic techniques correctly before moving on to more difficult concepts. There is plenty of sparring and clinching. There are set training hours.
Choosing a Gym
So which one should you choose? When choosing a Muay Thai gym in Thailand, it's important to consider your goals. Are you a beginner who wants to experience the sport and get in shape? Or are you a serious competitor who wants to train with the best of the best? If you lie somewhere in between, consider which is most important to you at the moment. Here are some factors to consider when making your decision:
Your skill level: If you're a beginner, you may feel more comfortable in a tourist gym. On the other hand, if you have some experience and want to take your training to the next level, a fight gym may be the better choice.
Your goals: Do you want to compete professionally, or are you just looking for a fun workout? If your goal is to compete, a fight gym is the way to go, especially if you want to fight during your stay in Thailand. If you're just looking for a fun workout, a tourist gym may be a better fit. While fight gyms often welcome people to train who aren't fighters, people who are more casual about training may not find the training to be "fun" enough due to the serious energy.
Your budget: Fight gyms, particularly the bigger ones, tend to be more expensive than tourist gyms, so consider your budget when making your decision. When staying on-site at a gym, the costs of the training, accommodation, and food bundled together may be more expensive than if you got your own place and dropped in to train when you have time.
The location: Thailand isn't a huge country, but it is big enough that it's no easy feat to travel from one major city to another. Consider the location of the gym you're interested in. For example, if you're staying in central Bangkok or are interested in the activities there, it may be more convenient to train at a gym in the city rather than traveling to a gym in a more remote area. Bangkok is a better option if you prefer the city instead of the islands or mountains.
It's important to note that just because a gym is more tourist-friendly, it does not mean the training is worse, and it does not mean that there are no fighters from that gym. It just means that their main focus is not on fighters. There are also gyms that balance their fighting culture with an inviting environment for beginners well.
Gyms
Any gyms mentioned below are not sponsored or financially affiliated with Muay Ying.
You are always encouraged to check out a camp's social media to get a "feel" of the place and what they place their priorities in. Check out this guide to training in Thailand if you need more help.
Most gyms in the south of Thailand (Phuket, Koh Samui, Koh Phangan, etc.) are tourist gyms.
Any of the gyms that have roster fighters competing at an international are going to be predominantly fight-focused gyms, like PK Saenchai, Fairtex Training Center, Sitsongpeenong, FA Group, and Petchyindee Academy. Gyms that have fighters that frequent the local scene and place emphasis on their development are also considered fight gyms, like Hongthong Muay Thai.
There are also gyms that have a good balance between their fight culture and a welcoming environment for people looking for something more casual, like Revolution Muay Thai and Sitmonchai.
If you want an in-depth guide to training in Thailand, I've got just the thing.