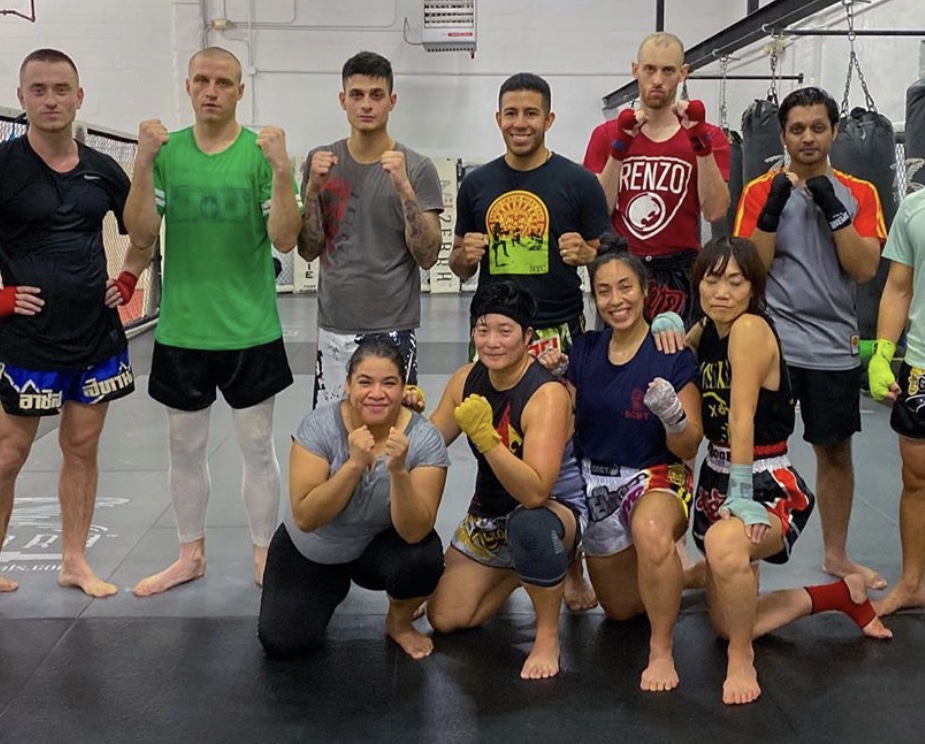 JJ Chan has been in the Muay Thai scene for almost 20 years. Starting off at The Wat under Phil Nurse, she competed at an amateur level. After taking a break to focus on other aspects of her life, she came back to the scene, training at Renzo Gracie Fight Academy in Brooklyn. Although she no longer competes, she trains consistently for fitness, stress relief, and camaraderie.
Now, JJ is using the skills she has developed from her occupation of 10 years as a set designer and prop stylist to help with the mass PPE (Personal Protective Equipment) shortage in New York City.
Please support the continuation of content on Muay Ying via Patreon

"As a stylist," JJ begins, "I work a lot with my hands. I often have to pick up skills quickly for work. I decided to sew masks to give out to friends and service workers." There was a bit of luck involved when it came to having the right tools for the job. "I just happened to get a sewing machine two weeks before the city shut down," JJ says. "I had to custom-make a pillow in the shape of the United States."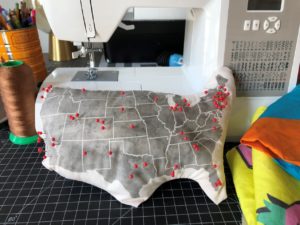 Just before the weekend (time of writing: April 13), there were almost 800 lives lost over the span of 24 hours, marking the fifth straight day of more than 700 deaths per day in New York. New York State continues to have the highest COVID-19 death count in the entire country, with 189,033 confirmed cases and 9,385 deaths to date. This is about four times as much as the second hardest-hit state. "I'm living in the epicenter of the outbreak," JJ laments. "It's real. I personally know seven people who have gotten the virus, including two neighbors in my building. Luckily, all of them have mild cases and most have fully recovered. One of my closest friend's elderly father is in the hospital right now with a case of COVID. His father has advanced dementia and lives in a nursing home. Another friend whose parents suffer from Parkinson's and Alzheimers have both contracted COVID. Sadly, her father didn't survive, but the mother has recovered and is out of the hospital. There's a great level of worry and anxiety, as well as a feeling of helplessness. It's scary at first, but as I've learned more about the disease, I also know the ways to keep myself safe."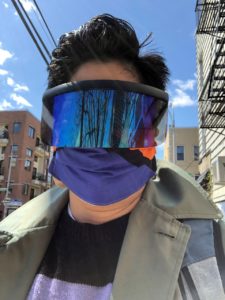 Once New York City was shut down, JJ, like almost everyone else around the world, had a lot in her life suddenly go on hold. When almost all the projects JJ was working on got frozen, she decided to put her new sewing machine to use. "I have a studio for making props," says JJ. "It stores a lot of extra materials and tools I accumulate through work. I've had this fabric for five or six years, and it was languishing in a giant fabric bin that I keep [in the studio]." This fabric just happened to be the right material for her newest project: making masks. "I thought it would be good to make masks for my community," adds JJ. JJ got started on her project not unlike how she would with any other project, and this was by educating herself via YouTube. "I looked at a lot of different styles, but I chose one that was simple in design and would potentially fit over a N95 mask," states JJ. N95 masks are designed to protect against airborne particles. They're notoriously high in demand and low in supply due to the overwhelming COVID-19-positive patients in New York. Some healthcare workers are given just one mask a week and need to reuse it for their protection, so they need something else to cover it daily, such a surgical or cloth mask.  "My first couple were terrible," JJ admits, "but I got the hang of it and can now sew one in about 15 minutes."
The masks JJ are making is not just benefiting others, but herself as well. "I wanted to give out free masks as a gesture of care for my friends and community. A main issue is that medical professionals don't have the right kind of protective equipment they need. But I also thought [the mask project] was a good way to get exercise everyday since I can't train," JJ affirms. "It's actually been a great experience because everyone who has asked for masks are also grateful for social interaction, and I've received lots of lovely gifts in return." The masks she makes are also getting great feedback. "People like it because it looks friendly, optimistic, colorful, and fun. I think it de-stigmatizes mask-wearing and makes it look less scary or medical looking. They look even a bit fashionable," laughs JJ.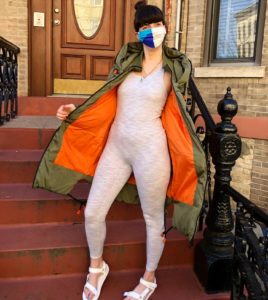 JJ believes that following public safety protocols is important, especially in a city as dense as New York. "I also think we have a broken health system. It's not a mistake that the U.S. has the most cases of COVID in the world," JJ points out. "People cannot get the care they need, the general public doesn't have access to testing, and the federal government is incompetent in providing leadership, clear communication, and accountability."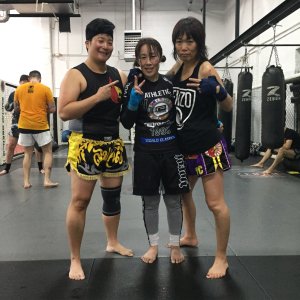 JJ follows health and social distancing protocols for the benefit of everyone, including herself. "I was very fearful about COVID at first," JJ confesses, "but after education myself about how the disease spreads, I realized that there were real concrete ways I could prevent myself from getting or spreading it, and still be outdoors." Before she started delivering the masks, she put herself into a 14-day quarantine. "I wanted to make sure I didn't have COVID before visiting people. [When I started delivering,] I only meet them outdoors, and I make it so they don't have to get closer than six feet to me. It gives me purpose to feel like I could help others."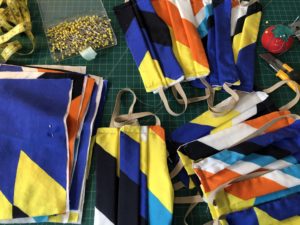 The COVID-19 situation in New York is highly stressful, but JJ finds simplicity in the chaos. "I'm getting to enjoy seeing friends in a way I don't normally make the time to," confides JJ. "Disasters like this are good in the sense that people's sense of community and generosity come out. I see a lot of human kindness in small interactions these days." This time has also allowed JJ to stop and smell the roses. "I've never had the opportunity to literally stop to enjoy spring. There are beautiful flowering trees in Brooklyn right now and very little street traffic. In a weird way its very peaceful." As a whole, JJ hopes this tragic situation will galvanize the entire country to moves towards universal healthcare. "My biggest wish is that this will help motivate people to vote Trump out of office," JJ smiles.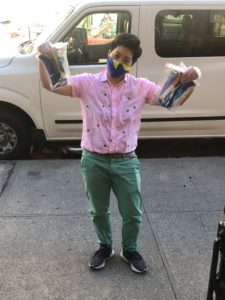 JJ invites everyone to help the way they can. "Helping on any level that you feel comfortable with is welcome," JJ says. "If you have the skills to make masks, make one for yourself or a loved one. You can donate money to causes that might help folks who are more vulnerable in this uncertain economic time. No act is too small."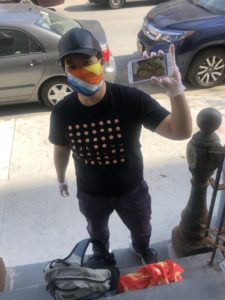 Thank you, JJ, for everything you're doing during this time. Thank you for putting your time into helping people in your community.

Fighting COVID-19 is an article series that highlights individuals within the Muay Thai/fighting/martial arts community who are either on the front-line of treating patients, providing information and news on their platform, or using their skills to assist others during this time. If you know someone who deserves to be recognized for what they're doing, please send a private message via any of the social media platforms or email muayyingac@gmail.com
If you enjoyed this or found this useful, and want to continue seeing Muay Thai news (with focus on ALL fighters, not just men), training and fighting tips, gyms reviews, and general/miscellaneous content,
please consider becoming a donor on Patreon.
With donors, I will be able to deliver high quality content consistently as well as continue my fighting goals in Thailand.